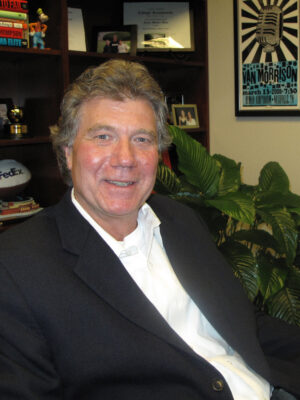 Degree(s): MA '77
Whereabouts: United States, Memphis, Tennessee
True Tiger Uses His Newsroom Skills to Develop Boardroom Solutions
When Jess Bunn, MA '77, reflected on his choice to become a newspaperman, he borrowed a quotation from Mike Royko, the famous Chicago newspaper columnist and Pulitzer Prize winner.
"The true appeal of this job is that I can do it while I'm sitting. The only thing that would be better would be to find a job I could do while lying down," said Royko. "It never occurred to me to do anything else."
During Bunn's 30-year career, he has worked on nearly every news and copy desk imaginable, ultimately transitioning to the other side of the desk — corporate communications. He now does media relations and investor relations for FedEx Corp.
Bunn's passion for the communications industry has led him to facilitate major announcements at FedEx such as acquisitions in China and United Kingdom, and as well as serving as strategist and spokesperson on a wide range of corporate initiatives.
Finding His Passion
Journalism was an integral part of Bunn's life growing up. His grandfather retired as a linotype operator for The Memphis Press-Scimitar, the afternoon daily newspaper. Bunn's great-grandfather, Charles N. Walker, was an itinerant editor and publisher of newspapers and founded the socialist Portageville (Mo.) Critic in 1905.
Reading the paper was a ritual in the family every morning and afternoon. While his childhood friends wouldn't be surprised Bunn chose a career in journalism, Bunn did not immediately know how perfect the fit would be.
When Bunn began college at Memphis State University in 1970, he was not sure what he wanted to do in his career. Like many students, Bunn began exploring different career paths through survey courses. After spending a semester with classes in business and political science, he felt uninspired and still unsure of what he would do next.
Starting His Career in Memphis
Bunn got an inkling of what he wanted to do after he took his first part-time job as a copy clerk at the Memphis Press-Scimitar while still an undergraduate. The position offered him hands-on experiences in reporting and working on deadlines. His first full-time position was as a general-assignment reporter on the night side, and one his first editors was a Missouri School of Journalism graduate, Brian Brooks, BJ '67, MA '69. As the night city editor, Brooks offered a great deal of guidance to Bunn as he learned the business first-hand.
While learning the ropes from Brooks, Bunn learned a lot about the world-renowned journalism school at the University of Missouri. Bunn had heard of the school before and knew it had a great reputation, but working directly with one of its graduates showed him that there was a lot he could still learn about the industry.
Brooks left the paper not long after to become an assistant professor at the University of Missouri. Before Brooks left, he told Bunn to contact him if he ever decided to pursue a graduate degree.
"I didn't always know I wanted to get a graduate degree, but when Brian left to take the position at Mizzou. I thought it was something I should consider," said Bunn. "I liked the work and had the skills, but I wanted to study journalism in more depth."
The choice wasn't difficult for Bunn because he always admired the reputation that Missouri School of Journalism graduates had in the newsroom. Bunn believed that being a graduate of the program at the University of Missouri was more than just pride in their school; everyone on staff believed Missouri grads were "top-shelf" among their peers.
"I applied to other schools, but Mizzou was the best choice," said Bunn. "I knew the reputation of the journalism school and thought 'I can't do much better than that.'"
Working in the Missourian Newsroom
Bunn started his heyday at the School in the Columbia Missourian newsroom. As a graduate teaching assistant, he worked on the city desk, the middle of the ever-changing environment of the newsroom. On any given day, he could hear sarcastic and cynical comments among editors and enjoyed the energy of the newsroom with reporters running in and out to follow up on a story lead or grab more information about the topic from the news morgue.
In his role as a graduate teaching assistant, Bunn worked alongside other graduate students under the supervision of George Kennedy. Preparing each daily edition, Kennedy provided a clear direction on how to be an effective editor with a quick wit that made the newsroom intense and fun all at the same time. It was through this position that Bunn discovered his love for editing.
"As I got more accustomed to editing, I found I liked it," said Bunn. "I realized that I could add some value to the story with word choice and organization."
Not only did he have the opportunity to serve as a city desk editor at the Missourian for his practical training, but also he was able to discuss theoretical implications and considerations relating to journalism in the classroom.
Editing His Way through the Newsroom
After finishing his graduate degree, Bunn accepted an editing position at the Springfield (Mo.) Daily News, and then moved to Iowa to work for The Des Moines Register. He had heard about its great reputation in the industry and wanted to start his career with the then-independently-owned paper. After five years under his belt at the paper, he felt the need to return South where he had grown up.
In 1984, Bunn returned to Memphis to work on the copy desk for The Commercial Appeal. He was known for writing great headlines and paying close attention to detail in his edits.
Some of his most vivid memories from that time are from when he moved to the national desk and was responsible for editing national and international news. He remembers sitting there as huge global events came through over the wire, like the fall of the Berlin Wall and the break-up of the former Soviet Union. Bunn thought it was a very exciting time in the industry and a lot of fun to be working on such big news.
Bunn continued his career at The Commercial Appeal as executive news editor, then executive metro editor on the city desk. It was during his time as the metro editor that the Associated Press recognized the paper for public service in reporting. It was recognized for a series that looked into the criminal background of employees in the city school system. Many had felony convictions and some were violent. It was through their investigative reporting that the school system enacted new policies to check the backgrounds of all new employees.
Corporate Communications for a Newsroom Native
In 1996, Bunn said he was at a pivotal point in his career. He either could continue working in journalism and likely retire as a newsroom editor or consider other opportunities like corporate communications.
Many of Bunn's news buddies at the Des Moines Register or the Commercial Appeal gave him a hard time for going to the "dark side" of communication, but ultimately they all respected what he brings to their stories each and every day.
As a source of information, Bunn works with reporters, as he would have hoped public relations practitioners would have worked with his newsroom colleagues. Due to his newsroom experience, Bunn understands the lengths to which journalists go to in order to develop great stories.
"I believe I can appreciate the needs of journalists and anticipate the information that would be helpful to them for a story," said Bunn. "And I believe they appreciate what I know that helps them in their course of reporting a story."
Bunn says his newsroom experience was a positive factor in influencing FedEx Corp. to hire him as media specialist. As manager of financial and corporate communications, he now uses the knowledge he gained from his time in the industry to offer his company strategic communication solutions. In addition, Bunn understands the demands of working on deadlines and provides timely responses to help reporters.
"From working in the newspaper business for a long time, I think I can see how a story is organized, what makes a good news story and angles that might be of interest to a reporter," says Bunn. "Also, I'm responsive because I knew what it was like to be on the other end, and I try to provide information to reporters as soon as possible."
Bunn is among the communicators FedEx executives go to for help in developing critical corporate announcements including quarterly earnings. He also is responsible for maintaining relationships with the press on behalf of FedEx. During any given week, he normally speaks with financial analysts, journalists and key influencers in the transportation, e-commerce and business services industry.
His teams at FedEx Corp. have won Silver Anvil, Bronze Anvil and Big Apple awards for their contributions to their company's overall communication goals. Also, his contributions to his company merited him the prestigious FedEx Five Star Award. This award is given to team members who work with the spirit of teamwork every day and consistently strive to provide enhanced service and profitability. It is the highest award given to employees at FedEx.
Credibility, a Principle of Communications Practice
For Bunn earning and maintaining credibility has always remained to be one of his highest standards.
"There are precious few principles greater than your credibility," said Bunn. "I think it is one of the foundations that you base a career in communications on. It is an absolute must."
Thus, he always considers the effects his decisions might have on the credibility of his organization or his professional reputation.
In editing, he maintained credibility by serving as the last line of defense. In his definition, an editor goes beyond line-by-line editing to ensure that the fairness, accuracy and balance of any given story are maintained. Bunn believes that a strong editor makes sure the tone is right and protects the publication from libel. He says editing is the most important part of the process.
In corporate communications, Bunn pays particular attention to credibility when he pitches reporters and serves as a source on behalf of FedEx. In his position, he always provides reporters with accurate, fair and balanced information.
"Reporters expect you to uphold credibility," Bunn said. "They may not like that you are not able to tell them as much as they want or in the time they need it, they expect a proper context of story."
"It Never Occurred to Me to Do Anything Else"
While Bunn may have spent a period of time wondering if political science was right for him, he ultimately found a path to the communications industry. Though his education and newsroom experiences, Bunn continues to shape the communications industry and set standards about best practices in corporate communications and journalism.
"It never occurred to us to anything else, because there's nothing else quite like it," said Bunn.
Updated: November 3, 2011