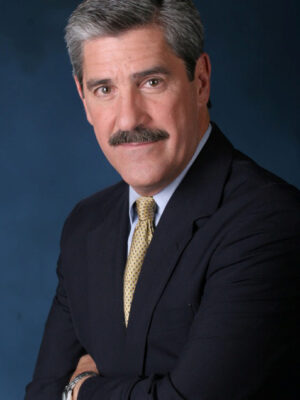 Degree(s): BJ '75
Whereabouts: United States, Denver, Colorado
What do you do?
I am managing editor and news anchor for Rocky Mountain PBS, the statewide PBS network in Colorado. Our team consists of three reporters, a producer, and two photojournalists/editors producing long-form investigative and public affairs programming dealing with issues of important public policy and state politics. I also present our stories on the local NBC affiliate and, when accepted, on the PBS NewsHour. I was previously the senior investigative reporter at KMGH-TV for 24 years. Our stories there resulted in grand jury investigations, changes in government policies and procedures, new state laws and regulations, and in congressional hearings and investigations.
How did you get your job?
I moved to Denver after nearly 10 years as a CBS News correspondent in Washington, D.C. where I was a White House correspondent and later a correspondent for the news magazine, "West 57th." In Denver I first worked at the (now) CBS station in Denver, KCNC-TV; moved in 1992 to KMGH-TV; and in 2016 to RMPBS. In each instance since leaving J-School in 1975, my reporting was recognized locally and nationally, which led to job opportunities.
What is the best professional lesson you learned at the J-School?
I learned that hard work, research and digging can pay off with a significant story. My very first story for KOMU-TV involved a 33-year old woman who I found had been drugged and held against her will for years by a mentally ill mother and common law husband. Nadine Hamm had not been seen by her friends since her high school graduation. The story resulted in her rescue. One of her high school friends took her in and helped her recover her life. The story helped me understand the impact that good reporting can have on individual lives and how it can contribute to the community. Journalism can make a difference.
What advice do you have for current students?
Learn absolutely as much as you can about all aspects of new and traditional media. Writing is essential in whatever path you choose. Good writing comes from reading the best writers and columnists. Learn how to shoot video and edit video and audio on your laptop. Use a professional Facebook account and other social media to communicate with potential sources of information. Understand how to use public databases, social media, and the Web to research stories. Learn how to organize information in spreadsheets for easy access and meshing databases. But always remember, even with all the new media and computer assisted reporting, there is no substitute for personal contact with sources. As a journalist, you are always selling your own credibility and integrity to potential sources and the biggest sale is always made in person.
What is your favorite J-School memory?
Working at KOMU-TV taught me the value of good reporting, and it also immersed me in the pure energy of a newsroom. My classmates set a high standard for reporting. Many now work in TV network news as reporters and producers. And those who taught us the craft – Dave Dugan, Leigh Wilson, Max Ustler, Don Ferrell, and Jack Hubbard – made journalism challenging, serious and great fun. And, there was my friend Dale Spencer, who taught communications law. He taught me that knowing the ever-changing law is an essential element in my reporting. These are instructors who have made a great difference in my life and career, and in the lives of countless J-School graduates.
Any parting comments?
I have been to many schools around the country to speak about my job. I have found no other institution that could have prepared me any better for my career than the Missouri School of Journalism. I am forever grateful to the professionals who brought their talents to the J-School for my benefit and the benefit of my many colleagues in journalism. I never forget what I have been given by the Missouri School of Journalism.
Updated: November 4, 2011