Jory Mick
Account Manager at Barkley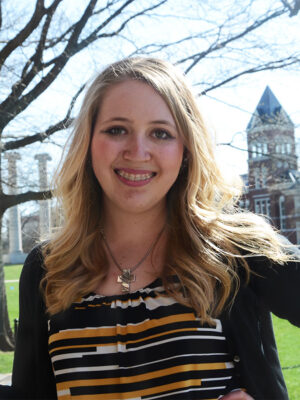 Degree(s): BJ '14
Whereabouts: United States, Kansas City, Missouri
Jory Mick had no idea where her career would take her, but knew she was equipped for anything. From learning how to work in groups to perfecting AP Style, the Missouri School of Journalism prepared her significantly for her career.
Why'd you decide to come to Mizzou?
I was raised a Tiger so there wasn't a second choice for me. I grew up bleeding black and gold.
How did the J-School prepare you for your career?
The J-School prepared me to think critically. In order to solve a client question or think creatively, I have to think outside the box. Thankfully, the J-School challenged me to do this every day while I was in school. I also appreciate the writing skills that were whipped into my brain for four years. Writing is a huge part of my job. Finally, the J-School gave me the ability to work in multiple team settings, which is a significant aspect of my career now.
What did you do in school that you also do on the job today?
The group projects you do definitely mirror the real world. I work in a collaborative team environment, so the ability to work with different groups each semester was huge. Learning how to work with different personalities and different work styles is a major component to working in an agency.
How did the J-School help you get your first job?
I went to multiple career fairs and took advantage of any networking opportunities I could attend while at school. I also used resources to work on interview skills so I could put my best foot forward.
Is there something you wish you would've known as a student that you know now?
I wish I would have known more about financial planning. Creating a budget is very important to my life now. A class or seminar on how to handle finances as an adult would have been very helpful.
Any advice for graduating seniors?
Enjoy it. The final year goes by quickly. The real world is great, but very, very different. Spend quality time with your friends. Soon you will be spread across the country and might only have FaceTime and short weekend trips to stay connected.
Updated: April 20, 2016