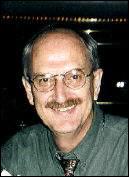 Degree(s): MA '68 (News-Editorial)
Whereabouts: United States, California, San Diego
What do you do?
I've been retired from the public relations business since 2009. Except for my first year out of Mizzou with a newspaper job in suburban Chicago, the rest of my 41-year career was spent in public relations. From 1969 to 1994 I worked for public relations agencies, the in-house PR staffs of major corporations, and as a state government public information officer in Santa Fe, N.M. In 1994 I decided to go into business for myself…and never looked back. Investor relations was my strongest speciality as a solo practitioner. In 1996 I also began adjunct teaching in the PR sequence at San Diego State University's School of Communications, and I spent the fall of 2004 as a visiting professor at a study-abroad campus outside Venice, Italy, operated by the University of Kansas. By the time it came to retire, I'd been elected to PRSA's College of Fellows, honored with the Lifetime Achievement Award from the San Diego chapter of the Public Relations Society of America, and was selected "Lecturer of the Year" by communications honor society students at SDSU.
How did you get your job?
I got my first newspaper job after graduating from Mizzou by intereviewing with a Chicago newspaper that sent a recruiter to campus. My first PR agency job in Chicago also had a Missouri connection: the VP who interviewed me was an MU grad and his first words at the initial interview were "Besides going to Missouri, what else qualifies you for this job?" After 25 years in corporate America, I was ready to enjoy the benefits of going out on my own. I landed one major client as a base and built my PR practice from there. Success came from being open to new challenges, learning new businesses, and knowing how to adapt to divergent corporate and individual personalities.
Best professional lesson learned at the J-School?
To be a lifelong student of words. The English language has more than 600,000 words in it (one of the wordiest of any language), yet we typically only use several hundred. I remember my professors imploring us to "find just the right word" that conveys the message you're trying to get across.
What is your best advice to current students?
Take a course in basic accounting. Don't worry, you won't have to do a company's books. But you should know how to speak the language of finance, because that's what drives organizations. Know how your employer makes money, and know how your company's finances are impacted by changes in the marketplace. Keep it simple: know what a balance sheet is, what a profit and loss statement is. Also, never stop learning – and using – new words.
Updated: December 20, 2011