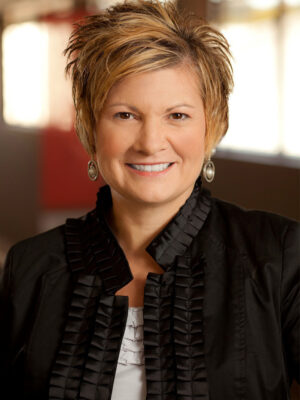 Degree(s): BJ '91
Whereabouts: United States, Elkhorn, Nebraska
Corporate Philanthropy: How One Journalism School Graduate Found Her True Passion Ending Child Hunger
As a journalism student, Kori Reed imagined she would become the next Katie Couric, asking the tough questions in hard-hitting interviews. That is, until she found her true calling: corporate philanthropy. Reed is the vice president of Foundation and Cause at the ConAgra Foods in Omaha, Neb., one of North America's leading food companies. The ConAgra Foods Foundation is one of the largest corporate initiatives dedicated to ending child hunger in the U.S. Since the early 90s, the Foundation, a charitable arm of ConAgra Foods, has worked with such programs as Feeding America, the largest network of food banks. To date, the company has provided more than 250 million pounds of food to families nationwide and invested more than $40 million in programs to fight child hunger. The programs it supports include after-school food and summer feeding programs. As vice president foundation and cause, Reed works with nonprofit organizations, task forces and government programs to fight child hunger. Reed must also ensure the ConAgra company and the ConAgra Foundation are well integrated, delivering consistent messages together.
Finding Her Passion
Though it's her passion now, it wasn't always.
As a broadcast news journalism major from Chicago, Reed says she came to the University of Missouri to go to the "No. 1 journalism school." She had a passion for visual storytelling and was excited to live through the real-life experiences of reporting and producing newscasts for KOMU TV8, the only university-owned network affiliate that uses its newsroom as a working lab for broadcast students. She quickly learned, however, that broadcast journalism involved more than the glamour Katie Couric reflected through her work. Though rewarding, it wasn't the job Reed had envisioned. Once, Reed was working at KOMU with a producer with whom she'd never worked. That day, Reed was responsible for sports headlines. As Reed started to read, the producer was motioning with his hands for her to speed up because she was running into overtime, which she didn't realize.
"I'm in the middle of saying something, and he panics," Reed said. "I ended up saying, 'And the Cubs. And that's all for today.' Whenever I watch young reporters on air, it always brings back memories, even those I'm not necessarily proud of, but I still tell my kids about."
In her time at the Missouri School of Journalism, Reed covered several major events as a reporter and producer in training, including the 1990 U.S. involvement in the Gulf War in Iraq. Taking an international story and giving it a local angle provided Reed a true sense of what it would take for her to make it: "being smart, savvy, and quick-witted."
"When you go to this School, you get a real experience of what it actually takes," Reed said. "You learn how to be a good listener and ask the right questions. No other school gives you a skill set like that in a live network-affiliate setting."
As she approached her spring semester graduation in 1991, Reed didn't know what her next steps would be. Through relatives and friends, Reed had secured several summer internships in the communications department for large corporations, such as Atlas Van Lines and a plastics company in Chicago. Her experiences in these positions included developing company newsletters and instructional guides for employees. Reed says that while these assignments required her to produce different forms of communication, she was still exercising the skill set she'd learned as a broadcast major, that of organizing information in a well-written way and on deadline.
Through these internships, Reed saw that corporations had the potential to improve communications with their employees, and after graduation from MU she decided to pursue her master's degree in communication studies from the University of Nebraska-Lincoln. Nebraska had never been in her plans. She expected to end up in a big city like New York or Chicago, but she was offered a graduate assistantship doing marketing and promotions for the campus recreation center.
"Looking back, did I ever think I'd move to Nebraska?" Reed asked. "Absolutely not. But it was just one of those opportunities I had to take, and it was a way for me to take those journalism skills that were geared more toward marketing – knowing your audience and how to reach them – and use them."
Starting Her Career
Armed with her master's degree in communication studies, in 1993 Reed joined at the Goodyear Tire and Rubber Co. in Lincoln, Neb., conducting both internal and external communications. In five years, Reed developed and wrote employee newsletters in Lincoln, then transferred twice, once to Virginia and again to Ohio. Reed even did a stint as a factory worker at the Lincoln plant during a two-week strike, the result of failed negotiations between the company and the United Steelworkers and the United Rubber Workers. The strike, which was covered nationally, was an "eye-opening experience" for Reed.
"I would work at the factory during the day, then clean myself off and have to go talk to the media," Reed said. "Because I knew how the media worked, I was much more comfortable talking in front of the camera. I knew that the reporter was looking for a short sound bite, and I knew how it would be edited and the news angle that would be the most worthy."
Reed's work with union and other company issues gained her a Goodyear Spirit Award, and she was promoted twice (include a move to Danville, Va.), eventually becoming the communications manager at the company's headquarters in Akron, Ohio. In 2000, Reed left Goodyear to begin a new challenge—working for Pepsico, formerly Quaker Oats, in Chicago as a manager of strategic communications. She decided to "just go for it."
At Quaker/Pepsico, she managed a daily employee e-newsletter, collaborating with the company's information technology department to design the newsletter template. This form of electronic communication was fairly new at the time. Reed's experience with emerging technology started at MU's journalism school, but what she learned along the way is that technologies will change, but the fundamentals of telling a good story don't.
"During my senior year, they had literally just brought computers into the newsrooms," Reed says. "But, what's good is that even though the equipment changes, the skills you learn at the journalism school don't change."
Reed also organized town hall meetings so employees could learn and voice their opinions to the company. She developed training videos on international business practices for employees. When PepsiCo purchased Quaker Co. in 2001, Reed was responsible for organizing the internal communication among employees so they would feel well informed on the changes within the company, something she felt the journalism school prepared her for.
"For me, I always go back to my journalism experience because a lot of it stems from knowing the basic questions to ask and being a good listener," Reed said. "I learned how to be strategic in my communication."
In 2004, one of Reed's internal customers left Quaker and accepted a position with ConAgra Foods. She asked Reed to join to lend her communication expertise and shortly thereafter, Reed joined ConAgra Foods as the director of communication in the Naperville, Ill., office. In this position, she handled the divisions' communication, including the development of key messages, website communication and crisis communications such as staffing reductions. They asked Reed to move to Omaha, Neb., for a corporate headquarters job on several occasions but Reed kept turning it down because she loved living in Chicago.
Eventually, ConAgra offered her an opportunity as the executive director for the ConAgra Foods Foundation office in Omaha, Neb. After conversations with a number of people, including Gary Rodkin, with whom she had worked at PepsiCo and was now ConAgra Food's CEO, about career growth and chances, Reed contemplated it further. She ultimately took Rodkin's advice and accepted the job in 2006, relocating to Omaha. "In essence, it was a risky but good career move," she says.
At ConAgra Foods Foundation, Reed positioned the Foundation as a corporate citizen, partnering with programs such as Feeding America, American Idol Gives Back and Good Morning America to raise awareness concerning child hunger. She helped create the "Shine the Light on Hunger" campaign for hunger relief in Omaha, Neb., which raised thousands of pounds of food and $700,000 for the local food bank. Furthermore, Reed is responsible for initiating the "Community Impact Grant" program, which gives money to real-world solutions around the country to end child hunger.
Reed was promoted to vice president of Foundation and Cause. In this position she continues her dedication to ending child hunger, working to increase ConAgra's cause campaigns and philanthropic giving. In 2010, the Foundation implemented its Child Hunger Ends Here cause marketing campaign, of which Reed plays a pivotal role, lending her expertise on child hunger.
The mission of the Foundation is personal for Reed, who married her high school sweetheart in 1993 and has four children. She could never imagine not being able to feed them. She feels the work she does with the Foundation is crucial to helping other families.
"As a mother, I can't imagine not being able to feed my kids," Reed said. "No one sets out to deny their children food, the very basic element of life that is essential to kids' growth and development, but a lot can happen to families to cause that, especially in today's economy – layoffs, health issues, unexpected illnesses and more. I'm grateful I've not had to make the choice between paying rent or feeding my children. I want to help families that do."
Reed credits her time at Journalism School with giving her the necessary skills for success. The ability to ask, listen and inform has made all the difference in the opportunities that have opened up for her, she says, and has allowed her to do something great with her career.
"I am proud of my Missouri Journalism roots," Reed said. "While I am not working in a traditional media role, the skills I enhanced there – to ask questions, seek clarity, check facts, and articulate a message or story that is accurate in a way that reflects personal and professional integrity – is at the basis of what I do every day."
Updated: November 10, 2011