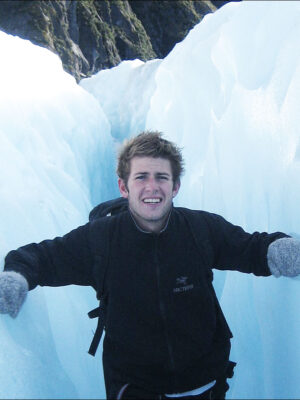 Degree(s): BJ '08
Whereabouts: United States, Kansas City, Missouri
For Kyle Pusateri, BJ '08, choosing a college was a no-brainer. Missouri born and raised, Pusateri enrolled at the Missouri School of Journalism like any true Tiger son. His experiences at the School included global travel, leadership and a last-minute switch from broadcast to strategic communication.
How has the Missouri Method education shaped your career?
"To learn by doing" is the epitome of a practical approach to understanding how the real world works. Most of what the J-School taught me along the way came through simulated experiences and or exposure to people currently living the dream. The J-School hooked me up with three legit internships, which set the stage for my first real job upon graduating.
What was the most rewarding experience you had as a J-School student?
Sharing my senior year with three amazing foreign exchange students who were also studying at the J-School. The School's Global Programs office hired me after my time in the study abroad program to be a Peer Ambassador to foreign exchange students, welcoming them to everything that's awesome about Mizzou. I recently visited Camila in Copenhagen this past summer, and Nicci and Whitney have both made visits from Australia back to CoMO since their semesters here.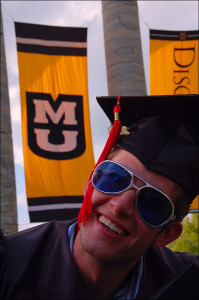 What was your most memorable/beneficial J-School class? How did it prepare you for your career?
100 percent, without a doubt, it was Creative Account Management, taught by Marc Kempter, BJ '86, now EVP Director of Operations at MullenLowe US in Boston. He, along with Jeff Graham, BJ '92, Partner and Managing Director at Grenadier in Boulder, Colorado are my advertising heroes. Their make-it-all-about-the-work philosophy and no-BS approach to creative account leadership is what I strive for everyday. Marc and Jeff worked together at an agency called CORE in St. Louis, which hosted the Creative Account Management class for our final pitch presentation. I had the pleasure of preparing and presenting with Brandon Butcher, BJ '07, now associate director of the Novak Leadership Institute. I remember we absolutely killed it! Marc was real tough on us, though. He made us sweat and think smart on our feet. He championed the creative brief, which I learned to carry through to my career today.
How did you get your first job?
The Mizzou Mafia has had my back since Day One. Eve (Silver) McDavid, BJ '08, now YouTube Performance Partner Lead at Google, was a rock star classmate of mine in undergrad. She was the next big thing coming out of the J-School, cruising through coursework, extracurriculars, and internships. OMD plucked her right after college. I called in a favor, and she referred me to fill the entry-level position she was leaving at local Columbia agency Woodruff Sweitzer. They hired me the day I graduated, especially right before the economy tanked and kids were moving back into their parents' basements.
Did you ever think you would end up where you are now?
Garmin makes products that are engineered on the inside for life on the outside. As a global account lead for their internal agency, I look up to fellow Tigers, VP of Creative and Communications Brian Brooker, BJ '83, and Creative Director Matt Bowne, BJ '01. We're all cut from the same cloth, so it's truly a privilege to grow and learn from these guys. Their drive to modernize the brand with emotional, powerful advertising is why I come into work every day.
If you could go back and give your college-self one piece of professional advice, what would it be?
Take ownership of the creative brief. Chris Cardetti, BJ '05, VP Group Strategy Director at Barkley, showed me how to be a lightning rod for brilliant, strategic ideas. He taught me how to make the brief come alive and truly fuel the creative spirit. To quote Jeff Graham, "I would argue that outside of signed contracts and estimates, there's no more important document inside of agencies than great, inspiring, client-approved creative briefs to kick off every assignment."
What advice would you give to graduating seniors?
Be nice; don't be a jerk to anyone. Be accountable; do what you say you're going to do. That's how our business operates. Be involved; add value to the agency or company apart from day-to-day duties. And, have a hobby outside of work. Be creative; it's okay to be a little left of center; you're in advertising. Be yourself; authenticity is key. Sometimes you have to sell yourself in order to sell the work.
Updated: March 17, 2016