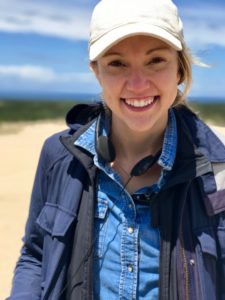 Degree(s): BJ '10
Whereabouts: United States, New York
What do you do?
I'm a senior video producer at Discovery Networks creating editorial video content for brands. I produce video content for Food Network, Travel Channel, TLC and HGTV. Before that, I was the first branded content video hire at Mashable and helped to get the team up to speed. It's a fun crazy world filled with creativity, clients, challenges and finding that perfect blend of storytelling and marketing.
How did you get your job?
I moved to NYC without a job and hustled until I could get my start in the video industry. I started temping and networking every night to find someone to take a chance on me. I found an opening at a video production company. Initially I interviewed for a receptionist role there, but I had too much experience to be considered for that role – thanks, Mizzou – so I started freelance shooting and editing video instead. My first job led me on to the video production path so I kept exploring through doing bigger and more interesting projects. At Mashable I had my first branded content video role. It was fun to not just create the video, but see how it performed. I love my job at Discovery and found it through applying; it also helped that I knew someone at Food Network at the time that could speak highly about me.
What is the best professional lesson you learned at the J-School?
Do the work. There are no shortcuts. I love diving in deep and solving a problem and getting my hands dirty. Mizzou taught me not to shy away from the work. It gave me the confidence to volunteer for opportunities and figure it out. I feel capable to take on what comes my way.
What advice do you have for current students?
It's no longer about just having the experience to get the right job. It's all about how you stand apart. By honing in on your story, you can help shape how others understand you. After graduation, I lived in rural Spain to teach English. I wanted to get better at Spanish so I started to create profiles for my blog by interviewing real people in the community. I had super interesting experiences while there, and when I moved to NYC you better believe I shared those stories with everyone I met because it helped paint a picture of who I was.
What is your favorite J-School memory?
When President Barack Obama came to Macon, Missouri, to do a speech at a biorefinery plant, I covered it for KBIA. I really appreciated the opportunity and the magnitude of the chance to do this coverage. We went as part of a team and we filed the story pretty quickly. It felt big and important but it also was cool how small the venue was and how close we were. In the moment you're really just doing what you need to get your job done but after finishing the story, I realized just how unique the experience really was – especially for an undergrad.
Any additional comments?
I love to connect with soon-to-be and recent grads. I love giving back to recent grads because I know how hard it is to get noticed and get a job – I want to share everything I know based on what works.
Updated: April 2, 2019