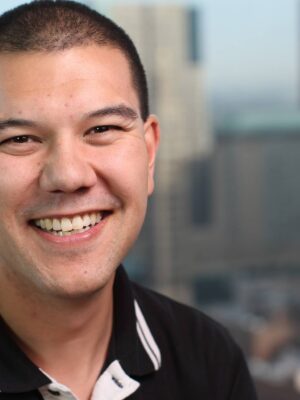 Degree(s): BJ '99 (Broadcast)
Whereabouts: United States, Denver, Colorado
What do you do?
My job includes being a producer, writer, reporter, videographer, and video editor. I'm currently responsible for producing topical and image promotion for the station's Creative Services Department. But in more than a decade here, I've done everything from produce newscasts and manage website content to lead the production of a local sales-driven program and interact with viewers through our social media platforms. I won a regional Emmy for Interactivity in 2011 for a story that was prompted by Facebook followers who wondered if the circus was abusing its animals. In 2008 while working on the station's news website (CBSDenver.com), I won a local Emmy for Advanced Media-News Programming for a series of multi-media reports I filed during the 2008 campaign season.
How did you get your job?
Back in 2002 when I was hired here (originally as a newscast producer), a classmate of mine from Mizzou who was working with me at my first station in Grand Rapids, Mich., had heard of an opening at KCNC and knew I wanted to move back to Colorado. (I grew up in the Denver area.) I sent a resume tape, applied, got an interview and was hired a month later. I got my first job after Mizzou in Michigan by tracking Internet postings and sending resume tapes to stations where I thought I might want to work. After two other job offers, I took the job at WOOD-TV in Grand Rapids. The faculty and staff at the School of Journalism were very helpful in helping me apply for that first job out of school.
Best professional lesson learned at the J-School?
Never burn bridges with co-workers. Journalism, especially TV news, is a small world, and you never know when you might end up working with someone again. You can always use the contacts to help you find that next job or help someone else get a job.
What would be your best advice to current students?
Learn as much about multi-media journalism as possible. Work on reporting, writing, video editing, shooting, photography, social media, interview techniques, on camera presentation. Today's journalist needs to be able to do everything. The more you can do, the more marketable you are. Everyone knows technology is increasing efficiencies and employers are asking workers to juggle many tasks and responsibilities. Be versatile. Master as much technology and software as possible in the media realm. But always remember that getting the facts and effectively communicating through your writing are the solid foundation of any journalist.
What did you want to be as a kid?
I was always fascinated by TV news and current events growing up. It may sound corny, but I knew I wanted to be a part of that. When I started looking at colleges, I looked for the ones with strong journalism programs, and that sent me to MU. I don't think I'd have had the professional opportunities I've had if I hadn't gone to MU and taken classes at the hands-on J-School. The J-School degree has really helped me live my dream.
Updated: November 3, 2011