Nileeni Meegama
Vice President, 50+ Research & Strategic Intelligence at AARP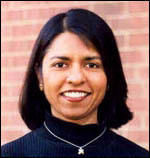 Degree(s): MA '92, PhD '96
Whereabouts: United States, Washington D.C.
Deciding on the Missouri School of Journalism
The decision to pursue a graduate degree in journalism was an easy choice for Nileeni Meegama. She had studied business during her undergraduate years in India – which adjoins her native Sri Lanka – and wanted to specialize in advertising. Meegama wrote to faculty at potential schools to ask about their programs, and she expected to receive a standard response. Missouri School of Journalism professor Henry Hager, though, wrote a personal and thoughtful response. Meegama was impressed.
"It was like he was already trying to be a mentor before I was even accepted to the school," Meegama says.
Meegama was sold on Missouri's graduate advertising program after receiving Hager's letter. Upon arrival, she found Columbia to be a very different environment than the bustling and crowded city of Secunderabad in India.
"It was absolutely energizing, positive and exciting," she says.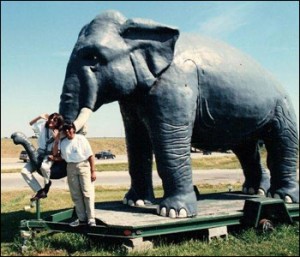 Her Time at the School of Journalism
The school offered Meegama the opportunity to create a master's program that would allow her to study business, journalism and psychology simultaneously. Her passion was psychology; business and journalism were tools she could use to apply her knowledge in practical ways, ways she could help people.
In addition to her coursework, Meegama was a survey research supervisor at the Center for Advanced Social Research, a survey center based at the school. She enjoyed supervising students, who worked on projects for the school's faculty as well as external clients such as the St. Louis Post-Dispatch and Missouri Department of Highway Safety.
"I love a good puzzle and research is like a puzzle," Meegama says. "It's always new and different."
One summer Meegama used her research skills at Ogilvy Public Relations in Washington, D.C., to support their approach on campaigns for AIDS prevention. It was the early 1990s, when major outbreaks of the HIV virus and disease were the headlines of the day.
"AIDS education was a sensitive topic, and there was a need for AIDS education," says Meegama.
The research kindled a strong interest in health-related topics. Meegama wrote her master's thesis on the perceptions of advertisements covering AIDS prevention and safe sexual practices in the U.S. and India.
Meegama did not plan on getting her doctorate. But her supervisor at CASR, Esther Thorson, associate dean of graduate studies, presented an opportunity she said she could not pass up: continue working and pursue her doctorate at the same time.
"One of the objectives I live by is really being able to use educating and informing people in a positive way."
Her dissertation research topic stemmed from one of her personal philosophies that she developed while studying advertising.
"One of the objectives I live by is really being able to use education to inform people in a positive way," says Meegama.
For her dissertation, titled "The Effects of Mood on Media Survey Research," Meegama conducted focus groups and evaluated participants' moods after reading positive and negative newspaper articles. Participants then took surveys about what they had read and other news in the media. One finding highlighted the importance of determining the mood of the respondents before a survey, to ensure its reliability and validity.
Her research on how mood affects perceptions of media has proven to be valuable to both news and strategic communication professionals. And it provided Meegama with a foundation upon which to build her career.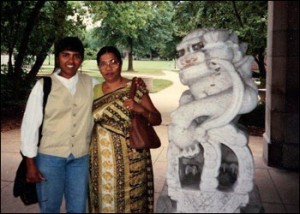 Personal and Work Philosophies
Although many people with doctorates go on to teach at the university level, Meegama wanted to keep working in the business world. Her first job after school was for Marketing & Research Resources, Inc., a Maryland-based marketing and research company whose client roster included companies such as CNN-Time Warner.
Two years later, she moved to D.C. and started her own consulting firm, Triangle Research Group. TRG's clients included the University of Maryland, the World Bank and Bates Worldwide in Sri Lanka. Her firm also did pro-bono work for a select group of nonprofit clients. Stepping Stones, a homeless shelter in Maryland, was one of them.
In 1999, Meegama joined the AARP and has since assumed five different positions there. She is now vice president of research and strategic intelligence for those 50 and older for the nonprofit and nonpartisan organization. Meegama leads a group of teams working on high-impact research affecting all facets of AARP. She interprets and presents complex research findings to internal and external audiences. Meegama's work is used and leveraged by the AARP media team working with the press, and AARP's executive team including the CEO.
"The moment you find out someone else went to the J-School, doors open and attitudes change."
"I define the roles I like by the people I work with, more than the actual roles," says Meegama. "My current team is the best I've ever had."
Meegama enjoys crossing paths with other alumni and encourages students to develop close-knit ties with their classmates and faculty. She still feels the warm welcome and acceptance that Hager extended to her before and during her time at Missouri.
"The moment you find out someone else went to the J-School, doors open and attitudes change," she says.

Lisa Lovello is a senior with a dual major in strategic communication and sociology. She is a recipient of the Chancellor's Excellence Award for her work at the MU Women's Center.
Updated: December 9, 2011