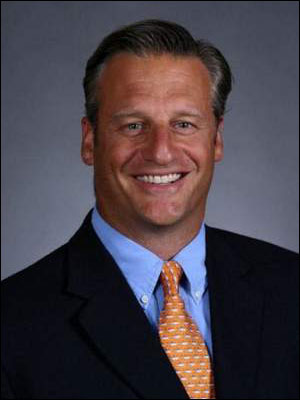 Degree(s): BJ '87
Whereabouts: United States, Louisville, Kentucky
Four points lifted the Louisville Cardinals over the Wichita State Shockers as the buzzer ended the 2013 NCAA Final Four game. Luke Hancock and his teammates were going to the Cardinals' first title game in 27 years.
After the initial post-game interviews, Yahoo! Sports columnist Pat Forde, BJ '87, watched Hancock cross the court and hug a man who looked ill.
Curious, Forde headed to the locker room and asked around about the man who seemed to mean so much to Hancock. Teammate Mike Marra tearfully shared that it was Hancock's father and that he was, in fact, sick. Forde then talked with Hancock's brother and mother.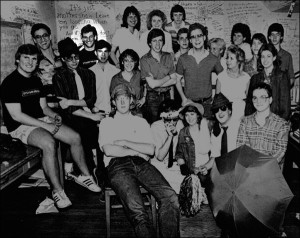 Forde got only a few minutes alone with Hancock, who did not want to talk about the specifics of the illness, but was willing to talk about his relationship with his dad. These conversations were enough for Forde to release his story with Yahoo! Sports titled, "Louisville's Luke Hancock Gives His Ailing Dad a Moment to Treasure at the Final Four." It would become the story of the tournament: Hancock helping his team win as his dying father watched.
Forde, now a 30-year sports journalism veteran, started work at the Courier-Journal in Louisville, Kentucky, after his graduation from the Missouri School of Journalism in 1987. Seventeen years later he moved on to ESPN and eventually Yahoo! Sports.
Throughout his career, Forde adapted to the changing times in media using fundamentals he learned from the School, maintaining the ethics and standards he developed here.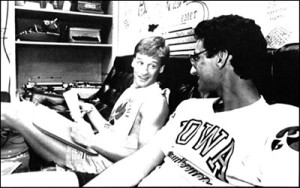 A Newspaper Man
Growing up, Forde's father read the Colorado Springs Sun paper in the morning and the Denver Post at night. Forde, a high school football and basketball player, would wait for his father to finish with the sports section so he could keep up with all his favorite teams and players.
Forde knew he wasn't big-time college sports material, only receiving scholarship offers for small-time college football, so he looked for a career path that would keep him close to what he loved. Sports journalism, he says, stood out as the "what else" he could do for the rest of his life.
Forde came to the Missouri School of Journalism at a good time for aspiring reporters. The New York Times had started to produce a national edition in 1980, and USA Today had launched in 1982. To Forde, newspaper writing seemed like a lucrative field he could stay in until retirement.
After his first semester of college, Forde started covering sports for the University of Missouri's independent paper, The Maneater. His first story was about a swim meet where Missouri beat Nebraska after a series of losses to the school.
He eventually became an editor at The Maneater. Each byline and assignment took him closer to being the writer he wanted to be.
When Forde began writing for the Columbia Missourian in his junior year, his sports editor, Dan Kelly, noticed Forde loading his writing with hyperbole and one-liners. Kelly approached Forde with tips on how to write with style.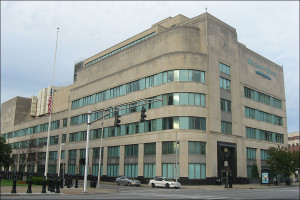 Forde's now-practiced style is showcased in a Yahoo! Sports story on the Alford family. Sharan, the mother of Bruins coach Steve Alford and grandmother of players Bryce and Kory, was in the front row behind the bench. But she also was seated next to her husband, Sam, and had to listen to him mumble throughout the game. Wrote Forde: "The row behind the bench is still a bit foreign to Sam [Alford]. It's no longer his place to be shouting instructions. Hence the mumbling."
When Forde covered spring football recruiting for the Missourian, he discovered star Missouri recruit Tony Van Zant did not get the necessary ACT score to play for Missouri in the fall. Forde found the information out from Van Zant's father.
Forde wrote the story, only to be hit with a rebuttal by the Columbia Daily Tribune, which quoted Van Zant's high school coach claiming Van Zant's privacy was invaded, and the Missourian article was false.
Forde credits the support from Missourian faculty with allowing him to display the integrity and ethics he learned in classes. One specific phrase Forde learned at the Missouri School of Journalism is "full, fair and accurate." If a story can be described using all three adjectives, Forde knows he has done his job correctly and with integrity.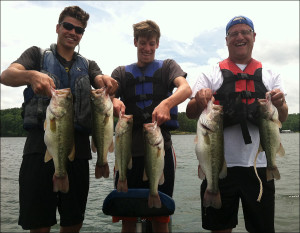 Despite the attack from the other newspaper, Forde still maintained a love of the newsroom.
"It just kind of gets into your blood, I think, and having those experiences just hanging around I figured, okay, I'm a newsroom junkie," Forde says.
Brian Brooks, the managing editor for the Missourian, was a mentor to Forde. Brooks noticed Forde hadn't scheduled any interviews with recruiters. One day, Brooks, in his usual attire of a button-down shirt and tie and comb-over do, approached Forde: "Are you gonna talk to these people that come in, or not? Because you are going to need a job."
Forde signed up to meet with the Courier-Journal in Kentucky, and he was invited to Louisville to talk with the sports editor. The Courier offered him a job the day of his philosophy final, and he readily accepted.
Soon, Forde was covering high school sports for nearly 100 high schools in southern Louisville as a beat reporter. In time, Forde became a columnist and would win 18 national awards in the Associated Press Sports Editors writing contests.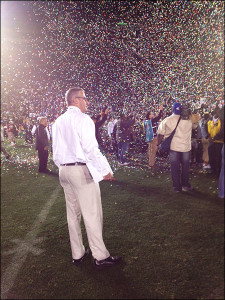 Three years into his career, Forde wrote a series focused on "the abysmal academic standings of both the football and basketball teams at the University of Louisville." The story and subsequent probationary status placed on the athletic program made fans angry, some of the fans even blaming Forde. This unnerved Forde, but he stood by his story, knowing it was full, fair and accurate. The series was nominated for a Pulitzer Prize.
While working at the Courier, Forde started to take freelance jobs with ESPN, including working for ESPN Sports Zone and writing weekly columns. Forde was soon regarded as a regular contributor to ESPN.
A Little About A Lot
In 2000, the New York Times updated its online news operations to allow for continuous updates. It was just one of many indications that the newspaper business – and journalism in general – was changing. Forde knew he would have to adapt.
Forde accepted a contract with ESPN as a college football and basketball specialist, joining John Anderson, BJ '87, Michael Kim, MA '91, and other alumni there.
Forde transitioned well to ESPN, for the most part. Once, as he prepared to speak on the side sound stage for ESPN's Saturday morning Game Day, his earpiece kept falling out. The cameras were rolling, but Forde could not hear the questions coming from the main stage.
"My thumb was in my ear like I was covering a hurricane," Forde says. Although the situation did not go as planned, Forde got through it and continued to appear on up to 130 TV appearances a year.
Forde also learned to develop quick sound bites and write stories that could be published within an hour.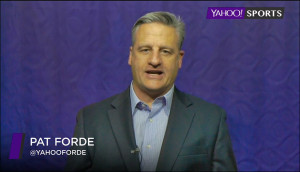 There were other major differences between his newspaper days and his new job at ESPN. Rather than focusing on the sports of one state, Forde had to know about 128 college football teams and 350 college basketball teams.
"The biggest thing to learn, probably, was going from a localized focus to a national focus, where you know a lot about a little in Louisville," Forde says. "At ESPN or Yahoo!, you've got to know a little about a lot. You've got to know at least the basics of what is going on."
Because ESPN's business model is tied up in the popularity of certain games and conferences, Forde didn't have a columnist's freedom to write or say whatever he wanted. He missed this aspect of reporting.
A Commitment to Integrity
Forde found what he was looking for at Yahoo! "We have a lot of freedom there, almost an alarming amount of freedom," Forde says.
When Forde wrote the story on Hancock, his Yahoo! editors trusted Forde's instincts. His hunch might have gone nowhere, and he could have ended up without a story. But without that trust and freedom, Forde could not have created a story that mattered more than just player statistics.
These are risks Forde is willing to take in his pursuit to tell behind-the-headlines stories while staying true to his full, fair and accurate philosophy.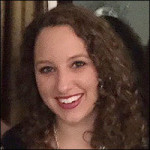 Samantha Orlowski, a junior from St. Louis, Missouri, is studying journalism with an emphasis on strategic communication and is also studying political science. She is currently on the public relations committee for the organization Puppies With Purpose, a volunteer organization that helps socialize service dogs. She also volunteers for STRIPES, an organization that provides all MU students with a safe, free and confidential ride home. After her graduation in May 2016, Samantha hopes to attend law school and pursue a career in constitutional law.
Graduate assistant Rebecca Dell helped Samantha Orlowski develop this Profile in Success.
Updated: May 11, 2015