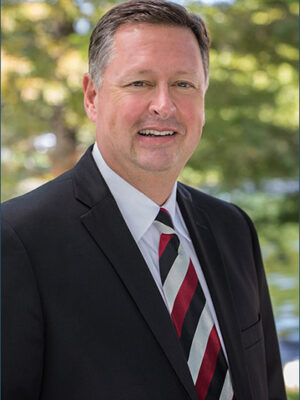 Degree(s): BJ '77
Whereabouts: United States, St. Louis, Missouri
On the desk of Patrick Farrell, BJ '77, sits a framed photo taken in April 2013 that captures one of his favorite University of Missouri memories. He stands beside then-MU Chancellor Brady Deaton and two members of the founding family of Enterprise Holdings Inc., where Farrell serves as chief marketing and communications officer. Deaton formally announced the $2 million gift the company would be giving to Mizzou Advantage's sustainable energy initiative. For the MU alumnus, it felt a bit surreal.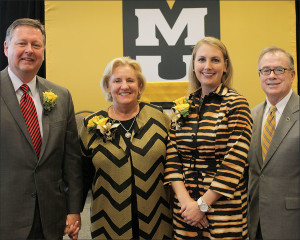 Deaton called Farrell to the podium to say a few words on behalf of the company. "I said, 'For those of you who would have known me at Mizzou, none of you would have ever suspected I would be on this side of the podium,'" Farrell says.
That's because the man who has worked in corporate communications and brand marketing for nearly his entire career was a news-editorial major, the kind that lived and breathed the Columbia Missourian, while a student at the Missouri School of Journalism.
Farrell is his company's official liaison to MU. Composed of three separate car rental brands – Enterprise Rent-A-Car, National Car Rental and Alamo Rent A Car – Enterprise Holdings also happens to be a top recruiter of U.S. entry-level college graduates, making for a very valuable symbiotic relationship between the university and the rental car giant.
Journey to the School of Journalism
Farrell wasn't thinking about a career in journalism in high school.
"I went to my guidance counselor in my junior year of high school, and she mentioned that I was doing exceptionally well in all things related to English and writing," he says. "She wanted to know if I knew anything about the Missouri School of Journalism."
Farrell, with his self-described blue-collar upbringing in St. Louis, hadn't considered college until the conversation with his counselor. He decided to follow her advice. For his first two undergraduate years, Farrell attended St. Louis Community College at Florissant Valley to manage the costs, swim competitively and write for the Florissant Valley Forum to collect some bylines. He arrived in Columbia in the fall of 1975 ready to begin his junior year.
An Early Love for Journalism
Farrell's time at Missouri was influenced by Watergate. The 1970s scandal involving a break-in at the Democratic National Committee headquarters at the Watergate office complex in Washington, D.C., and President Richard Nixon's administration's attempted cover-up of its involvement attracted many college students to pursue a career in journalism.
"That lit us up, and it wasn't about bringing down the president, but it was about the power of the press if we did our job properly," he says. "In a free democratic society, one of the most important institutions is a free press."
Farrell and his Missourian colleagues enjoyed the occasional late night burger at the Heidelberg after putting the paper to bed. He won awards for a student redesign of the Milwaukee Sentinel and for a front-page story on climate change.
Farrell was driven to pay for his schooling and spent nearly 20 hours a week working at the Missourian to get the best experience he could. Farrell participated in Army ROTC and wrote the newsletter for the organization. He feels all of his efforts paid off.
"I worked hard to get in the school, and I worked hard to stay in the school," he says. "What I can tell you is that when you come through that school and you enter competitive society, all of us are very well trained."
Career Climbing in Corporate Communications
Upon graduation, Farrell was commissioned as a lieutenant in the United States Army Reserves. After a three-month stint to complete his officer training course at Fort Sam Houston, Texas, Farrell returned to civilian life and began his journalism career working for two Missouri publications within the Sowers Communications media group: the Rolla Daily News and the Fort Gateway Daily Guide.
Over the next six years, Farrell continued to serve part time in the Army as a reservist, where he was tasked with helping to run a combat support hospital. While he admits to not being a gifted soldier, Farrell credits his military experiences and training in helping to shape his leadership skills.
"As I've grown older and I've had more leadership roles, that space helped me in terms of how to command people in the proper fashion, with respect, fairness, and kindness," he says.
After working for about two and a half years with Sowers Communications, Farrell received two job offers. One was to write for a bigger audience at the now-defunct St. Louis Globe-Democrat; the other to leave journalism and join the realm of corporate communications with Agri-Trans Corporation, a river transportation company that moved grain up and down the Mississippi, Illinois and Ohio rivers. Farrell took the job at Agri-Trans, managing its corporate communications and serving as a professional writer, drafting financial reports, position papers and speeches for the executives.
"My skill set was one that was transferable," he says of his journalism education and the manner in which it helped him navigate his new industry. "At first I felt like I didn't belong in that space, but I felt like I was a particularly good storyteller, so whether I was doing it journalistically or more on the commercial side, they both fit my skill set."
Farrell says his reporting served him well for his transition to marketing.
"It's not the same as journalism by any means, but the capability of telling a story through the written word is something that I've used every day for 38 years to make my living," he says.
After two years with Agri-Trans, he moved on to Laclede Gas Company. His corporate communications work broadened to include a television and print advertising campaign for the utility company. This gave him a first taste of the branding and marketing world, where, later in his career, he would find his niche.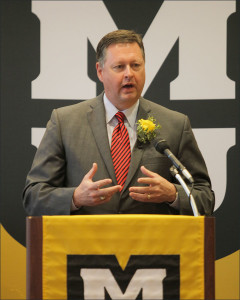 Next came stints at Ralston Purina Company and a move to Chicago for Kraft Foods. He then arrived at Enterprise Holdings, where he's been since 1999 and now holds the title of chief marketing and communications officer. Farrell cites the increasing importance of integrated marketing communications and the need for one overarching brand voice as the perfect preparation for this shift.
"There were hundreds of people in the field of marketing. There were only 2 to 10 people in the field of corporate communications and investor relations," he says. "To move up the ladder and prove yourself, you often had to change jobs. So it's not unusual in the field I chose that you had to move up that ladder from company to company because the incumbent at the old place was not likely to be leaving."
Farrell has had his fair share of difficult encounters with the public and sad events to explain on the behalf of his employer.
He's had a brick thrown at him during a labor dispute and been screamed at by sports fans over a controversial issue of raising car rental taxes to build stadiums. Farrell has had to communicate for his company in the tragic event of death, including an employee shooting at a battery plant and a baby food tampering issue that resulted in the loss of a child. Through his many years of experience, Farrell has learned how to handle the emotions, stress and sensitivity of it all.
"Whatever business you're in, there are emotions that run high if you believe in your business and you're going to actually have a view that can sometimes get contentious," he says." I do believe that helps me with having passion for my work, but you also have to keep it in proper perspective."
Staying Close to a World-Class Alma Mater
Farrell was interviewed by a professional recruiter while interviewing for his first corporate communications job at Agri-Trans. During the course of their discussion, they learned that both were graduates of the Missouri School of Journalism, graduates of ROTC programs at MU and competitive collegiate swimmers.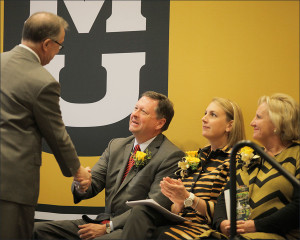 "I said to him during the course of the interview, 'Would you like to see my portfolio?' and he said, 'No.' I said, 'Are you sure?' He said, 'Yes. You were a swimmer, you were in Army ROTC and you went to the J-School at Mizzou. I know the discipline you've been through to get here in life. You're good.' And I was hired," Farrell says.
Farrell credits the connections that MU and the School of Journalism provide as a strong force behind his love and respect for the institution.
"I'm not just a guy who loves black and gold and football stuff," he says. "I have a great respect for what that university did for me."
In the fall semester of 2015, MOJO Ad, the student-staffed ad agency at the School, worked on Enterprise's CarShare program as a client. Enterprise CarShare is an hourly, automated car rental and sharing program targeted at the YAYA (Youth and Young Adult) market, making it a good match for MOJO Ad, which specializes in delivering campaigns aimed at those ages 18-24.
His involvement with MOJO Ad provided Farrell with his first direct exposure to the School of Journalism's strategic communication program, called the advertising sequence when he was a student. Farrell was impressed by the aspiring advertisers' skill and enthusiasm, especially at the final presentations.
"I had expectations, but they exceeded my expectations on so many different levels because it made me think differently," he says. "And for the YAYA population, I can't think the same way, so it really opened up a new scope for me."
Farrell's ability to return to Columbia often allows him to look beyond the physical changes to campus and see the impact MU and the School has on its students and alumni.
"It was a wonderful place to go to school when I was there," he says. "It's a remarkable world-class university now."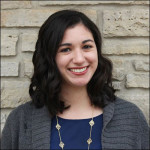 About the Author: Rachel Lira is a senior strategic communication student who will graduate in May 2016. After an internship with Heron Agency, a boutique public relations firm in Chicago, she zeroed in on public relations as her niche within strategic communication. Lira hails from Vernon Hills, Illinois, and hopes to return to the Chicago area post-graduation to work in public relations.
Updated: December 20, 2015