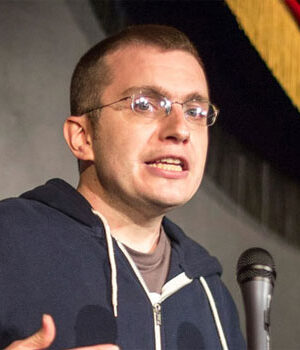 Degree(s): BJ '04
Whereabouts: United States, Boston, Massachusetss
Patrick Garvin, BJ '04, reached for the packing tape at the checkout counter during his shift at Walmart the summer before his senior year of college. He looked up to greet the customer and was welcomed with a familiar face – Reuben Stern, an instructor that Garvin knew from the Columbia Missourian. The two exchanged pleasantries and as Stern paid, he suggested Garvin take his infographics class.
The conversation stayed on his mind. Garvin liked the charts, graphs and other visual representations of the news, but he had never pursued that interest from a career perspective. A few days before the fall semester of his senior year, Garvin decided to drop a playwriting class from his schedule and enroll in Stern's class. The coincidental conversation in the Walmart checkout line shaped the rest of Garvin's career.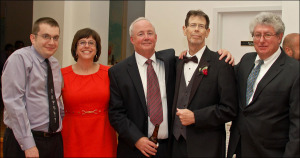 A Family Legacy
Garvin grew up in St. Louis, and his family was his introduction to journalism. His older sister, Kerry Garvin Bodenhausen, BJ '90, talked about her assignments at the Missourian. She was also a phone operator for the "America's Most Wanted" TV show and sent Garvin cases to read so he could learn about the behind-the-scenes work.
Garvin's uncle, Dennis Barnidge, BJ '76, studied news editing at the School of Journalism and spent most of his career working for the Suburban Journal in St. Louis. Even at the family dinner table, the main topic of discussion was often current events. There were always copies of The New York Times and the St. Louis Post-Dispatch around the house.
Garvin entered middle school when his sister was starting her career at the Springfield News-Leader in Missouri. He once visited her when she was covering a high-profile murder investigation into local teacher Jon Feeney, who was accused of killing his family. Garvin met other reporters covering the story and was fascinated by the topic. Feeney was eventually acquitted of the charges.
"I saw that journalism is never done; it's just due," Garvin says.
"When you're 13, you think this is heavy stuff," Garvin says. "But you see the importance of covering it."
Garvin saw a more lighthearted aspect of journalism when he watched his sister do a freelance business piece while they were on Christmas vacation.
"I saw that journalism is never done; it's just due," Garvin says. "I loved how I was off of school and everyone was off work, but she was still busy."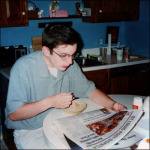 This continued exposure to journalism led to growing interest in the field for Garvin, and he decided to continue the family tradition. Choosing the Missouri School of Journalism was a no-brainer.
Learning Journalism at the School
It was fact and fiction that got Garvin interested in investigative journalism. Watergate reporters Bob Woodward and Carl Bernstein glamourized the process. Investigative reporting sounded cool, but Garvin was open to other options.
As a first-semester beat reporter at the Missourian, Garvin wrote life stories of the recently deceased. One husband was so touched by Garvin's article about his late wife that he wanted to introduce Garvin to his children. The widower sent Garvin a note of appreciation after the story was published.
"It was some of my best writing because I tried to get the sense of the woman I was writing about," Garvin says.
Garvin took Stern's course on a lark and ended up falling in love with infographics.
"I liked that there was the precision of copy editing and that you had to be very accurate when you were measuring information," Garvin says. "But you also got to generate a lot of ideas for graphics like you do for stories, so there was a creative side."
"I remember the intensity of, 'Holy crap, this is what it feels like to be a reporter,'" Garvin says.
One of Garvin's most intense experiences was during a Saturday evening graphics shift. His shift was almost over when an alert came to the newsroom: A man had been shot, allegedly by his six-year-old grandson. Garvin canceled his dinner plans and headed to the capital city with crime beat reporter Katy Kickham to cover the story. The two reporters used the 30-minute ride to develop their questions and reporting strategy.
"I remember the intensity of, 'Holy crap, this is what it feels like to be a reporter,'" Garvin says.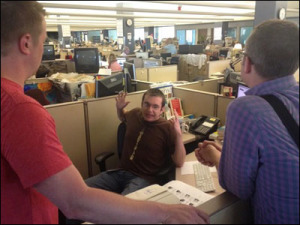 Setting His Sights
After graduation, Garvin went to work at the Sun News in Myrtle Beach, South Carolina, for a year and a half before moving to the Florida Times Union in Jacksonville. In 2007, he made his first trip to Boston for the Society of News Design conference, after former Times-Union designer Robert Davis had moved there. Garvin fell in love with the city and the paper, and he began setting his sights on a job there.
Garvin was hired for a part-time graphics position at the Globe, though the editors stressed that they didn't know if a full-time job would ever open up for Garvin. He made the move to Boston in 2010 anyway, and the position became full-time in 2012.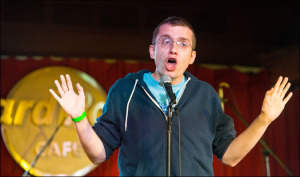 Life at the Boston Globe
Now, Garvin helps readers understand the news by presenting it visually. This can range from complex scientific diagrams about hip and knee replacements to graphics about how chocolate is made. When his hometown Cardinals played the Boston Red Sox in the 2013 World Series, Garvin did a graphic comparing the two cities. Sometimes, he creates entertainment graphics like he did about television love triangles spanning 20 years of television shows ranging from "Melrose Place" to "Orange Is the New Black."
"I love the variety," Garvin says. "I love that I can work across all departments."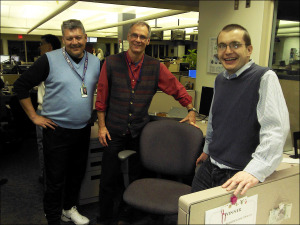 Looking to the future, Garvin wants to continue more multimedia and Web-based work.
"I really like the possibilities and the challenges of being able to show things on different size screens, to different audiences, and thinking about who is going to be seeing it and when," Garvin says.
In addition to individual graphics, Garvin also has had the opportunity to work on BostonGlobe.com/gaymarriage, the publication's extensive coverage of same-sex marriage in America. Garvin conceived the idea after the Supreme Court ruled on Proposition 8 and the Defense of Marriage Act in June of 2013.
"Ever since I was in the Missouri School of Journalism, my unofficial way of looking at things is to identify what it is you want, figure out what you have to do to get it, and then start doing that stuff," Garvin says.
The site has interactive maps, updated legislation organized by state as well as linked news stories. It was some of the first comprehensive coverage of the issue and has become one of the most detailed histories of same-sex marriage in the United States. The gay marriage section specializes in aggregating content and stories. Garvin wants to continue this work in the future.
"I would love to be exploring more ways of making use of what is already on the Web and aggregating," Garvin says. "I would specifically like to be doing that with LGBT topics because there are a lot of new sites to tell those stories. If LGBT were ever to become a beat, I would love to be exploring that."
From the beginning of college to finding his dream job at the Boston Globe, Garvin has stuck to his unofficial motto.
"Ever since I was in the Missouri School of Journalism, my unofficial way of looking at things is to identify what it is you want, figure out what you have to do to get it, and then start doing that stuff," Garvin says.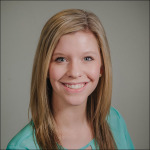 Sarah Rosselet is pursuing a dual major in strategic communication and political science at the University of Missouri. Upon graduation in May 2015, she plans to earn a master's degree from the Missouri School of Journalism. Rosselet, from Dallas, wants to work in public relations after completing her education. Her interest areas include public affairs and corporate communication.
Updated: December 16, 2014