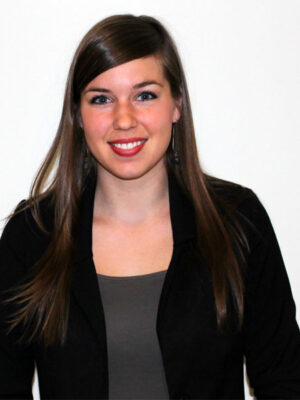 Degree(s): BJ '07, MA '08
Whereabouts: Cambodia, Phnom Penh
For Rebecca Norris, BJ '07, MA '08, a day at the office revolves around something she loves: people. Norris has a knack for making connections with others, whether she's building relationships with colleagues or understanding consumers' bonds with brands.
"I've always just really enjoyed people, and so the idea of centering my career around what they believe, how they behave and how their behavior influences business decisions was really appealing to me," Norris says.
Through the Missouri School of Journalism, she crafted her interest into a career in market research. Norris' passion for people has allowed her to taste the glamorous life of media planning, uncover insights for brands like Hilton and Intel, explore the nuances of New York Times readers and transplant her life across the globe to Phnom Penh, Cambodia.
Discovering Market Research
During a tour of the Missouri School of Journalism in her senior year of high school, Norris' desire to study strategic communication materialized as a result of a conversation.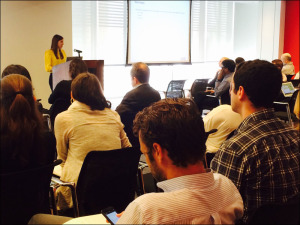 "Initially, I actually wanted to be a news anchor," Norris says. "I remember speaking to some students who explained that there were other areas of study in the J-School outside of journalism such as PR and advertising."
With this in mind, Norris set out to pursue a career in public relations until she was exposed to account planning during an internship at an ad agency the summer after her sophomore year. She had been interested in psychology since high school, and account planning allowed her to apply the discipline of consumer behavior to advertising strategy. Norris began to consider account planning and the broader field of market research.
As she was making career-shaping decisions at MU, her perspective was influenced by a valuable piece of advice from her freshman English professor Anne Mack.
"I remember she said, 'If you come to Mizzou and you only expect to learn through your classes, then you've missed a grand opportunity,'" Norris says. "Basically, she was saying that you have to find your own ways to learn outside of just your classes because doing so will then make your time at Mizzou richer."
Norris took this instruction to heart. She considers two experiences she had outside the classroom in her time as an undergraduate to be pivotal to her future success.
First, she joined Ad Club, a campus organization now known as AAF Mizzou that is affiliated with the American Advertising Federation. By her junior year, Norris had become vice president of events for Ad Club. In this role, she worked closely with faculty adviser Steve Kopcha, who was so impressed with Norris that he asked her to be a teaching assistant for his strategic writing course.
As Kopcha's teaching assistant, Norris organized alumni speaker visits to his class. One of the alumni that Norris booked was Jon Halvorson, BJ '04, who at the time worked for OMD, the media agency where Norris would eventually begin her career. Over the course of the two semesters that Norris was a teaching assistant for Kopcha, she built a valuable professional relationship with Halvorson.
"He kept coming to speak, and he'd say, 'When you're done here, I'm going to hire you,'" Norris says. "I told him, 'No, you're not, everyone always says that, but he actually did."
Her second pivotal experience was working at the Psychological Research on Information and Media Effects Lab at the School. Norris first heard about the PRIME Lab when co-director and Associate Professor Paul Bolls spoke at an Ad Club event. She thought the PRIME Lab sounded interesting, so she joined.
The PRIME Lab gave Norris practical hands-on experience through conducting psycho-physiological experiments. Coupled with her account planning internship, her involvement at the lab allowed Norris to confirm her passion for market research.
"In both cases – the PRIME Lab and internship – it was about realizing that market research enables you to answer fascinating questions about how people think, what they believe, and how those beliefs affect their behavior," Norris says.
Her work in the PRIME Lab as an undergraduate qualified Norris to work as a research assistant while working on her masters. As a graduate student, Norris became a published author and attended and spoke at international conferences about her research on prescription drug advertising.
"I still to this day have the PRIME Lab on my resume," Norris says.
Overall, Norris chalks up her success at the Missouri School of Journalism to people.
"Looking back there were a few pivotal moves, and underpinning all of them was my awareness of the importance of building and maintaining strong relationships, which paid off when I met Steve and Jon," Norris says.
Media Planning to Market Research
Thanks to relationship building with Halvorson, Norris began working at OMD NY in August 2008. Her intention had been to work in account planning, but job market instability led her to accept a position in media planning. Still, Norris knew that market research would be something she returned to in the future.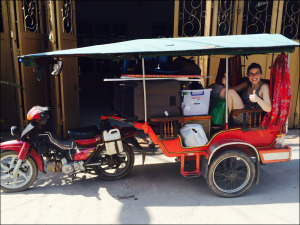 tuk-tuks
As a senior strategist of digital media planning and buying, Norris worked with clients such as pharmaceutical company Eli Lilly and Monster.com. For Norris, the most difficult part of the transition out of college was adjusting to the long hours she worked as a new hire. She acknowledges that the position did have its perks.
"It can be very flashy because when you're partnering with media companies, they take you to fancy dinners; you can go to shows, athletic events…and all of that is really sort of sexy and glamorous," Norris says. "I learned an incredible amount during that time, but at the end of it I still realized that what I was meant to be doing was working in market research."
In her two years as a media planner, Norris had been meeting sporadically with the director of OMD's internal market research group to learn about their work and, ultimately, demonstrate her interest in switching departments.
"It's just about knowing what you want and making sure you're connecting yourself with the appropriate people," Norris says.
As a result of that connection, when the research department had an opening in May 2010, Norris was afforded the opportunity to jump in.
Shortly after Norris transitioned in, OMD's research department was renamed Annalect Group. As a senior analyst and, later, manager of primary research and insights at Annalect, Norris worked to serve the market research needs of multiple large clients, including Hilton, Intel and Gatorade.
Working Client-Side at The New York Times Co.
Despite her success at OMD, another exciting opportunity pulled Norris away from agency life. In February 2013, she accepted a position as a manager of user experience and product research at The New York Times.
"It was great because I was working for an institution I believed in," Norris says. "It was purposeful work. At the end of the day, you may not be deeply driven by helping X client make more of a profit, but you certainly want to help The New York Times earn enough to continue producing award-winning journalism."
For Norris, working client-side couldn't have been more different than her agency jobs. She found she developed strong institutional knowledge, becoming an expert on the newspaper's digital readers. Norris found her work at The New York Times to be extremely rewarding.
"It was great because I was working for an institution I believed in," Norris says. "It was purposeful work. At the end of the day, you may not be deeply driven by helping X client make more of a profit, but you certainly want to help The New York Times earn enough to continue producing award-winning journalism."
Norris' colleagues at The New York Times also contributed to a positive environment.
"The New York Times has this really interesting culture in that they have a knack for hiring not just the brightest people around, but also very kind people as well," Norris says. "I actually thought I'd be working at The Times for 20 years, but life is very unpredictable."
Cambodia: Following Through on a Promise
A little over a year into her job at The New York Times, Norris encountered a decision that pitted her professional and personal lives against each other. She was in a long-distance relationship, and her boyfriend was working for a nonprofit organization in Phnom Penh, Cambodia.
As she considered her options, Norris remembered a promise she had made to herself while studying abroad in New Zealand during her time as an undergraduate. She had enjoyed her time there so much that she had decided that at some point she would move abroad again.
"I intentionally didn't pinpoint an exact location. Things change, and you never know," Norris says.
Now, here was that opportunity. Norris ultimately decided to keep her promise, and she was able to leverage her knack for building relationships to transplant her market research career to Cambodia.
Once she made the decision to move to Cambodia, Norris connected with market research firm TNS by contacting a sales representative who she had worked with earlier in her career. He sent her resume to the firm's offices in Cambodia, and Norris had a job offer within a week.
Moving Abroad and Moving Forward
For Norris, who made the move overseas in July 2014, life looked drastically different in Phnom Penh. She went from taking the D train 45 minutes to The New York Times building near Times Square to riding to work on the back of a motorcycle passing monks in orange robes. When Norris moved into a new apartment a month after arriving in Cambodia, instead of hiring movers like she would have in New York City, she loaded her belongings into a tuk-tuk, a Cambodian form of transportation that resembles a motorcycle with a carriage attached.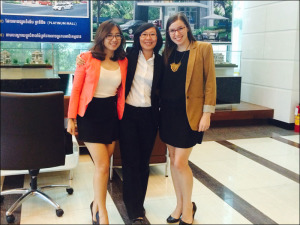 Though the change was exciting, it certainly wasn't easy from a personal perspective.
"When you move abroad, and when you move this far abroad, you lose control of all the things that were constant in your life before," Norris says. "So, while ordinarily you may be adapting to a new job, or you may be moving apartments, or you may be moving to a new country, in this case, all the variables changed at once for me."
One thing that made settling in easier for Norris was her volunteer work for Rose Charities, a grassroots nonprofit organization that she had become involved with while living in New York. The organization, which focuses on improving the quality of life in developing countries, has facilities in Cambodia. While Norris' efforts in the U.S. had been focused on fundraising, moving to Phnom Penh gave her the opportunity to get involved in a different way.
"While I'm here, it's more about volunteering my time and less about planning fundraising events," Norris says.
The cultural differences Norris was encountering in her personal life manifested themselves in her work as well. In addition to nonprofit organizations, she works with Cambodian brands – as well as some international ones like Red Bull – and conducts research with Cambodian participants.
According to Norris, the research process itself, particularly for survey research, is distinct from her previous experiences in the West. Due to low Internet penetration in Cambodia, participants are recruited door-to-door, a nearly obsolete practice in the U.S. In addition, Cambodians tend to respond to market research questions differently than American respondents.
"Cambodian respondents are more likely to overstate their affinity for a given topic, so it's important to caveat this difference to international clients who have conducted research elsewhere," Norris says.
Perhaps the biggest change for Norris is that many of her everyday interactions are in Khmer, the official language of Cambodia. While translating meetings simply takes extra time, translating surveys, focus groups and interviews adds an extra step to the research process. Focus groups, for example, require a simultaneous English translator who listens via headphones to the group in Khmer and concurrently translates the conversation to English in the observation room next door.
"The only downside of this approach is that I lose the inflection in respondents' voices, so I miss sarcasm or the volume and confidence in their voice," Norris says.
Despite this drawback, Norris has enjoyed working with Cambodians, whether as research participants or coworkers. Used to working for companies with hundreds of employees, Norris now works in an office of 30 people, most of whom are Cambodian.
"As colleagues, Cambodians are very appreciative and sweet to work with – they constantly are thanking and encouraging each other, which makes for a positive and motivating environment," Norris says.
As associate research director, Norris has the opportunity to contribute to this positive work environment. She is in a management role for the first time, overseeing a team of five qualitative and quantitative researchers.
"I'm working on finessing my management skills: managing other people, being a mentor, and enhancing the career development of my team," Norris says.
Pursuing a Passion for People
While exploring this new dimension of relationship building, Norris is able to appreciate the critical role that connecting with others has played in her progress thus far.
"Making sure you're building the right relationships with people has been a common thread in my career," Norris says.
"Making sure you're building the right relationships with people has been a common thread in my career," Norris says.
Ultimately, identifying her interest in human nature while attending the Missouri School of Journalism solidified Norris' career goals and taught her what was most important to her in a job.
"People spend a large portion of their life at work, so for students, identifying a few key attributes that you know you need in a career puts you in a better position to enjoy your first job – and make a career out of it if you really enjoy it!" Norris says. "For me, it was all about people. I knew my career had to involve either writing about, studying or interacting with people."
As she plunges into a new phase of her career and a new chapter of her life, the driving force behind Norris' decisions remains constant: her passion for people.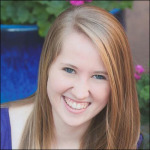 Rachel Koehn is a senior from Houston studying strategic communication and religious studies. She has worked as a public relations intern at the University of Missouri Honors College since January 2013. Koehn also has experience in marketing and communications through summer positions at Houston-based engineering firm E/B/E, Inc. and Pine Cove Christian Camps. After her May 2015 graduation, Koehn plans to pursue a career in nonprofit public relations.
Updated: December 16, 2014