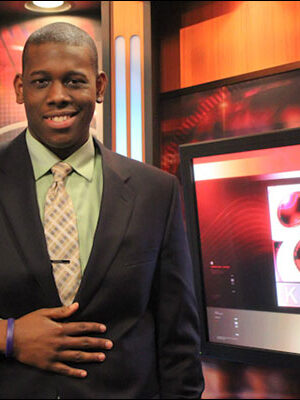 Degree(s): BJ '12
Whereabouts: United States, Cincinnati, Ohio
It was a passion for news production and sports that inspired Reggie Wilson, BJ '12, to pursue a career in journalism. He was confident the hands-on Missouri Method education would prepare him for the broadcast world, a decision he is grateful he made so many years ago.
Why did you decide to come to Mizzou?
After researching schools offering journalism programs, I decided the Missouri School of Journalism would provide me the best educational experience with its available resources. No one seemed to be doing what the J-School did getting students prepared for the business, and I felt like the School gave me the best opportunity to succeed in the future.
How has your "Missouri Method" education shaped your career?
The Missouri Method has given me a leg up on my peers who may have come from other schools. People are blown away that we actually get hands-on experience with several positions in a real newsroom. We learn journalism ethics, the art of storytelling, videography, AP style writing and many other skills that immediately prepare us to be fully functional and thrive in a newsroom post-graduation. I still recall the lessons I learned at KOMU-TV on my daily shifts, things as small as how to vet sources or sequencing while shooting to advance a story.
When did you first realize what path you would take with your career?
I grew up in a family that always watched the news, and the process of it always fascinated me. I could see myself doing what I saw daily. As my love of sports grew, I realized that was the path I wanted to take. Playing them was out of the question for an injury-prone guy.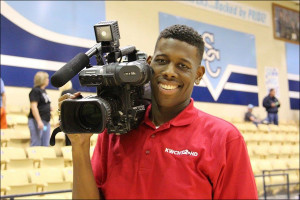 What was your most memorable J-School class?
My most memorable class was definitely Broadcast II with Greeley Kyle. Man, he was tough, but fair. He was no nonsense, but it was only because he wanted us to be the best journalists we could be. He prepared me for my career in so many ways, but the biggest lesson he taught me was that being lazy in this business would never cut it. I hustle for stories and do every assignment like it's my last. That all started in his classroom.
How did you get your first job?
When I graduated, I got very little interest. I applied for so many news and sports reporter jobs to no avail. Time went by and I eventually started to apply for almost anything just to get my foot in a newsroom. A year and a half went by and I finally got a call from KWCH in Wichita. They liked the videography on my reel and wanted me to come be one of their photojournalists. I took the position and ran with it, often coming in on my days off and staying late to shoot stories to prove to management my worth as a reporter. After being so persistent, a sports position finally became available in our Dodge City bureau and the rest, as they say, is history.
Advice for graduating seniors?
My advice for graduating seniors is to be patient and to go where your heart leads. Don't panic! The first opportunity is not always the best opportunity. Know your worth and rely on the resources you've built over your time at Mizzou to help steer you in the right direction. Also, most importantly, enjoy the process.
Did you ever think you would end up where you are now?
I never thought I'd end up where I am today. Kansas was the last place on my mind and a couple years ago, I didn't even know where Dodge City was. People here love the Jayhawks, and I never saw myself in a place where that was the case. However, it's been a blessing, and I've grown so much here as a journalist.
Updated: October 26, 2020