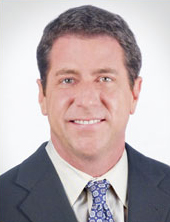 Degree(s): BJ '88
Whereabouts: United States, Memphis, Tennessee
What do you do? And what is most interesting about it?
I anchor the 5, 6 and 10 p.m. newscasts. It's always challenging to write compelling copy and to be first to tell people about developing stories. My job is different almost every day.
How did you get your job?
After spending eight years in the Memphis market at WMC-TV, I moved to Milwaukee for a main anchor opportunity at WITI-TV. Then, the longtime anchor at WREG-TV announced his intentions to retire, and WREG called me just as my contract was about to expire. I helped take the station to number one; a position it held until I left in May of 2017. A new opportunity came open across the street at WATN which gave me a managerial role with more involvement and influence in the on-air product. It was too good to pass-up!
Best professional lesson learned at the J-School?
Not to have unrealistic expectations of how far and how fast you'll advance once you graduate as well as the importance of a good work ethic.
What would be your best advice to current students?
Be curious about the world you live in, don't ever give up, and embrace the new technology that's changing how we do our jobs so quickly.
What are you working on currently?
This is a challenging time for our business. We are all working harder with fewer resources. On a daily basis we have to remember to keep the focus on good storytelling. Viewers will respond and everyone benefits.
What do you consider to be your greatest professional achievement?
The overall respect of my colleagues and four Emmy Awards.
What is your secret to success?
I don't think being successful requires anything more than being adaptable to change, working harder than most of your co-workers and being open to criticism. I firmly believe that my station's ratings success is due in part to the fact that viewers will distinguish between journalists and those who just want to be on TV. It takes time, but it's still worth it.
Updated: November 10, 2011