Richard Rosen
Managing Editor at Newsday
Degree(s): BJ '72 (News-Editorial)
Whereabouts: United States, Melville, New York
Richard Rosen, BJ '72, loved growing up in New York City and being able to read about all that was happening there in the newspapers. He wanted to be a part of the action from a young age and decided that a career as a reporter would put him at the center of the action.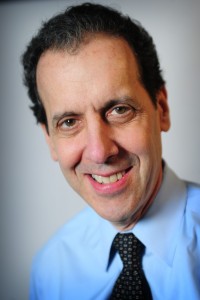 Preparing for a Career in News Editorial
Rosen got his first taste of journalism at John Adams High School, a large public high school in Queens, N.Y. He worked on The Campus, his school's newspaper, and drew inspiration and direction in how to report current events from Walter Cronkite on the CBS Evening News, as well as the work of reporters on New York City papers. Rosen knew he would need more training if he were to pursue news and decided to head west to what he heard was the best place to study journalism: Missouri.
In 1968, a 17-year-old Rosen boarded a plane for the first time and traveled to Columbia to attend the University of Missouri. Rosen embraced the campus and small town life in Missouri and enjoyed his coursework. Geology with Professor Walter Keller and economics with Professor John Kulhman are two liberal arts classes that Rosen remembers.
His first taste of real-world reporting came during the introductory newswriting course in his junior year. For one assignment professor Hal Lister handed a fact sheet about a fire to the students and told them to write a story about it. An hour or so later, all read their stories to each other. Rosen realized that each story was different and learned an important lesson: Every story, given the same facts, can be written many ways.
The fundamentals were part of all of Rosen's journalism classes. He and other students learned that being a reporter is a great responsibility. The basics of how to interview and gather facts, the importance of getting the facts correct and context right, the ability to write and offer these facts and do all of this under deadline pressure were essential to Rosen's education.
"I still remember the emphasis on the fundamentals and can hear them reverberating," Rosen says.
The four years at Missouri went by quickly, and Rosen wanted to return home to New York City and work there. He mass-mailed his resume to 30-40 newspapers and wondered if anybody would want him. He didn't have an internship under his belt, but he did have a passion for news.
Breaking Into the Industry
The Paterson (N.J.) News, a family-owned newspaper, offered Rosen his first job as a general assignment reporter. He initially covered the local news of suburban communities for the 75,000-circulation daily. Rosen was promoted to the crime and justice beat, working out of the county courthouse.
In 1974, Rosen began as a nightside general assignment reporter at the largest newspaper in New Jersey, the Star-Ledger, in Newark. There he covered statewide stories for the first time in his career, ranging from airline disasters to political campaigns and saw a murder victim for the first time. Rosen persevered under pressure and proved his passions for news and ability to report accurately. He had the experience and hard work under his belt and earned a promotion to assistant city editor.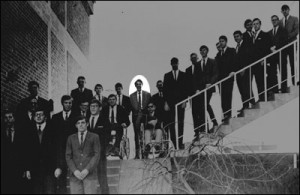 Excelling at the Daily News
Rosen's youthful goal came true when he began working for a newspaper that greatly shaped his career as a journalist. In 1980, Rosen took a job as a night reporter for the New York Daily News. With a circulation of about 1.5 million, it was the largest paper in the country at the time. After putting in the time and effort and continually adapting and perfecting his reporting skills, he quickly worked his way from nights to days, then to deputy city editor in about three years.
"This was an incredibly exciting time in my life because New York City is a fascinating place to cover," Rosen said.
One of the most memorable stories he worked on was the corruption scandal in the New York City Parking Violations Bureau during Mayor Edward Koch's administration. This scandal that brought down many powerful politicians and helped further the career of then U.S. Attorney Rudy Guiliani, who was prosecuting the case. Daily News columnist Jimmy Breslin won a Pulitzer Prize for his coverage of the scandal. Adding to the excitement was the intense day-to-day competition with reporters from the New York Times, the New York Post and Newsday, along with TV and radio, for the best stories, the most captivating photos and the desire to break the news first.
Flourishing as an Editor
In 1987, Rosen had two incredible job offers on the table. The revered New York Times offered him a job. The New York Daily News countered with an offer to name him as city editor. Rosen was conflicted because city editor was a job he coveted, but he took the Times job.
"I went to The New York Times because I wanted to work for the greatest newspaper in the world," said Rosen.
After a few months, though, he realized that working at the Times was not what he wanted. The next year the Daily News again offered Rosen the city editor position, and this time he accepted. Rosen took charge of the engine that drove the paper, directing the coverage of breaking news and enterprise in the largest U.S. city. Rosen put in long hours and viewed the job as a great opportunity to work with many talented journalists on some of the biggest stories of the time. During his almost 20-year career at the Daily News, Rosen also served as deputy managing editor, Sunday editor and managing editor. With each new position, he continued to expand his leadership skills.
Experiencing New Arenas
Rosen began a new journey in 2000 when he left the Daily News to work for Bloomberg News, where he formed a general news team in New York City. It covered the New York region with an eye toward the financial community. After about three and a half years at Bloomberg, during which he supervised coverage of the Sept. 11 attacks, among other stories, Rosen went to Condé Nast Publications, where he became managing editor of Women's Wear Daily, known as the fashion bible. When his friends heard about his new job, they asked, "What do you know about fashion?" Rosen would reply that he knew a lot about newspapers, and that's what Women's Wear Daily is at its heart.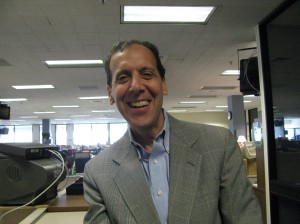 WWD, which marked its 100th anniversary in 2010, covers international fashion, culture, the arts, retailing, and media. Rosen says it has a great brand name. At WWD, Rosen learned the business of fashion, and that fashion, like sports, has its winners and losers.
"It is a gigantic international business that reflects who we are and who we want to be. It has the stuff of great stories: big talents, big egos and big money," said Rosen.
Finding His Perfect Fit
Rosen assumed his current position as managing editor at Melville, N.Y.-based Newsday in January 2011. He oversees general news, business and sports.
"Newsday is very much who I am as a journalist," said Rosen. "It's a big paper with lots of moving parts and big ambitions."
Rosen has found a good fit in Newsday. The stimulating work environment and tremendous potential of the newspaper — on multiple platforms — allows Rosen to keep evolving the lessons he first learned at the Missouri School of Journalism. Newsday has made a tangible commitment to excellence that aims to build on a tradition of excellence, he said.
Rosen encourages aspiring journalists to take chances, challenge both themselves and conventional wisdom, keep learning and always maintain the highest ethical standards and healthy dose of skepticism.
"Missouri did a good job preparing me for my life's work. The Missouri Method of hands-on experience separates Missouri from other places. When I come across a Missouri grad, I sit up and take notice," says Rosen.
Updated: November 10, 2011