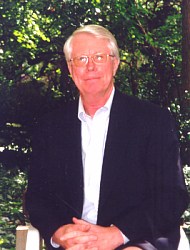 Degree(s): BJ '62 (Advertising)
Whereabouts: United States, St. Louis, Missouri
There was little in Ron Osborne's early years to suggest that he would become a full-time playwright. His family didn't attend theatrical performances. Like many of his classmates, he participated as a cast member in a few high school productions. Osborne majored in advertising, and his first job was as a technical writer. But it was his taking creative license to use the skit format as a presentation tool in a subsequent job that sparked the idea of a whole new career focus.
Osborne, BJ '62, is now a successful playwright. Thousands of patrons have attended his ten plays that have been produced at hundreds of theatres throughout the U.S. and Canada. In addition, his work has been published by Samuel French, Inc., Smith & Kraus and others, as well as recognized in nearly 100 major national playwriting competitions.
An Early Start in Writing
As a child growing up on the south side of St. Louis, Osborne remembers spending hours in his basement writing stories inspired by popular adventure and mystery children's stories like the Hardy Boys and Nancy Drew. After grade school he continued to enjoy writing and wrote for his high school newspaper. From this point on, Osborne says he knew he wanted to write for a living. He credits his time at the University of Missouri and his journalism degree for channeling his enthusiasm for writing into a full time career.
The MU Experience
The first theatre production Osborne saw at the MU was "The Bells Are Ringing." The 1956 Broadway musical is about a young woman working for a telephone answering service who listens in and meddles in other people's lives. He still remembers the show but is not certain if the production generated an interest in theatre.
Other collegiate interests left a lasting impression: fond memories of fraternity life, football games and spending time at local hangouts with friends.
As a member of Delta Sigma Phi, he served two terms on the executive council as treasurer and secretary as well as two terms as co-editor of the annual Inter-Fraternity Council rush brochure. An only child, Osborne recalls fond times spent with his fraternity brothers.
"We were a very small frat, only about 30 members," says Osborne. "We did everything together. They're still some of the closest friends that I have. It was a very meaningful part of my life."
One of Osborne's fraternity brothers is Brian Brooks, BJ '67, MA '69, now associate dean of the Missouri School of Journalism. Although Brooks joined Delta Sigma Phi after Osborne graduated, they still keep in touch about the journalism school. "He's the world's No. 1 ambassador for the school, which he loves dearly," says Osborne.
One of Osborne's favorite memories was traveling with his fraternity brothers to Oklahoma in November 1960 to watch the Tigers beat the Sooners in football 41-19. It was the first time since 1936 that MU won on the Oklahoma home field. The win placed the undefeated Tigers as the No. 1-ranked team in the nation.
The group socialized at local establishments. "The Italian Village, the Shack, the Stein Club…we frequented them all. They were all great fun," says Osborne. The Shack, previously located on the corner of Conley and Maryland, closed in 1984, but is fondly remembered for its booths and walls filled with carved names and initials. Alumnus Mort Walker used The Shack in his "Beetle Bailey" cartoons, and a bronze life-size sculpture now marks the location. Osborne's initials – as well as those of several of his fraternity brothers – are engraved in the bronze booth sculpture.
Osborne met his wife Melissa, a student at Stephens College, while at MU. After their first date, she told her roommate, "I just met the man I'm going to marry." They did so after graduation and now have two daughters.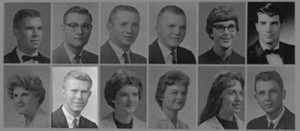 Academics at MU
Beyond socials and football games, Osborne was a conscientious student. Soon after entering the Journalism School, he realized that his poor spelling and proofreading skills were going to cost him grade-wise. Osborne painfully recalls receiving little to no credit for assignments turned in with spelling errors. While covering a beat at the Columbia Missourian, Osborne was assigned a news story about the weather during homecoming week. After misspelling homecoming as "h-o-m-e-c-o-m-m-i-n-g" at least 12 times, Osborne decided to look into the advertising track. "Copy editing was not my thing," he says. "Advertising gave me an opportunity for a career that editorial work didn't provide."
Osborne's switch to the advertising track allowed him to avoid the harsh grammar remarks from his professors. Spelling mistakes didn't carry the same penalty, and he was able to pass his coursework and graduate with his journalism degree in 1962. "I don't think I would have been hired at my first job without my degree," says Osborne.
Career in Advertising
Osborne's first job out of college was working for McDonnell-Douglas Corp. in St. Louis. The company produced commercial and military aircraft and later merged with Boeing Co. in 1997. As a technical writer for McDonnell-Douglas Corp., Osborne wrote and produced films that detailed the company's spacecraft, the Mercury and Gemini, and aircraft like the F-4.
Osborne worked four years for McDonnell Douglas Corp. before he received a job opportunity from Maritz Inc. His former boss, who left McDonnell-Douglas Corp. for Maritz a year earlier, recruited Osborne for a program director position. Maritz, the country's largest sales motivation company, develops motivation programs for major corporations. Osborne's job was to promote the benefits of group travel, one of the company's major motivation tools. In that capacity, he wrote and produced skits that showed the benefits of group travel, in the process hiring actors and designing sets.
"We'd show them when clients came to town," says Osborne. "It was very popular, very funny stuff. I thought maybe I could do that for myself, so I started writing my own plays."
Osborne was able to transition his writing talents from the corporate world into his own unique playwriting style.
Playwriting
While he was still working at Maritz, Osborne was determined to learn the craft of playwriting in his spare time. He bought playwriting books, wrote every evening and most weekends, and forwarded his work on to anyone who was interested.
"Even encouraging rejection letters from professionals in the field kept me motivated," says Osborne.
Osborne left Maritz 15 years ago to write full time. Samuel French Inc., a New York-based publishing company founded in 1830, published "Seeing Stars in Dixie" in 2001. It was Osborne's first published play and premiered that same year at the Sonoma County Repertory Theatre in Sebastopol, Calif. "Seeing Stars in Dixie" tells the story about a group of misfit friends in Natchez, Miss., who compete for a chance at fame when a Hollywood movie shoot comes to their small southern town. It was well received. A critic from the Asheville (N.C.) Citizen-Times called it, "A hilarious heart-warming, sassy Southern comedy."
Osborne still finds himself sitting at his computer writing for hours at a time nearly everyday. Currently he is working to complete what he calls his "Ivy Gap" trilogy. The first two in the series, "First Baptist of Ivy Gap" and "Showtime at First Baptist," have already been published and widely produced. Another play, "Saving Old Smokey," premiers on the main stage of the Barter Theatre, the State Theatre of Virginia, on June 9, 2011.
Published Works and Awards
Since his first play, Samuel French has published four other Osborne originals. Every play goes through its own individual process in becoming a published work. Most plays are performed on stage before they are ever published. In particular, the Appalachian Festival of Plays and Playwrights sponsored by the Barter Theatre in Abingdon, Va. has played a vital role in exposing Osborne's work to theatres and potential publishers. He is a three-time winner of this annual festival that showcases original works by playwrights from throughout the country. As such he is able to hear his plays read prior to production on the theatre's 507-seat main stage. Osborne says this is the most meaningful award he has received because of the exposure and opportunity it brings. "Saving Old Smokey" was Osborne's sixth reading at Barter Theatre in June 2011.
Inspirations For Characters and Themes
Many of Osborne's plays have similar themes including outspoken southern female characters and settings that take place during or around World War II.
"Their dialogue and expressions are different, says Osborne. "Women are easier for me to get to speak on a page; they're more natural for me."
Osborne finds it easier to write women characters because he has known so many in his lifetime. He draws inspiration from his three aunts, two daughters and wife's strong, outspoken family for some of his female characters. Osborne describes his wife Melissa as "a girl from Cleveland, Miss., and a true Southern belle." He credits her and her family members for inspiring many of his Southern-genre plays.
"Southern folks are just more colorful," says Osborne.
Osborne also has relied on personal experiences to capture his character's emotions. As a child, Osborne learned that an uncle had been killed in World War II through a telegram. Writing about what he calls this "period of great emotion" allows him to speak out against war and gives him a good feeling.
"My love is writing poignant comedy with a message behind it," says Osborne. "If I wrote serious plays, they would not have the same success."
If any his comedic plays were to be performed at MU, Osborne says he would have to know the director and their vision for the production very well. Although he is unsure about his plays ever being performed on the University's stage, Osborne maintains a strong connection to the school.
Alumni Connection
Osborne enjoys taking the trip from his home in Glendale, Mo., to visit Columbia whenever he can. An avid MU tailgater for more than 30 years, he enjoys watching games with his six grandchildren and has visited campus regularly during football season.
"You just feel younger when you walk onto a college campus," says Osborne.
He toured the new journalism facilities with Brooks after its completion in 2008 and catches up with Journalism School news through e-mail. Osborne's daughter Christy attended MU, and he likes to think all his grandkids will head to Columbia to attend college.
"It's a wonderful school, beautiful campus and a terrific town," says Osborne. "I received a great education, and I feel very lucky. My degree led to my job, which led to an opportunity that opened up my eyes to what I really enjoyed doing."
Updated: November 10, 2011