Sandi Straetker
Owner and Principal at PRiority Public Relations LLC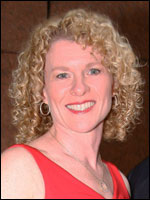 Degree(s): BJ '89
Whereabouts: United States, Coralville, Iowa
Sandi Straetker, BJ '89, is owner and principal of PRiority Public Relations LLC. She is also an award winner, a mother, a counselor for Fortune 100 companies, a community leader, a volunteer, but most of all she's a proud Missouri School of Journalism alumna.
Marked at Birth
Growing up in Moline, Ill., Straetker developed an interest in journalism from an early age. Having the same birthday as the U.S. president at the time made her want to follow politics and watch the news constantly. Both interests would influence her college major choices.
Straetker was features editor for Alleman High School's Pioneer Press. She was among the fortunate few who could use the new computerized newsroom at the local Moline Dispatch because the company printed the school's paper. Straetker recalls that the screen displayed only white letters on a black background. The system would shut down periodically, leaving the production process in limbo. The problem might be solved in a few minutes, or hours might pass before it was available again.
Walter Cronkite, the CBS evening news anchor and considered the most trusted man in America at the time, was Straetker's role model. Given her early journalism experience, interest in current events and American politics and the desire to become the next Walter Cronkite, she enrolled in the Missouri School of Journalism. Straetker's plan was to major in broadcast news.
College Years, Life Decisions
To help cover her out-of-state tuition, Straetker had to take a job on campus. She chose a work-study position as the publicity assistant and house manager for the University's Rhynsburger Theatre. Straetker was enthusiastic to publicize the shows, create ticket promotions and increase coverage in the university and community media.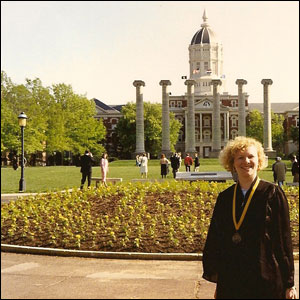 During her freshman year, however, Straetker started having second thoughts about her initial plan to major in broadcast news. When talking with older students, their assignments didn't sound interesting or exciting.
Straetker shared her concerns with her academic adviser, broadcast news professor Rod Gelatt. He told her that she didn't have "the fire in the belly" to be a TV reporter.
"He realized that was not my passion and helped me figure out what I really wanted to do," recalls Straetker.
Straetker realized that the work at the Rhynsburger Theatre was something she really enjoyed and could see herself do in the future. She learned from professor Kurt Wildermuth that this kind of work was called "public relations." The school didn't have a public relations major, so Straetker decided to change her major to magazine writing.
"At the end of the day, I am a writer," Straetker says. "The foundation of being a good public relations practitioner is good writing."
One of Straetker's reporting classes required her to spend time each week in the newsroom as a general assignment reporter for the Columbia Missourian. There was just one problem: She didn't have a car. Getting to the scene of breaking news would present many problems. After almost being sent out on a plane crash story, Straetker made a deal with the graduate assistant managing the assignment desk: She would give his J-School tours, which she happened to love and he despised, if he promised not to send her out on any GA stories. The plan worked.
Straetker's coursework and extra-curricular leadership activities, including serving as president of Alpha Phi's Omicron chapter and co-editor of the Panhellenic Rush Book, helped her secure a summer internship with Dow Chemical after her junior year. She would have happily returned to work as a corporate communicator at Dow after graduation was it not for a promise she made to a neighbor back home.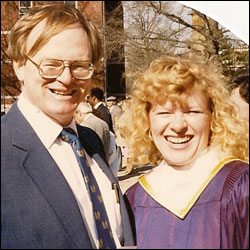 Larry Johnston was the scholarship chair of the Moline Rotary Club. He had made Straetker promise she would apply for the Rotary International Ambassador Scholarship, which provided a one-year scholarship to pursue graduate studies and serve as a student ambassador abroad. She completed the lengthy application, mostly to keep her promise. But once she started going through the selection process, Straetker started wanting this great opportunity. After undergoing a grueling interview process, she learned that she indeed would be one of the 1,200 students selected from around the world by Rotary. Four months after graduating with honors as part of the university's sesquicentennial class, she began studying for her master's degree in mass communication research at the University of Leicester in the United Kingdom.
Her overseas graduate studies taught her as much about different people and cultures as they did about media and research methodologies. Her class of 33 students came from 30 different countries. They included a science reporter from Brazil to political analysts from Africa to attorneys from Greece. By U.S. standards, none of the students came from a completely free media environment.
"The first challenge," she recalls, "was to define what media system we were discussing and the environment in which it operated. In most countries, the government owns and runs the media outlets, which made for some pretty interesting discussions. We decided to use the local British media as our common frame of reference, as we all experienced and interacted with it. Interestingly, it is a system of both government and private ownership."
Different Cities, Different Agencies
After completion of her studies, Straetker spent two years working as an independent contractor in the public relations department of Alcoa's Davenport (Iowa) Works. She had spent the summer between graduating from Missouri and going to Leicester as a corporate communications intern at the plant, the largest aluminum rolling mill in the world. While there, she worked on internal communications for the plant's 3,000 employees. She was also appointed to serve on a corporate task team studying company-wide internal communications. The team's work culminated with a presentation of their recommended action items to CEO Paul O'Neill and senior management.
Corporate cutbacks led Straetker to the agency side of the business. As an account executive at Cramer-Krasselt in Milwaukee, she served important clients such as Johnson Controls, for whom she helped organize and execute a unique hospitality event with 800 clients and prospects at the Louisiana Superdome.
However, Straetker had left her heart in Iowa, where her engineer boyfriend worked for Deere & Company. Shortly before their wedding, she moved to Iowa and joined the public relations department of Henry Russell Bruce, the state's third-largest advertising agency. She worked with clients in the health care, packaging, hand-held computing and transportation industries. Two years later, her husband was recruited by Procter & Gamble, taking the couple to Cincinnati. Straetker joined Dan Pinger Public Relations Inc., the largest public relations agency in the region, and expanded her experience working with professional service firms, governmental agencies, and financial services companies.
Fitting in a Family
The fast pace of agency life isn't very conducive to starting a family, but Straetker's determination to combine both led her to propose and create a part-time policy for the agency. After giving birth to Matthew in 1998, Straetker returned to a reduced schedule. She invested in a new home computer and through advances in technology, was able to connect to the office system remotely, allowing her to complete work and stay in close touch with her teams, even on days when she was out of the office.
After taking a longer leave of absence following the birth of her second child, Jillian, in 2001, Straetker decided to try working for herself.
"From all the years I worked at agencies, I knew that there would always be more clients, but there wouldn't always be babies," said Straetker. "I felt that I could have more control over both my personal and professional life by working with clients that would have been too small for a full-service agency, but that needed and would value experienced counsel."
Her former colleagues referred clients to her, and success led to more word-of-mouth referrals. PRiority Public Relations LLC was born.
One of her best campaigns earned her a Silver Anvil Award of Excellence. Known as the "Oscars of the PR industry," this recognition from PRSA, the industry's largest trade association, was especially meaningful given that she was a sole practitioner, working on behalf of an independent market research consultant and with a rather small budget.
PRiorities
Being both a mother and public relations professional is anything but easy. Straetker confesses says the secret is to be honest about both roles.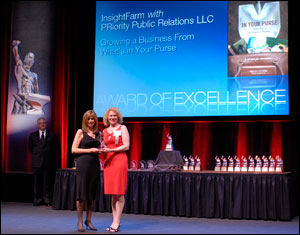 "A PR job is a 24-hour job, whether one is working for a company or an agency, or yourself," she says. "If the client needs you, they just do and there is no way around it. At the same time, I don't pretend that I don't have a life outside of work."
Technology has made it possible to be more flexible and more successfully blend work and family life. Straetker has worked through Thanksgiving, conducted meetings via text message while in line for rides at Disney World, and missed days of vacation fun with her family working on projects in hotel rooms. But she has also been able to pick her children up from school almost every day, take care of them when they are sick and volunteer in their classrooms.
"My kids learned at an early age to be quiet when Mommy was on the phone, but I've also had to take a call from a reporter while I was at a baseball game and everyone was screaming," she recalls. "Most of my clients are entrepreneurs themselves, so they're doing the same thing, and it works pretty darn well for all of us."
Everything Changes
One of the most important things she learned at the Missouri School of Journalism was to always continue learning about new things: "The professors always told us, 'You're going to cover the world, so it's important to know as much about the world as possible.' And you know what? They were right."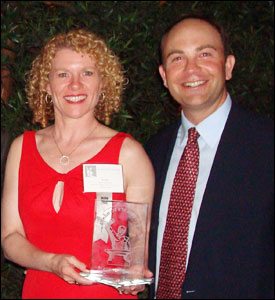 "Technology in particular has really accelerated the pace of change in business," says Straetker. Most recently, the rise of social media and decline of traditional media outlets has created tremendous change in her work. "I remember how clients and co-workers who were in their 40s reacted when the Internet started to become important in the 1990s. Now I know how they must have felt! But you can't let the world pass you by."
Free Advice from a Top-Level Counselor
Being a PR professional in Straetker's opinion is challenging, but it's also fun and exciting.
"Every day is different and I learn something new. Besides, in what kind of other job do you get a chance to get filmed by a professional crew while bungee jumping, or throw a party in the Superdome in New Orleans?" she asks.
As for her training at Missouri, "No other school teaches better journalism," she states. "I think what makes me a good public relations practitioner is what I learned at Mizzou. I learned how to ask good questions, to understand both sides of an issue and to tell a great story. My advice to students is to never stop trying to be a better writer."
Straetker believes in The Journalist's Creed, written by founding dean Walter Williams, and as an accredited public relations professional, she follows PRSA's Code of Ethics. She believes both of them champion fairness, accuracy, truth and the public interest.
"These are the values that have guided me every day of my career and made me the successful practitioner I am today," she says.

Anuela Ristani, a Fulbright scholar from Albania, is a strategic communication master's student at the Missouri School of Journalism. Ristani received her bachelor of arts degree in business administration and European studies from the American University in Bulgaria. She worked for more than six years in marketing communications before returning to school.
Updated: January 15, 2020