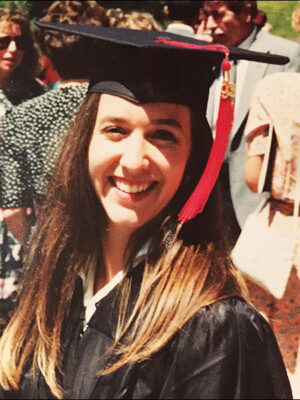 Degree(s): BJ '93 (Advertising)
Whereabouts: United States, Kansas City, Missouri
For Stacey (White) Belford, BJ '93, her journey through the Missouri School of Journalism was an adventure from day one. Originally set on moving to California to work for rock stars, Belford felt the call to be a Tiger, where she found her niche in the agency world.
Why did you decide to come to Mizzou?
I was set on attending San Diego State, and I intended to do public relations for rock stars. My guidance counselor pointed out that Mizzou's J-School was one of the best in the country and that a journalism degree would be appropriate for the public relations field. Both my parents are University of Missouri alums, and I'd attended Tiger football games since I was two. It was a pretty comfortable fit.
What has been your career path?
I worked as an account executive in a small agency and then in a mid-sized agency focused on the hospitality industry. From there, I took a marketing job at my current firm in the financial services industry. I developed an interest in learning the business side, beyond marketing, and took a job managing the 529 college savings plan business. I have responsibility primarily for client relationships. I also ensure the legal and regulatory requirements are met for the investment product, service and operations, marketing, advertising and public relations.
How did the J-School prepare you for your career?
In addition to a well-rounded education on writing, media, graphics and other pieces of the business, there was a competitive spirit within the J-School that ended up being quite appropriate for the advertising field.
How did you get your first job?
I literally hand-delivered and mailed my resume to every agency in Kansas City. A small shop was looking for a receptionist/account executive. The J-School prepared me to be aggressive in seeking out a job.
Is there something you wish you would have known as a student that you know now?
I was pretty set on working in a big agency. I ended up learning that a smaller agency provided more opportunities for hands-on experience in all aspects of the work. Be open-minded in your job search.
Any advice for graduating seniors?
Focus on getting a job! But after that, explore your field and life. Get to know your chosen work inside and out. Seek mentors and be social. This is the time to take risks and move to a new city. Travel and be spontaneous. Work hard. Play hard.
Updated: March 11, 2016