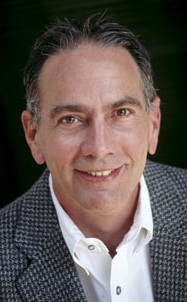 Degree(s): BJ '67
Whereabouts: United States, California, Palm Springs
Stewart Weiner, BJ '67, is a man who loves to write.
"How lucky I am to get up every morning and be a writer," Weiner says. "I would never want to do another job."
His time at Writer's Digest magazine, Playboy Enterprises, Los Angeles Magazine, California Magazine, TV Guide and Season in the Sun Magazine has given him the opportunity to interview famous actresses like Loretta Young and interview celebrities like Jerry Seinfeld.
Choosing a College
Weiner grew up satisfying his curiosity by writing, but it wasn't until his junior year at Woodward High School in Cincinnati, Ohio, that he realized he could make a living at it. He won the first-place prize of a typewriter for his essay about popular music. This win and the encouragement of his English teacher Mr. Schweikert were all Weiner needed to confirm his desire to pursue writing as a career.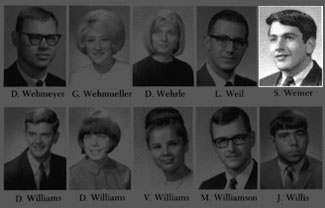 "He really liked what I was doing," Weiner says.
Weiner applied to several colleges that might help him develop his writing skills. During his research he noticed that several famous journalists graduated from the Missouri School of Journalism. It was the world's first journalism school, and it was the only one he looked at that put out a city newspaper. Missouri, it was. With his mind made up, Weiner confidently made the 468-mile move from Cincinnati to Columbia.
The Switch to Advertising
Weiner originally entered the journalism school with the intention of pursing news reporting. One assignment changed his mind.
He was assigned to write a story about a car that had fallen into a lake. Weiner was at the scene and had to walk up to the crying mother and ask her questions about the incident. It was at that moment Weiner knew he didn't have the stomach to interview someone just minutes after they had experienced something so tragic.
Weiner still wanted to find a way to be a writer and probably would have considered magazine journalism if it had been offered at that time. He switched to advertising.
"I was more interested in using language in a creative way," Weiner says, "and at the time, there was a real burst of creativity in advertising."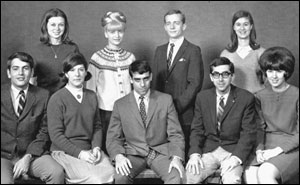 Weiner assumed leadership positions outside of the classroom. He was a member and secretary of the Zeta Beta Tau fraternity, the Homecoming publicity chairman as well as a columnist for The Maneater.
From Missouri to New York
As graduation neared, Weiner participated in recruitment activities at the school. He was particularly interested in a copywriting position at J. Walter Thompson, one of the world's top advertising agencies. The candidates were told that two of them would be flown to New York for another interview. The phone call never came.
Weiner called the recruiters and told them he was coming to New York. They agreed to interview him.
"I just got on a plane and went there," Weiner says. "I used my own dime to go."
JWT hired Weiner as a junior copywriter, and he worked on two accounts: Pan American World Airways and Ford dealers. Some of his ads were placed in The New York Times. Weiner was part of the creative team that helped launch the career of actor Hal Linden, who did the voiceover for the Pan Am television commercials and, a decade later went on to star in the hit television series "Barney Miller."
His dream of being a major writer was starting to come true.
From the East Coast to the West Coast
Weiner might have stayed in New York longer if it weren't for his need to return to Cincinnati to be closer to his family. There, he opened up his own ad agency. Bailey/Erskine/Roberts was named after the characters' names on the television show "77 Sunset Strip." The agency was successful, but he didn't want to stay in Cincinnati. His successful advertising campaign for the agency's client, Writer's Digest, however, led the publisher to offer him the editor-in-chief position. Weiner then moved from advertising to magazine editorial work from then on, later consulting with Cowles Communications in Minneapolis and then co-founding Provincetown Magazine on Cape Cod. Weiner moved back to California in 1976 when he was hired by Playboy Enterprises to be senior editor of Oui Magazine.
Weiner's versatility as a writer helped him get a variety of freelance assignments. Health, entertainment, local history and music were some of the topics he covered.
His favorite story was for Los Angeles Magazine and about a new television show called "Lou Grant." The cast opened up during the interview, and Weiner got far more information than he had originally anticipated.
"For some reason, they spilled their guts to me about everything," he says. "One of my questions got under the executive producer's skin to the extent that I actually got physically thrown out of the producer's office, and I wrote about that part. It really is a great story."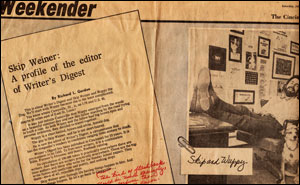 From Writing to Editing
In Southern California, Weiner served as the national writer for TV Guide, contributing editor of Los Angeles Magazine and editor-in-chief of Palm Springs Life magazine. Weiner then founded Season in the Sun Magazine in Palm Springs.
As a publisher Weiner's responsibilities went beyond writing. He managed advertising sales, scheduled photo shoots, hired freelance writers, edited stories and conducted interviews with sources. Weiner enjoyed not being chained to a 9-to-5 schedule.
"There are so many facets to it, but that's the beauty of it," Weiner says. "There is not a typical day."
Weiner now serves as the development director for Palm Springs Modernism Week. The city contains the largest repository of mid-century modern classic architecture in the world. Each year 25,000 to 50,000 people come from all over the world to tour houses, attend lectures and participate in other event activities. He also maintains a blog called The Cheap Reporter.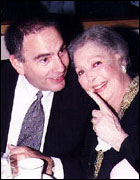 Learning Lessons the Hard Way
Weiner's love of writing has sustained him through some tough times in the magazine industry. Titles come and go, and he admits to having "so many magazines" fold under him, including California Magazine, College Woman, Season in the Sun and Longevity.
"You have to just keep doing what you love," he says. "If you don't, you'll be slapped down more than you are built up. In this business, you only fail if you give up."
According to Weiner, magazines fold for many reasons, but quality is often not one of them. The industry is competitive, readers are fickle and advances in technology are some of the factors that can affect the lifespan of a publication.
"There are as many reasons as there are magazines," Weiner says. "And, who knows why some of them succeed?"
He's never considered another career.
"I don't know how to do anything else," Weiner says. "If you're a writer, this is what you do."
As Weiner reflects on his career, he considers it a privilege to work with people who enjoy writing as much as he does. It's the best job out there, he says.
"You can do it anywhere, at anytime and with minimal investment," Weiner says. "You can write all by yourself and for yourself."

Senior Kristyn Mysker is pursuing a major in strategic communication and a minor in conference and event planning. She served as the marketing and events intern for Special Olympics Wisconsin during the summer of 2011. Mysker would like to work in the entertainment field upon graduation.
Updated: November 16, 2011