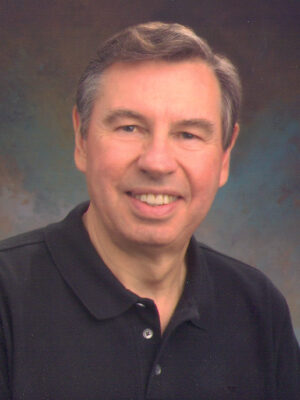 Degree(s): BJ '62
Whereabouts: United States, New Berlin, Illinois
The year was 1965. The Vietnam War was raging; protests were rampant across the country; the civil rights movement was gathering steam; and recent graduate-turned-newspaper reporter Taylor Pensoneau was going to be writing about politics.
And, not only was he going to be writing about politics, Pensoneau would be heading up the St. Louis Post-Dispatch's previously defunct bureau in the Illinois state capital. Heady stuff for a reporter so young he was often mistaken for a copy boy.
"At 24-years-old, I was being asked to reopen the bureau in the Illinois statehouse in Springfield. To me, that meant bylines. It was too good to be true," he said.
For the next 12 years, the Missouri School of Journalism graduate served as the Illinois political writer for the Post-Dispatch. His career would span two of the most tempestuous and defining decades in American and Illinois state politics. Pensoneau covered five national political conventions, including the riotous 1968 Democratic national convention in Chicago and the 1974 Democratic mid-term convention in Kansas City, Mo. During the summers of 1973 and 1974, he was in the Washington bureau covering the Watergate hearings and Nixon's impeachment and eventual resignation.
"I knew I was getting to witness history, and be a tiny little part of it. It was all made possible by the Journalism School," Pensoneau said. "Even at that point in my career, I knew I owed it all to the J-School."
An Interest in Writing From a Young Age
As a young boy growing up in the town of Belleville in southwestern Illinois, Pensoneau always knew he wanted to write. Born on Oct. 20, 1940, he was the eldest of three children and the son of Leslie, owner of a men's clothing store, and Bernice Pensoneau, a homemaker and retail clerk. From a young age, Pensoneau enjoyed reading and dreamed of becoming a newspaper reporter.
"I had this idea that newspaper reporters got to meet all sorts of interesting people, they got to cover all sorts of interesting events. It seemed to me that they had a glamorous, exciting role in life," he said.
When Pensoneau took his first journalism class during his junior year at Belleville Township High School, he got his opportunity. Pensoneau's journalism teacher, Lillian Jossem, saw his potential and secured a job for him at the Belleville News-Democrat, one of two daily newspapers in the city. Starting as a cub reporter, he was little more than an errand boy; however, Pensoneau soon earned the chance to work on real news stories.
During his senior year, editorial staffers at the News-Democrat would pick Pensoneau up from his house as early as five in the morning, and the young reporter would work at the paper's downtown offices for three hours before catching the bus to school. In the evenings, Pensoneau was back at the paper, covering the town's high school sports beat. In addition to covering sports, he played them. A member of his school's cross-country and track teams, it was not unusual for Pensoneau to write newspaper stories about himself and his teammates.
"The joke was that I always made us look a little better than we were," he said.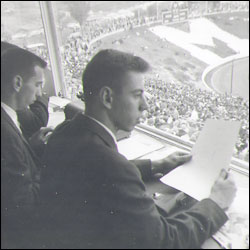 Arrival at Mizzou
Pensoneau graduated from Belleville Township High School in the spring of 1958. Without the funds needed to attend a four-year university, he enrolled at Belleville Junior College, where he played on the school's football team. After two years at the college, Pensoneau's grades were high enough to earn him an academic scholarship and the chance to attend the Missouri School of Journalism.
"In the spring of 1960, I drove one night down to Columbia, Mo., where I had never been. Of course, like everyone else, I was in awe of the Journalism School," he said. "I knew all about it-it was 'the big time.'"
Accepting the scholarship, Pensoneau entered the news-editorial sequence, and during his junior year covered high school sports for the Columbia Missourian. After a tip from professor William Bickley, head of the copy desk and managing editor at the Missourian, he obtained a summer internship at the St. Louis Post-Dispatch, where he worked for three months.
Returning for his senior year, Pensoneau got a new beat at the Missourian: covering the Tigers. That fall, he followed Dan Devine's football squad, watching them fight their way to a 7-2-1 record. At that point, Pensoneau figured he was well on his way to a career in sports reporting.
It was that autumn of 1961 when the aspiring reporter first met journalism professor Tom Duffy. Pensoneau was a senior at the Missouri School of Journalism. "Duffy," as he became known as to his students, was a new faculty member that year and a rough-and-tough veteran of the newspaper business.
"Duffy was an old-fashioned, hard-boiled newspaperman," Pensoneau said. "He had been the editor at the old East St. Louis Journal, and he came in and basically took over. He was really tough, very old school-and he took an interest in me."
Halfway through that year and right before the University's winter break, Pensoneau got a phone call. It was one of his supervisors from his internship the previous summer, the managing editor at the Post-Dispatch.
Pensoneau remembered: "He said he wanted me to come in and meet with him over my break. I recognized right away that it had to be good news. When I went in to see him, he said, 'We'd like you to come back full time as a reporter when you graduate.' They also said I had my choice: I could go into sports or I could go into news."
When Pensoneau returned to Columbia in January, he encountered Duffy in the Missourian newsroom.
"He knew I was going to the Post-Dispatch, and he sat me down and he said, 'You have a choice here: You can waste your life being a sports writer, or you might have the chance to make something out of yourself if you go into news reporting.' So, I chose news," Pensoneau said.
During his last several months at the School, Pensoneau received a crash course in news reporting. Every night, Duffy would assign him a story on a different beat to get his feet wet in topics other than sports.
"I came in at about 5 o'clock every night, and Duffy was in there, and every night he'd assign me to do something different. One night I'd go and cover someone speaking at Stephens College. Another night he might make me cover concerts, or he'd send me down to a city council meeting. Every night it was something different," Pensoneau said.
With graduation looming in a matter of months, Pensoneau didn't expect the increased workload.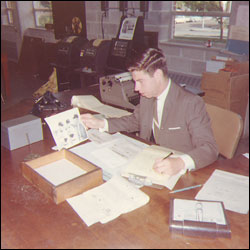 "At the time, I had all the courses I needed to graduate, and I was thinking of having fun. It didn't quite happen that way," he said. "But, Duffy knew what he was doing. He took me under his wing, and I think he had a soft spot in his heart for me. I was from Belleville, and he had come from East St. Louis-they were next door to each other. He really wanted me to succeed, so he made me a personal project. And it worked out well."
On June 5, 1962 Pensoneau graduated as the vice-president of his graduating class at the Journalism School. A few days later, he went to work at the Post-Dispatch.
A Reporting Dream Is Fulfilled
Pensoneau entered the Post-Dispatch as a general assignment reporter on the city staff. Most of his time was spent on the night beat, where he was the paper's only night reporter. He covered everything from meetings and marches to protests and criminal doings. When Pensoneau made his move to the Springfield bureau three years later, he realized he had a lot left to learn.
"Although I was from Illinois, having gone to Mizzou and reported for the Post-Dispatch local staff, I knew a lot more about Missouri state politics that I did Illinois. I was very green when I arrived in Springfield…I had to do it all on my own, and I had to grow up pretty quick," he said.
After almost 13 years in the Springfield bureau and approaching his late thirties, Pensoneau was starting to get burnt out on the grind of daily journalism. He had accomplished his dream of being a news reporter, the dream that had carried him through his high school days and his time at the School of Journalism. However, Pensoneau knew it was time for him to give it up.
"I never thought I'd leave reporting, I'd never dreamed about it, until my last year at the Post-Dispatch," he said. "All of a sudden it just hit me that I wasn't going to grow old in big city, daily journalism. The older reporters told me, 'It's a great young man's game but don't grow old here.'"
At the age of 37, Pensoneau was starting over.
A Return to Writing
More than 10 years after he walked away from writing, Pensoneau came back.
After leaving the Post-Dispatch, he worked for more than 25 years for the Illinois Coal Association, the trade organization for the state's coal industry. After serving as chief liaison between the industry and state regulatory agencies, Pensoneau became the president of the ICA in 1998. He retired at the end of 2003.
During those years at the ICA, he never lost track of his ambition to write a book.
"One of the things I always dreamed about-wanted to do, but couldn't-was write a book. I got myself in a position in the coal industry where I had a lot more control of my time than I did in my Post-Dispatch years," he said.
In 1991, Pensoneau was approached by former Illinois Governor Dan Walker. Walker, the subject of many of his stories during his tenure at the Post-Dispatch, had become a friendly acquaintance over the years. Walker asked Pensoneau to write a book about him, and he jumped at the chance.
"I didn't know if I could do a book, but I said, 'This is my chance to see if I can do it.'"
Two years later, his first book, "Dan Walker: The Glory and the Tragedy," was published. For Pensoneau, it felt like a homecoming.
"I didn't realize how much I missed writing until I sat down to write that first book," he said. "It was like getting my feet back on the ground. Having that first book in my hand, there was this real, legitimate book with my name on it. That was a real, personal thrill. I could have quit right there. There is very little to compare to it."
Even in his books, Pensoneau had the style of a journalist. In reviews, he was both criticized and lauded for the disciplined, journalistic approach of his books.
"It was absolutely indispensible," Pensoneau says of his journalism background. "I couldn't have done my books without my journalism background."
After the publication of his first book, Pensoneau was once again approached to write a book about another former Illinois governor-this time, it was Richard Ogilvie. "Governor Richard Ogilvie: In the Interest of the State," was published in 1997.
In 2001, he completed his third book, "Brothers Notorious: The Sheltons," which documented the criminal exploits of a legendary band of downstate Illinois gangsters. The book was self-published through Downstate Publications, a firm set up by Pensoneau and his wife, Elizabeth, a retired editor of Outdoor Illinois magazine.
Two years later, he took a turn into fiction with his book "Summer of '50," which tells the story of an investigative reporter for a St. Louis newspaper. Four years later, Pensoneau returned to non-fiction with his fifth book, "Powerhouse: Arrington from Illinois."
Pensoneau's sixth book, "Dapper & Deadly: The True Story of Black Charlie Harris," was published in Downstate Publications in 2010. It chronicles the life of the last of the famous gangsters to come out of southern Illinois. Now, more than ever, Pensoneau realizes the role that writing and journalism have played in his life. In 2014, Downstate Publications published Pensoneau's seventh book, Reporting on Life–and people along the way, a memoir that includes a colorful chapter on his days at Mizzou.
"I've been very lucky in my life. I'm one of those people who's been in the right place at the right time. Everything's like a domino effect, and I can trace so much of this back to getting to go to the J-School at Mizzou. I never would have gotten my foot in the door without Journalism School," he said.
Updated: November 10, 2011