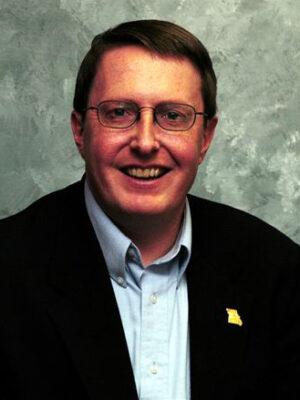 Degree(s): BJ '87
Whereabouts: United States, Columbia, Missouri
Best professional lesson learned at the J-School?
How to write on deadline. Putting the important stuff first and filling it out as you go along (the inverted pyramid!) really helps when you have limited time to complete an assignment.
What would be your best advice to current students?
Be intellectually curious. Try to read a couple of newspapers a day, or at least look at various news sites on the Internet. Knowing a little bit about a lot of things really helps when you're doing general assignment reporting.
What do you consider to be your greatest professional achievement?
I've enjoyed all the jobs I've had, which have included being a newspaper reporter, a public relations specialist, a political director and a Senate chief of staff. But I believe my greatest achievements came while as an elected member of the Missouri House of Representatives. During my eight years in the House, I helped fund several educational facilities, passed bills that improved access to higher education and made county government more efficient, took the state sales tax off of college textbook purchases, and I was the main author of two constitutional amendments that were subsequently approved by the people of Missouri.
What makes you good at your job?
You'd have to ask my superiors if I'm good at my job. But in all of my jobs I have tried to work well with others, even those with whom I disagreed.
What did you want to be as a kid?
When I was very young, I thought it would be cool to be a fireman or a mailman. By the time I got to high school, however, I knew I wanted to be a newspaper reporter. I got to do this with the Missourian and then for two and a half years at The Sedalia Democrat.
What is something about you that might surprise people?
People might be surprised at some of my other previous jobs. I've been a janitor, a candy store cashier and I ran a fireworks stand.
Updated: November 4, 2011