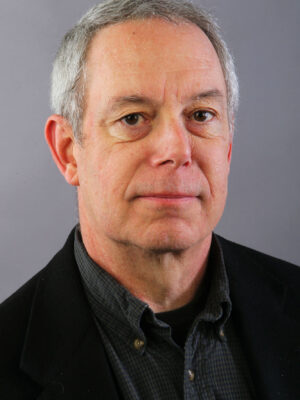 Degree(s): MA '79
Whereabouts: United States, St. Louis, Missouri
Small-Town Ambitions
Born in Warrensburg, Mo., between Kansas City and Columbia, Bryant got his first start in journalism as a high school sports correspondent for his hometown newspaper, The Daily Star-Journal. It would be eight years before he returned to Warrensburg to work there again.
After graduation, Bryant left the small town of 13,000. He headed east to pursue an education at Boston University, where he earned his bachelor's degree in political science.
"I wanted to go to school in the East. I knew I wanted some sort of liberal arts degree, and I didn't really know what I'd do with the degree after school," says Bryant. "All through my undergrad I seemed to enjoy courses that I had to write term papers for, but I wasn't thinking about journalism."
Getting Political
Fresh from college, Bryant went to work in Jefferson City in the office of Missouri Secretary of State James Kirkpatrick. During his two years there, Bryant researched topics for Kirkpatrick's speechwriters.
"It was an entry-level job, and it was a great first job out of college," says Bryant. "I knew I didn't want to stay there very long, but I loved the people I worked with."
Following his work for the secretary of state, Bryant decided to pursue his juris doctorate at the University of Missouri School of Law.
"I thought at the time it could be an interesting job, somewhere where you could make your own hours," says Bryant.
Bryant quickly realized that law school was not for him. "I was terrible," says Bryant. "I realized from the first day that it wasn't for me and dropped out after one semester."
Journalism at Last
Before returning to work, Bryant took time off to enjoy himself on self-prescribed float trips, during which he spent time canoeing with friends on Ozark Riverways. After eight months, Bryant returned to Warrensburg where he answered a classified ad at the Daily Star-Journal for a sports editor.
"I was thrilled from the first day to have the job at the Star-Journal," says Bryant.
Although he brought little more than enthusiasm in terms of skills, Bryant's work ethic helped him become a better reporter. He worked at the Star-Journal for two years before deciding that he needed more journalistic training.
Back to MU
Bryant returned to the University of Missouri, this time to work on his master's degree in newswriting.
"I really thought that I needed some sort of formal training so I applied for the J-School and got in," says Bryant. "The J-School has a really great reputation and a great program, so I'm really glad I got in."
The year 1978 was an exciting time for MU: the Gay Liberation Organization gained recognition as a campus organization; the cross country team went to nationals; political upheaval in Iran caused on-campus protest by some of the nearly 240 Iranian students. For a student starting out in reporting, there were certainly many newsworthy topics to write about.
As a master's student, he earned one of the coveted positions as a teaching assistant for one of the J-School's reporting classes at the Columbia Missourian. He ascended the ranks, going from an environmental reporter to a Washington, D.C., correspondent for the Missourian in only a year.
"I considered the Missourian a full time job, but I realized that class was also important," says Bryant.
Bryant credits his success in the School of Journalism to two mentors – John Ullmann, a doctoral student at the time, and Steve Weinberg – whom he calls "angels," in the sense that they were instrumental in pulling him out of the newsroom pack.
Ullmann, PhD '94, became the first executive director of the Investigative Reporters and Editors Inc. IRE was formed in 1975 to promote investigative reporting ideas, techniques and sources.
IRE seeks to improve the quality of investigative reporting and in doing so has been responsible for researching and exposing some of the nation's deepest sources of corruption. In 1976, the IRE sponsored the Arizona Project, the first large-scale attempt at the cooperative journalism technique, in which different journalists from different organizations come together for a story. The project launched an investigation of organized crime and political corruption in Arizona after the killing of Don Bolles, one of IRE's founding members.
In 1992, Edward Delaney, IRE attorney, and Robert Greene, head of the project, donated the Arizona Project records to the University of Missouri, one of the first college campuses to form a chapter of IRE under the direction of Ullmann.
Ullmann pulled Bryant into the program in 1978 as a staff writer. "He kind of just grabbed me and said, 'Hey I'm putting together a staff for the IRE, do you want to do it?'" says Bryant.
In addition to IRE, Bryant also participated in the Washington, D.C., reporting program, directed by Weinberg, BJ '70, MA '75. The reporting program served as a welcome alternative to writing a thesis.
"I knew when I started the grad school program that I wanted to do a reporting project. At the time, there was a plan A and plan B. With plan A you had to write a thesis, and I knew I didn't want to write a thesis. And with plan B you got to do a reporting project," says Bryant. "That sounded like huge fun, and I signed up as quickly as I could."
Bryant worked in the Journalism School's office in the National Press Club building as the unpaid Washington, D.C., correspondent for small- to mid-sized papers all over the country. In total, Bryant wrote for upwards of seven papers in various locations like Brattleboro, Va.; Yakima, Wash.; and Corpus Christi, Texas.
"We had no way of sending stories electronically," says Bryant. "If it was a deadline story, I'd type them in the bureau and read them to the editor over the phone. If it was a feature-type story, we'd mail the story in."
Bryant wrote stories tailored to the specific interests of the newspapers for which he wrote.
"The Brattleboro Reformer in Vermont wanted Amtrak coverage because train service in Vermont was in danger of cancellation, while a weekly paper in West Virginia wanted stories about coal mining regulations," says Bryant.
Finished with the reporting program, Bryant returned to the Missourian, where he found another mentor in George Kennedy.
"As city editor, he did a great job managing packs of newsroom rats," says Bryant.
His mentors – Ullmann, Weinberg and Kennedy – helped Bryant thrive in the hectic newsroom, which he admits can be difficult to navigate without assistance.
"There are so many student reporters each semester and the news hole was only so big, so it was quite an undertaking to get the editor's attention," says Bryant. "If you didn't have an editor as kind of an advocate you could really get lost there. I lucked out having them shepherd me along."
Bryant learned by the Missouri Method, which helps students gain experience through hands-on experience.
"The editors, the faculty members, were very clear that the Missourian wasn't a toy; it's a real newspaper. The stories have to be good, accurate and complete because we have real readers paying for a real paper."
"We weren't putting out classroom assignments; we were writing for a real paper," says Bryant. "The editors, the faculty members, were very clear that the Missourian wasn't a toy; it's a real newspaper. The stories have to be good, accurate and complete because we have real readers paying for a real paper."
The attention from hands-on editors like Weinberg also helped improve Bryant's work.
"Having meticulous editors like Steve Weinberg improve what I was doing immeasurably," says Bryant. "He really cared about students constantly improving. He was sensitive to the deadline pressures, but later he would come back and say, 'Here's how you can be a little bit better next time.' I paid attention to what he said and tried to follow it."
Home in St. Louis
After graduating with his master's degree in '79, Bryant worked for the Kansas City, Mo., bureau of United Press International before transferring to the St. Louis bureau.
"The Kansas City bureau was an around-the-clock bureau, either writing or editing. The St. Louis bureau was much smaller. We were strictly a reporting bureau," says Bryant. "I transferred to the St. Louis bureau because I had relatives there, and it was a bigger market, kind of a better news town."
Working at UPI St. Louis, Bryant met bureau manager Laszlo Domjan, BJ '69, who would play an integral role in his career advancement.
Within a year, Domjan was hired at the St. Louis Post-Dispatch, became the editor, and hired Bryant in 1987.
Since joining the Post-Dispatch, Bryant has reported on various beats, ranging from state and federal trial courts to courts of appeals. He is assigned as a business reporter covering real estate and development, a position he does not plan on leaving any time soon.
"There's always something interesting and new to look into and learn," says Bryant. "There's no way of knowing whether there's going to be an interesting longer term story or if something breaking's going to happen. There's certainly the daily excitement of getting an exclusive story."
Returning Home to the J-School
Bryant has not forgotten it was the School of Journalism that gave him his start.
"The J-School training certainly allowed me to get much better at reporting and writing and led to my jobs at UPI and the Post-Dispatch," says Bryant.
Bryant has frequently returned to campus to share his experiences with students and inspire a new generation of journalists much the same as his mentors did for him.
What's Next?
After 35 years in news reporting, Bryant reflects on how the evolving technologies have affected his job.
"There's the extra demand of filing. You're almost thinking first about filing to the newspaper website, getting it on the website as quickly as possible and writing for the next edition," says Bryant.
Even with the shift to digital, Bryant believes the traditional newspaper medium will survive.
"I still believe that paper editions will survive. It seems almost on every interview that people tell me they still enjoy having a paper they can hold in their hands," says Bryant.
Bryant offers one piece of advice to students: "You bring the enthusiasm, and the J-School will teach you how to channel it."
Updated: November 2, 2011