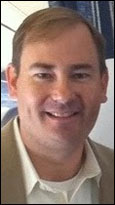 Degree(s): BJ '92
Whereabouts: United States, Atlanta, Georgia
What do you do?
I work in corporate communications at Delta Air Lines, primarily supporting government affairs and financial communications. I interact regularly with global media covering the airline and travel industries, telling the story of Delta and its 80,000 worldwide employees. I also work closely with my Delta colleagues on crisis communications and internal news.
How did you get your job?
After 15 years in newspaper journalism, I was ready for a new challenge. Much as my reporting was based on personal contacts and professional relationships, the next chapter in my career was opened thanks to a professional colleague who recruited me to come work for Delta.
What is the best professional lesson you learned at the J-School?
My experience at the J-School convinced me that writing is the foundation of everything we do as communicators. It doesn't matter if you're working in print, broadcast, online, marketing or public relations – if you want to be successful, you must possess best-in-class writing skills. That means absolute mastery of the basics, including grammar, punctuation and AP style.
What advice do you have for current students?
Take advantage of the tremendous resources at the J-School to develop your journalism and communication skills, and in particular focus on becoming the best writer you can. It's the skill that will set you apart from others throughout your career. Beyond that, make sure to maintain the friendships and relationships you forge during your time at the J-School; these people will be your colleagues for many years to come and will be very important, both personally and professionally.
What is your favorite J-School memory?
It's difficult to identify just one, but I will never forget my first semester as a reporter for the Missourian, covering local government. It was terrifying and exhilarating.
Updated: May 13, 2014