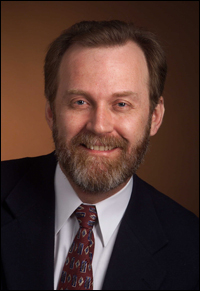 Degree(s): BJ '74 (Advertising)
Whereabouts: United States, Chicago, Illinois
What career steps did you take before opening your own ad agency?
I started as a copywriter for Western Auto Supply at their home office in Kansas City. I worked there for three years before going to a mid-size agency, Barkley & Evergreen, also in Kansas City. There, I worked as a copywriter and worked my way up to creative director. I then took a job with McKee Advertising Inc. in Chicago. In my eight years at McKee Advertising, I worked as a copywriter and account executive and eventually worked my way up to senior vice president and new business director. In 1989, my wife and I launched our own advertising and public relations firm in Chicago, Walt Denny Inc. I recommend that everyone get ad agency experience before they open up their own agency.
What role did your education from the J-School play in your career advancements in agencies and eventually in opening your own agency?
My J-School education gave me "first-job" experience while I was still at the University of Missouri. I was a reporter and an ad salesman for the Columbia Missourian newspaper. I also was a teaching assistant for the ad sales class so I got to help young ad salespeople practice their selling techniques and sell their first ads. The Journalism School also taught me to take initiative to achieve my advertising goals. The information was there, but you had to pursue it, learn it and put it into practical application. That "self-starter" mind-set helped me have the confidence and determination to launch our agency years later.
What is one account that you worked on that you are particularly proud of?
To be successful in this competitive business, you learn that every account needs your best work on a consistent basis. We're proud of the work we've done for each client and honored that they've placed their trust in us to play a vital role in their business growth.
What is the best and worst part about running your own agency?
The best part about running our own agency is the opportunity to be your own boss. It's exhilarating, challenging and rewarding. It's also great to get to do things the way you think will be best for you and your clients. We enjoy the flexibility to have a life outside the agency. My wife and I had the ability to take off work when we needed to attend school functions for our children. The worse part is also one of the best parts, and that is the pressure of "the buck stops here." Every day you must make wise decisions and be a good leader for your business, your employees and your clients.
Your agency specializes in home products. How did you get your start in this specialty?
We decided to work on home products because we worked in this specialty at previous agencies, and we felt home product companies weren't getting the service they deserved. In addition, with this specialty, we felt like there would always be work. When it's a boom time, new housing prospers, and when it's a recession, people are remodeling their homes. Another reason we decided on home product accounts was because the past clients we had worked with in this industry were very genuine and straightforward people.
Since you are originally from Missouri, why did you decide to open your ad agency in Chicago?
In order to advance in the advertising business, I felt I needed to move to Chicago or New York. I chose Chicago because I had a job opportunity with a mid-sized ad agency there. I then decided to open my own agency because I wanted more freedom in the areas of client service and the creative product. Chicago has been a tremendous market for us.
What do you consider your greatest personal achievement?
My happy marriage to my wife, Mary Lou, and raising our two daughters. Our younger daughter graduated from the Missouri School of Journalism in 2007 with a major in strategic communication, and our older daughter graduated from the Missouri School of Journalism in 2005 with a major in magazine writing.
Updated: November 3, 2011