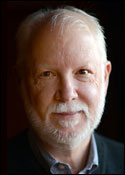 Randy Cox, BJ '75, a talented picture editor, photographer, designer and visuals educator known as much for his passion for photojournalism as his generous spirit, died Jan. 2, 2017, in Portland, Oregon.
Cox began his 38-year newspaper career as a photographer at the Jackson Clarion-Ledger in Mississippi. He then became photo editor at The Coffeyville Journal in Kansas, followed by editing positions in Allentown, Pennsylvania, at The Morning Call and at The Hartford Courant in Connecticut, where he served as assistant managing editor. Cox worked as a consultant to various newspapers and served for a year as a professional-in-residence at the Reynolds School of Journalism in Reno. He worked as a designer at The Albuquerque Tribune in New Mexico before joining The Oregonian in Portland in 1997 where Cox directed photography and visual presentation for about 16 years. After leaving there, he became the visuals communications coordinator for the Multnomah County Communications Office.
Cox was the speaker at the December 2011 graduation ceremony at the Missouri School of Journalism. Memorial gifts can be made to the Randy Cox Memorial Photojournalism Scholarship at the Missouri School of Journalism.
Updated: January 4, 2017