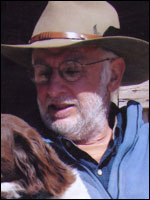 Danny Lyon is a photographer, filmmaker and writer. Born in Brooklyn, N.Y., he studied history at the University of Chicago, where he graduated with a Bachelor of Arts degree in 1963. While still a student he joined the early southern civil rights movement, using his camera to support the Student Nonviolent Coordinating Committee. Upon graduation, he became the first staff photographer of the SNCC, creating a model that would be followed by many nongovernmental organizations to this day. This early photography work appeared in the book "The Movement" (1964).
Lyon went on to publish a series of books of text and photographs, in which he immersed himself and became a participant in his subject, often spending years to realize a single project. His methods and style were later recognized as "new journalism." To this day Lyon's work epitomizes a counterculture spirit and focus on those who live outside of mainstream society. His first book, "The Bikeriders" (1967), recorded and glorified the life of the American bike rider. Lyon became a member of the Chicago Outlaw Motorcycle Club, traveled with the group and shared their lifestyle. To produce a later book, "Conversations with the Dead" (1971), Lyon was given unrestricted access by the Texas Department of Corrections to photograph convicts in six prisons over a 14-month period. He continues this work with "Deep Sea Diver," a report of his journeys in China, which was published this year by Phaidon.
Lyon also has produced films, including "Los Ninos Abandonados," "Willie," "Born to Film" and "Murderers." He writes long texts for his books and has authored the nonfiction work "Like a Thief's Dream."
Lyon received the Guggenheim Foundation Fellowship for photography in 1969, and in film making in 1979, and a Rockefeller Fellowship in Filmmaking. He has had solo exhibits at the Whitney Museum of American Art, the Art Institute of Chicago and the Corcoran Gallery in Washington, D.C. Lyon is the founding member of the publishing group Bleak Beauty.
Updated: July 13, 2012