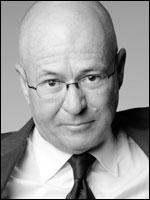 David Granger has served as editor-in-chief of Esquire magazine since 1997 and has led the magazine into one of its most successful eras. Between 1998 and 2011, Esquire was a finalist for 54 National Magazine Awards, the industry's highest honors, and has won 15, including the award for General Excellence in 2006.
Under Granger's leadership, Esquire has expanded the limits of the print medium. In 2008, using electronic paper technology, Esquire created the first magazine cover on which words and images moved. In 2009, it put a window in its cover and then, three months later, created the first-ever "mix n match" cover of a magazine. Later that year, Esquire created the first augmented-reality issue of a magazine ever. Their monthly application for the iPad won the first-ever National Magazine Award for mobile applications.
Esquire has published some of the most memorable non-fiction in magazines in his tenure, including "The Falling Man," by Tom Junod, "The School" by C.J. Chivers and "The Things That Carried Him," by Chris Jones. Esquire has been honored as Magazine of the Year by the Society of Publication Designers, as one of America's Most Important Magazines by the Missouri School of Journalism and is regularly cited as one of America's 10 best magazines by the Chicago Tribune. Advertising Age and Adweek have each named Granger the magazine industry's Editor of the Year.
Previously Granger was the executive editor at GQ for nearly six years. In the preceding decade, he held executive-level editor positions at various magazines.
Granger holds a master's degree in English from the University of Virginia and a bachelor's degree from the University of Tennessee.
Updated: July 13, 2012