Melody Cook
Operations and Creative Services Manager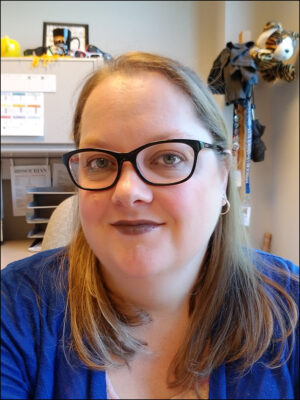 Download High-Resolution Photo
216 Lee Hills Hall
Missouri School of Journalism
Columbia, MO 65211-1200
MELODY COOK works in the business offices of the Columbia Missourian in the advertising as well as the circulation departments. She has won numerous design awards for the Columbia Missourian during the Missouri Press Advertising and Marketing Executives annual Best Ad Contest.
Prior to joining the Columbia Missourian, she worked at the Cooper County Voice – formerly a local weekly newspaper in Cooper County, Missouri. While there she sold and created advertisements for print and digital, as well as production work and for a short period took on the role of Interim Managing Editor.
Before her time at the Cooper County Voice, she worked at the Boonville Daily News, a daily newspaper in Boonville, Missouri. She worked in the circulation and production departments.
She is an amateur photographer that enjoys living history and outdoor activities. She organizes a J-School team each year for the Cleanup Columbia event put on by the City of Columbia Volunteer Program.
Updated: August 3, 2020