The Tina Hills Fellowship for Latin American Journalists
Deadline Extended to Feb. 18 for Fall 2005 Applications
Columbia, Mo. (Oct. 21, 2004) — The Missouri School of Journalism announces a call for a new round of applications for the Tina Hills Fellowship for Latin American journalists interested in earning a master's or doctoral degree at the world's first journalism school. The fellowship is part of a long-term program to expand relations between the school and the news business in Latin America. The winner will begin a graduate degree program in Columbia, Mo., in the fall of 2005.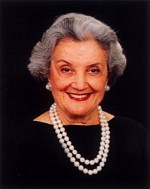 The fellowship is named for Tina Hills, former publisher of the Puerto Rican newspaper El Mundo and president of its parent company. Mrs. Hills is the widow of Lee Hills, former chief executive officer of the Knight-Ridder newspapers. Both were presidents of the Inter-American Press Association.
The Tina Hills Fellowship will provide tuition and a stipend of $5,000 a year to a journalist from Central or South America interested in the Missouri program. The winning candidate will work as a part-time instructor at Adelante, a monthly newsmagazine published at the School in both Spanish and English for the growing Spanish-speaking population of central Missouri.
The fellowship, provided for in a generous endowment at the school by Lee and Tina Hills, is intended to provide students with a good learning experience from a Latin American professional at the same time that we provide a strong educational experience to journalists in Latin America. The Missouri School of Journalism has always had a strong interest in international journalism and wants to make certain it is stimulating cooperation among journalists in all of the nations of the Americas.
The ideal candidate for this fellowship will be a Latin American working journalist with professional experience and good English and Spanish language skills who has a desire to pursue a master's or doctoral degree in the United States. To apply for the fellowship, candidates must first apply to the School's graduate program and indicate on their application that they are interested in being considered for the Tina Hills Fellowship.
Application requirements for the master's and doctoral program are available by clicking on the program desired.
The deadline to apply for the Tina Hills Fellowship and the Missouri School of Journalism graduate program for the fall semester of 2005 is Feb. 18.
Updated: December 13, 2019
Related Stories
Expand All
Collapse All
---