Life Stories: Frank L. Dobyns Jr.
Kelsey Wilkinson
Columbia Missourian
Columbia, Mo. (May 3, 2005) — Frank L. Dobyns Jr., a former MU professor and administrator, died Wednesday, April 20, 2005. He was 81.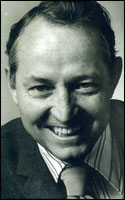 Mr. Dobyns was born June 27, 1923, in Fort Smith, Ark., to F.L. and Mary Olive Wilkins Dobyns. He attended Stigler public schools and was president of the 1940 Stigler High School graduating class.
His sister, Dorothy Peterson, of Escondido, Calif., remembers admiring her brother when they were children.
"I thought he was just the greatest," Peterson said. "Anything he did, well, that's what I wanted to do."
Mr. Dobyns attended Connors State College in Warner, Okla., for one year before leaving to serve overseas with the Army's 78th Infantry Division. He earned a bachelor's degree from Oklahoma University in 1946. While at OU, he was a member of Delta Tau Delta social fraternity and was named the outstanding graduate by Sigma Delta Chi professional journalism fraternity.
He married Connie Jo Swaffar in 1944.
After graduation, Mr. Dobyns worked for the Oklahoma Publishing Co. in Oklahoma City and for Phillips Petroleum Co. in Bartlesville, Okla.
In 1948, Mr. Dobyns and his wife purchased the Edmond Publishing Co. and its newspaper. They later purchased the Edmond Sun, merging the papers into one. They sold their newspaper and printing operations in 1965.
Mr. Dobyns joined the faculty of the MU School of Journalism shortly thereafter. He taught at the university for 15 years and earned a master's degree there. While at MU, he earned the title of professor and department chair. He received MU's outstanding educator award in 1972 and served as the national chairman of the academic division of the American Advertising Federation. Mr. Dobyns retired from MU in 1981 with the title of professor emeritus.
After retiring, Mr. Dobyns moved to Texas, where he taught an adult Sunday school class. He also served as the president of the Edmond Chamber of Commerce and the Kiwanis Club. He was named an honorary chapter farmer by the Future Farmers of America and served several years in the Order of the Red, Red Rose.
He is survived by a daughter, Martha Dencker of Hartsburg; a son, Kelly Dobyns of Ames, Iowa; a sister, Dorothy Peterson; eight grandchildren; and seven great-grandchildren.
Memorial contributions may be made to the Cancer Research Center, 3501 Berrywood Drive, Columbia, MO 65201.
Updated: April 7, 2020