Life Stories: Donald J. Brenner, Former Faculty Member
Columbia, Mo. (Oct. 26, 2010) — Donald J. Brenner, 78, of Columbia died peacefully on Saturday, Oct. 23, 2010, at his home.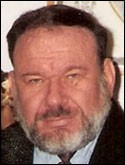 Graveside services will be held at 11:30 a.m., Friday, Oct. 29, 2010, in Columbia Cemetery. A memorial service will follow at 1 p.m. in the Memorial Union chapel on the University of Missouri campus.
Don was born to John and Gertrude Brenner on April 12, 1932, in Lorain, Ohio, the second of three children. His parents were immigrants to the United States, and both English and German were spoken in his home. His father, like many others in Lorain, worked in the factories of the U.S. Steel Company. Don graduated from Lorain High School in 1949 and then worked for a year to earn money needed to attend Bowling Green State University.
The first member of his family to attend college, he graduated from Bowling Green in 1954 with a degree in journalism. While there he met Kathleen Shuler, a student preparing to become a teacher, whom he married on August 7, 1955, in Grelton, Ohio.
Upon graduation he was drafted into the U.S. Army and served for two years, primarily at Fort Bliss in El Paso, Texas. While he did not find the military to be his calling, he took pride in his service, and in later years would regale family and friends with stories of hitting artillery targets on the White Sands Missile Range and fending off tent-invading rattlesnakes while on maneuvers.
After receiving an honorable discharge, he completed a Master's degree in journalism at Ohio University and then worked for several years as a magazine and newspaper journalist. In 1961 Don was admitted into the doctoral program at the University of Missouri School of Journalism, moving to Columbia with Kathleen and their first son, Jay.
His second son, John, was born a year later. Don was awarded his doctorate in 1965. He joined the journalism faculty at Northern Illinois University in DeKalb, where his youngest son, Jerry, was born.
Don returned with his family to Columbia in 1966, joining the faculty of the MU School of Journalism. In 1972 he accepted an appointment at Texas Tech University to help establish a department of health communications in Tech's new medical school. He returned again to Columbia in 1977, first serving as assistant director of MU's Health Communications Research Center, and then in 1981 rejoining the journalism faculty. He eventually served as an associate dean, administering the School of Journalism's graduate studies program. He retired from the university in 1992 and remained active in professional organizations at the time of his death.
Among his rewarding experiences as a teacher, administrator, and researcher, Don especially relished developing lifelong friendships with his many students and took great joy in their accomplishments. He was pleased to have students visit him at his home, often as dinner guests. His children vividly remember international students who sometimes prepared meals traditional to southeast Asia, western Africa, and other points around the globe.
His family remembers Don as well for his unbridled enthusiasms. His ever-expanding collection of unique Christmas tree ornaments eventually required three oversize trees for proper display. His large collection of Lego blocks allowed him to express his creative side in designed-from-scratch, Ping Pong table-filling scale models of aircraft carriers and the family home, built together with his sons.
Don is survived by his three sons and two daughters-in-law, Jay and Vicki Brenner of Chesterfield, Mo., John and Laura Brenner of Columbia; and Jerrell Brenner of Columbia; his brother and sister-in-law, Bob and Pamela Brenner of Lake Orion, Mich.; and six grandchildren, Michael, Dan, Chris, and Kathryn Brenner of Chesterfield, and Adam and Rachel Brenner of Columbia.
He was preceded in death by his wife, Kathleen, and his sister and brother-in-law, Dolores and Peter Homka.
Memorials may be given to the Journalism Development Scholarship Fund, 103 Neff Hall, University of Missouri, Columbia, MO 65211, or to the American Diabetes Association, P.O. Box 11454, Alexandria, VA 22312.
Updated: May 14, 2020