Retired Advertising Professor Ruth Briggs Bratek Dies
She Was One of the First Women Journalism Educators to Teach at the Missouri School of Journalism
The following obituary, courtesy of Allen Funeral Home, has been edited.
Bloomington, Ind. (May 4, 2016) — Darlene Ruth Briggs Bratek, one of the first woman journalism educators to teach at the University of Missouri, died May 1, 2016, at the Meadowood Health Pavilion in Bloomington, Indiana. She moved there 10 years ago to be near family, having lived in Columbia, Missouri, where she worked for much of her life.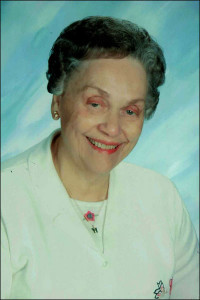 Bratek's family owned and published the Macon (Missouri) Chronicle-Herald, and she became part of a multigenerational lineage of Missouri School of Journalism graduates: father, Frank P. Briggs, BJ '15; brothers Tom, BJ '39, and Gene, BJ '43; nephew Jack Briggs, BJ '61, and his son Jeff, BJ '85; and daughter Cathy, BJ '71, MA '74, and her husband Jack Dvorak, BJ '75.
After high school graduation in 1941, she spent her freshman year at Central Methodist College in Fayette. Bratek then transferred to the University of Missouri where she earned her bachelor's degree in journalism in 1945 and later her master's in 1964.
In 1956, she joined the faculty of the Missouri School of Journalism. She was the first woman to serve as advertising director of the Columbia Missourian newspaper and as a faculty member in the advertising department. She taught for 30 years, retiring in 1985.
As advertising director, Bratek was responsible for display advertising sales that supported the Missourian in its mission as a community newspaper to train students. She developed an advertising sales manual and legal guide for students, similar to desk books used by reporters and copyeditors. Bratek set many advertising sales records, increasing the quality and quantity of advertising in the newspaper.
Bratek taught newspaper advertising and salesmanship for the first 19 years of her tenure. She then taught the introductory course in the advertising sequence, "Advertising Principles and Practice." She organized the weekly labs of 300 undergraduate students and doled out their creative assignments as well as supervised the teaching assistants who graded the lab assignments. Bratek also taught courses on advertising management and retail and direct advertising to majors.
Before her career in journalism education, she worked as display advertising representative at the St. Joseph (Missouri) News Press and Gazette; advertising and business manager at the West Plains (Missouri) Daily and Semi-Weekly Quill; assistant advertising manager at the Macon (Missouri) Chronicle-Herald; and vice president of the Chronicle-Herald Publishing Company.
In lieu of flowers, contributions may be made to the Frank P. Briggs Memorial Scholarship, University of Missouri, Office of Gift Processing, 704 Conley Ave., 407 Reynolds Alumni Center, Columbia, MO 65211.
Updated: September 24, 2020