As members of the Big 'M' of the Midwest, these Missouri School of Journalism students march to a different beat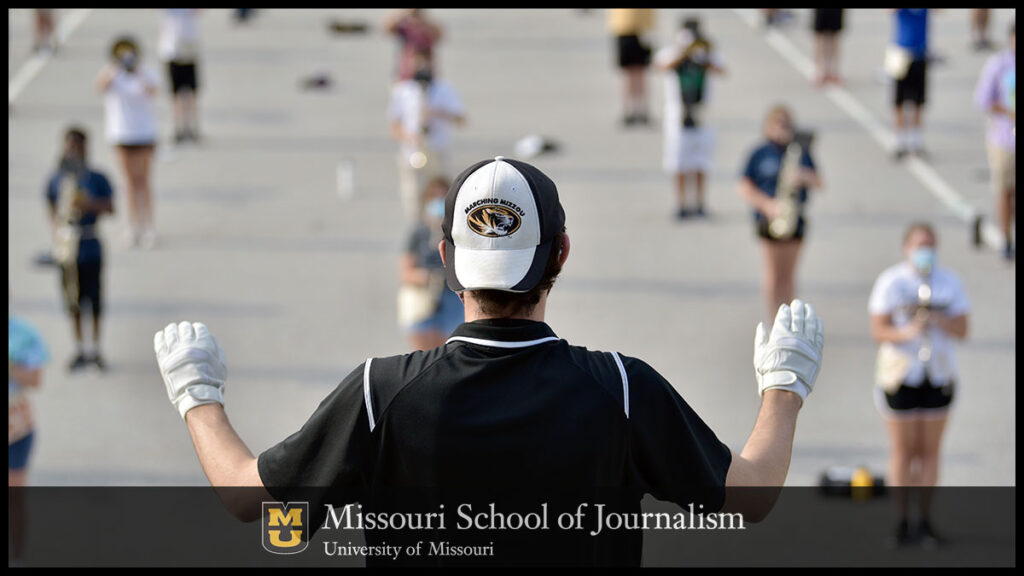 By Nate Brown
Columbia, Mo. (Oct. 15, 2020) — Surely every Missouri School of Journalism student knows this expression: "Wise shall be the bearers of instruments." It's engraved in stone over the Journalism Arch, right?
OK, I kid. The stone lettering actually reads "Wise shall be the bearers of light." But for several journalism and strategic communication students, both sayings are applicable to them. Why? They're also members of Marching Mizzou.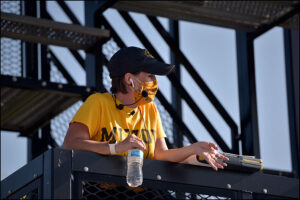 "Marching Mizzou this year is made up of 84% non-music majors who represent over 75 different majors across campus," says Dr. Amy Knopps, director of athletic bands in the University of Missouri School of Music. "The top 5 colleges and schools represented are Arts and Science, Engineering, Health Professions, Business and Journalism."
Nearly 20 J-School students are in Marching Mizzou, which includes the band, Color Guard, Feature Twirlers and the Golden Girls.
Sophomore Joy Mazur of Batavia, Illinois, plays the clarinet.
"Marching Mizzou is my break time," she says. "I love to come [to rehearsals] and it takes my mind away from all my work. It's almost an act of self-care, even though it is work for sure. But it reminds me to take a break from my studies."
Those studies include journalism and political science. "I really want to be a political journalist," says Mazur. "I want to shed light on things that are overlooked in mainstream media. And I really love human rights advocacy, so that's something I definitely want to do."
Just as the coronavirus pandemic impacted how journalism is produced and consumed, COVID-19 changed Marching Mizzou and the game-day experience as well. Maintaining social distancing, the band now practices and performs as three bands: MIZ Band, ZOU Band and Tiger Band. Two bands play from Section 110 of Memorial Stadium on game day – one band per half. Color Guard, Feature Twirlers and the Golden Girls are scattered throughout the North Concourse and the Bunker Club.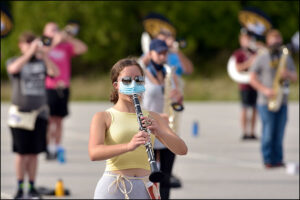 Senior Gannon Rushall, who's studying strategic communication, is a drum major from Highlands Ranch, Colorado. "I hope to bring some energy when it comes to conducting in the stands," he says.
He's disappointed with one COVID-19 safety precaution. "I'm sad we're wearing masks," he says. "It keeps us safe. But I'm sad because I can't use my facial expressions to get [the band] hyped up. Instead, I gotta use my arms and eyes…to get people really excited. I want to get them excited to keep playing and have fun, because band is fun and football is fun." Next semester, he'll join an AdZou client team.
Rushall says he's pondering a post-graduation career as a journalism educator – in the age of COVID. All of his classes since the pandemic have been online, which has been a challenge for him. "I'm not a person who learns online very well," he says. "I'm starting to figure it out…So I think, if I'm going to be teaching online, I better learn how to learn online so I can better learn to teach."
Even though this fall's football schedule is in flux – for example, this Saturday's homecoming game is postponed – Marching Mizzou continues practicing three to four days a week.
"We work very hard at what we do, strive for excellence always, and – as a byproduct of all – we have a lot of fun," says Knopps. "We have a special, welcoming and inclusive environment that is supportive of one another and takes great pride in the fact that we represent the University of Missouri."
Updated: October 15, 2020
Related Stories
Expand All
Collapse All
---