Missouri Journalism Alumna Shares Highlights of Her Nashville Songwriting Career with Students
Her Credits Include Title Track to Tim McGraw's Latest Album, 'Two Lanes of Freedom'
Columbia, Mo. (Sept. 23, 2013) — Jennifer Schott, BJ '97, encouraged Missouri School of Journalism and other students to pursue their interests in music during a "Lunch & Learn" at the Mark on 5th dining hall in Mark Twain residence hall on the University of Missouri campus.
"Whatever your interests – songwriting, design, marketing and more – there is a place for you in the Nashville music scene," she said.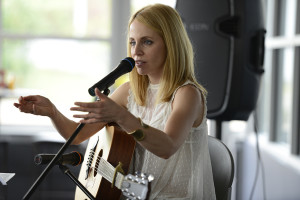 Schott moved to Nashville, also called the Music City, upon graduation to begin her career as a songwriter. Her most recent song, "Two Lanes of Freedom," is the title track to Tim McGraw's latest album and was the namesake of McGraw's 2013 summer tour.
An advertising major, Schott planned to work at a public relations agency for a few years before pursuing her dream of becoming a songwriter. A discussion about her career plans with one of her professors changed her thinking.
"Suzette (Heiman) encouraged me to go for it right away, that I had nothing to lose at that stage in my life," Schott said. "That conversation gave me the motivation I needed."
Schott has written or co-written other country music hits recorded by artists including The Eli Young Band, Billy Ray Cyrus, Gloriana, Jana Kramer, Pam Tillis, Lonestar, Eden's Edge, Restless Heart, Jennette McCurdy, and pop band A Rocket To The Moon. She has had singles released by Restless Heart, with "Feel My Way To You"; Katie Armiger's "Unseen"; Billy Ray Cyrus' "A Good Day"; and pop artist Lucy Walsh's "1882." Schott and Jack Smith, BA '62, created the School's 2008 centennial song "Coming Home."
Her 90-minute presentation covered three areas: the life of a songwriter, the life of the song and the life of the music business. Schott sang and played songs she wrote, including several that are soon to be released by major artists.
The Life of a Songwriter: Breaking into the business, what skills you need, what signing a publishing deal means, the role of the publisher, what a typical day is like, collaboration and how a songwriter gets paid.
The Life of the Song: How writers get ideas, what makes a hit song, how a song gets from the writing room to the studio to a presentable "demo", how a song gets pitched to artists and record labels, the process of holding and then recording a song, what getting a single means, chart success and how a song makes money with royalties.
The Life of the Music Business: Other careers in the music business and how they all relate to each other (record labels, management, booking, publicity, business management/accountants, performing rights organizations, photography/videography) monetization of music, how to stay current in an ever-changing business, hot issues in the songwriting community regarding royalty rates and new channels of distribution.
Schott's visit was co-sponsored by Missouri School of Journalism and the MU Department of Residential Life. The Mark Twain residence hall reopened in fall 2013 after undergoing a complete renovation. Several floors house students enrolled in journalism-related Freshman Interest Groups.
Updated: July 20, 2020
Related Stories
Expand All
Collapse All
---