12 Missouri Journalism Alumni Honored with Mid-America Emmy Awards
Winners Include a Recent Graduate for a Story He Produced as a Student
Columbia, Mo. (Oct. 21, 2013) — Twelve Missouri School of Journalism alumni were among those who received one of television's highest honors during the 37th annual Mid-America Emmy Awards ceremony Oct. 5 in St. Louis.
Stacey Woelfel, associate professor and news director at KOMU-TV, started keeping track of alumni winners as so many familiar names were announced during the awards ceremony.
One name had special significance. Tom Martin, BJ '13, won an Emmy for KOMU in the Sports – News Single Story category for work he did while he was journalism student. Martin is now a sports anchor/reporter at KATC-TV in Lafayette, La.
Martin's story, "Giving the H," featured a beloved Helias High School student with Down syndrome who leads a crowd-favorite cheer during football and basketball games. The school is located in Jefferson City.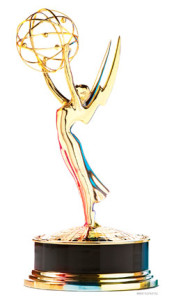 "Tom found the perfect example of how people care for one another and wrapped in a sports context," said Woelfel. "He then told it in a way about which everyone just had to care."
The Mid-America Chapter of the National Academy of Television Arts & Sciences presents the Emmy Awards. The nonprofit organization includes television markets primarily in Missouri, Arkansas and Illinois.
Missouri Journalism alumni who won a Mid-America Emmy Award are:
Paul Adler, BJ '88, of KYTV: Newscast – Morning/Daytime (Market 50+)
Eric Chaloux, BJ '00, of KCTV: Journalistic Enterprise
Michelle Davidson, BJ '99, of SenoReality Pictures: Writer: Program Feature (Non-News)
Mark Hadler, BJ '88, of KMOV: Continuing Coverage; Specialty Assignment – News Series
Chris Hayes, BJ '93, KTVI,: News Special
Tom Martin, BJ '13, of KOMU: Sports – News Single Story
Aaron Mermelstein, BJ '72, of HEC TV: On-Camera Talent/Performer-Host
Chris Nagus, BJ '00, of KMOV,: Continuing Coverage; Specialty Assignment – News Series
John O'Sullivan, BJ '04, KMOV: Continuing Coverage; Specialty Assignment – News Series
Beth Pike, BJ '86 of the Missouri Press Association: Documentary – Cultural
Jay Scherder, BJ '07, KYTV,: Newscast – Morning/Daytime (Market 50+)
Angie Weidinger, BJ '02, of HEC TV: Interview/Discussion
Updated: July 20, 2020
Related Stories
Expand All
Collapse All
---