Alumni Named to LinkedIn Next Wave List of Game Changers Under Age 35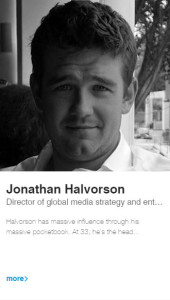 Jon Halvorson Selected for 'Marketing & Advertising' Category; Justin Myers, 'Media'
Columbia, Mo. (Sept. 14, 2015) — Two Missouri School of Journalism alumni have been named to the LinkedIn Next Wave list, a group of 150 professionals ages 35 and under, who are changing 15 different industries.
Jon Halvorson, BJ '04, and Justin Myers, BJ '11, BS EE '11, were chosen from a network of more than 380 million professionals. Key factors in choosing honorees were their abilities to create ideas, drive management and spark entrepreneurship.
Halvorson is director of global media strategy and entertainment at General Motors. He studied strategic communication at the School. LinkedIn noted the following about his selection in the "Marketing & Advertising" category: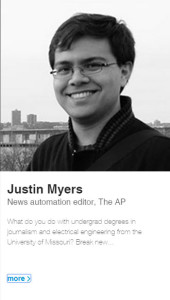 "Halvorson has massive influence through his massive pocketbook. At 33, he's the head of GM's global media strategy, which means that when GM decides to deploy its $3 billion-plus marketing budget, Halverson's directing the flow. It's still too soon to know how he'll reshape GM's media message; he joined the company in April after nearly seven years at Starcom Mediavest Group and is still "assessing the opportunity," he tells LinkedIn. For Starcom, he oversaw communications planning, branded entertainment and digital marketing across 40+ markets and with big-brand clients. His work on Mondelez' Oreos and Trident brands racked up awards. Friends are in awe of Halvorson's drive. One recent example: He dropped 100 lbs. and started competing in Ironman competitions."
Myers is the news automation editor at The Associated Press. He was a Walter Williams Scholar and studied print and digital news at the School. LinkedIn said the following about his selection in the "Media" category.
"What do you do with undergrad degrees in journalism and electrical engineering from the University of Missouri? Break new ground on automating news production – duh. Myers, 27, helps oversee the more than 3,500 "robot stories" produced each quarter at the AP in business and sports – from corporate earnings to baseball recaps. Extra points to Myers for plying his trade at one of the oldest and biggest news organizations in the world, the kind of place where change doesn't come quickly. Myers may be trying to make the news come faster and more automated, but his interests are decidedly laid back and manual. They include crochet and baking (and, oh, research on cognitive processing)."
LinkedIn Next Wave is the first installment of a new, quarterly series called LinkedIn Lists.
Updated: September 10, 2020
Related Stories
Expand All
Collapse All
---