Alumni Profile: Jessica Stroder
Columbia, Mo. (Jan. 26, 2017) — It's only natural to question yourself when facing a daunting challenge. However, it's how you respond to that challenge that determines your fate.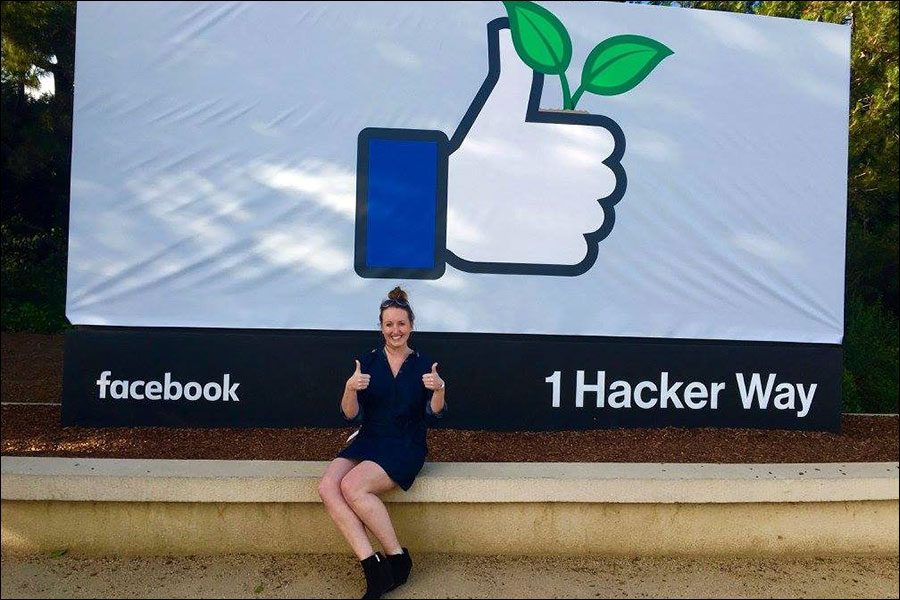 Jessica Stroder felt this when she was first hired as a partner manager at Facebook. Even though she had already worked at Ketchum, Influence and Co. and had graduated from Mizzou in strategic communication, she questioned if she could handle her new job at one of the largest companies in the world.
"I know I was hired for a reason," Jessica said. "I think part of what made me stand out [at Facebook] was the fact that I'm able to clearly articulate my strengths as a pioneer and creator, talk about how I've used these in the past, and how I will use these strengths in the role at Facebook to make an impact right out of the gate."
At her Facebook office in Austin, Texas, her role is to provide strategic guidance to agency partners that serve clients that advertise on Facebook. This includes providing education on solutions, making sure the clients are aware of the latest platform and product updates that may affect them and their clients, and a lot of creative problem-solving. All in all, Jessica helps her clients make the best decision to effectively advertise on the social media network.
Jessica's interest in Facebook began from her love of writing. The idea that her thoughts have the potential to be seen by millions around the world is a thrill.
"Facebook is about connecting the world—ideas, people, and businesses," said Jessica, who is usually on her personal Facebook to keep tabs on family members. "Years later, I'm still amazed at the scale at which Facebook can facilitate connections, and even more amazed that I get to be a part of it."
When she's not at work, Jessica has been taking advantage of Austin's unique foodie scene and trying her hand at surfing courtesy of CitySurf, a gym where you can do cardio exercises on a surfboard. Along with exploring Austin, Jessica has been traveling the world, having hit Beijing, Thailand and Singapore in the fall.
As her Facebook profile has filled up with pictures and posts of her exploits, her favorite thing about her job is how open Facebook is to utilizing its employees' ideas. she recently helped complete a project to create a "decision tree' structure to help Facebook advertisers better manage their ads.
"The fact that these types of projects can become a reality so quickly is all thanks to the incredibly nimble, talented, fast-moving team that I have the privilege of working with," Jessica said. "Anyone can have a good idea, share it and see it come to life here, which is pretty cool."
Updated: October 13, 2020
Related Stories
Expand All
Collapse All
---