Alumni Pay It Forward to Help Current Students
Virtual Individual Resume and Portfolio Reviews Prepare Strategic Communication Students for Annual Career Fair
By Hailey Yeakle
Columbia, Mo. (Feb. 3, 2016) — Missouri School of Journalism alumni from across the country donated an hour of their time to help current students refine their resumes and portfolios during the recent Individual Resume and Portfolio Review. This virtual event paired 120 strategic communication students with 40 graduates for one-on-one attention and guidance.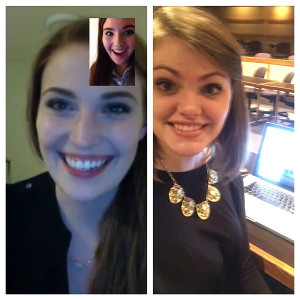 The Individual Resume and Portfolio Review was held over Google Hangout and phone. Reviewers called in from Los Angeles to Boston and in between to pay it forward and help the next generation of Missouri School of Journalism students prepare for the annual Strategic Communication Career Fair. The reviewers all studied strategic communication when in school.
Alumni were as eager as the students to participate in the event.
Maria Harper, BJ '15, assistant media planner at Mediahub, said connecting with the vast alumni network, especially in strategic communication, is one of the best benefits of graduating from the Missouri School of Journalism.
"Our alumni are not only people who work at A-List agencies and Fortune 500 companies, but they're all extremely willing to help students find jobs and prepare for their careers," Harper said. "Whether students meet them through the classes they're in, or just find them on LinkedIn, they're a great resource of some of the smartest, most innovative people in the country."
Luke Starnes, BJ '15, an account coordinator at The Marketing Arm, shared similar comments.
"The J-School, and strategic communication program in particular, provided me with endless opportunities to grow as both a student and a young professional," he said. "I had the chance to participate in a similar event, and it completely changed the way I structured by resume for the better."
Jamie Flink, assistant professor and Strategic Communication Career Fair director, expressed thanks for alumni involvement.
"Our graduates value the education they received and are often eager to pay it forward," she said. "In one hour, 40 former Tigers made a difference in 120 students' search for that dream job or internship. When you think about it, that's pretty powerful."
The virtual Individual Resume and Portfolio Review event is a new addition to the Strategic Communication Career Fair workshops. Students were pleased with the event's outcome.
Yue Tang, a senior studying strategic communication, said that she received many useful tips from her reviewer. She said: "I will definitely work on my portfolio and resume based on his suggestions. The review was very informative."
Updated: September 15, 2020
Related Stories
Expand All
Collapse All
---