MU alumni give back to journalism students through clothing donations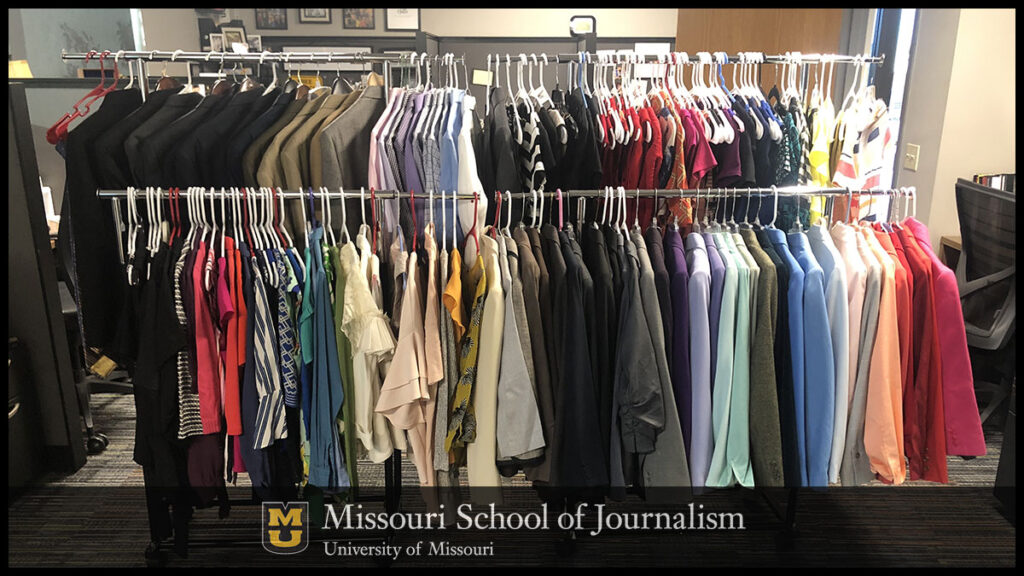 Professional clothes helps student broadcasters match industry standards as they gain hands-on experience
By Jennifer Nelson
Columbia, Mo. (Dec. 1, 2020) — Knowing how expensive it is to buy professional clothes such as blazers and slacks for first broadcasting jobs inspired countless Missouri School of Journalism alumni to step up and help provide students professional clothes for their first job at KOMU-TV.
Alumni from all four corners of the U.S. and everywhere in between have been sending in donations of gently-used clothing for the "KOMU Closet." The new initiative is an effort to help students dress to appear on-air at the NBC affiliate, said Assistant Professor Kellie Stanfield, an executive producer at KOMU who is helping organize the closet. Stanfield noted when she began discussing the idea with other faculty members, Mike Jenner, faculty chair for Journalism Professions, suggested the station reach out to its expansive alumni base for donations.
Stanfield said although students aren't required to wear blazers, they are strongly encouraged to wear professional clothing like blazers, which are industry standard. The journalists who work for the university-owned station can then keep the clothes and take them with them as they move on to other jobs once they've graduated, said Stanfield. Students have access to clothes at Truman's Closet at MU. Still, Stanfield said she wanted to make sure the journalism school was doing everything they could to help journalism students be trained professionally, including assisting them dress professionally.
As soon as she put out the appeal earlier this fall, Stanfield's office overflowed with boxes and she has had to come in on some Saturdays to organize the clothes. She continues to find boxes waiting for her whenever she comes into her office and emails from alumni wanting to help.
While many of the clothes have been delivered in the mail or another delivery service, at least one donation came in person from an alumna in Dallas, Texas.
Laura Barnett, BJ '03, drove boxes of suit jackets in a rainbow of colors that were just sitting in her closet, as well as a box of donations from another alumni member.
"I remember being in [the students'] shoes and my choices were my black suit or my black suit," she said. "Being able to give Mizzou's broadcast students something that will make their reels shine is a great way to pay forward my success."
Some have left notes for the receiving students in the clothes such as "I support you," said Stanfield.
"I know that we talk about the Mizzou Mafia (the term J-School alumni affectionally refer to themselves as) being really helpful, but this has just sort of blown my mind with all the generosity that we're seeing with this whole thing," said Stanfield. "They say 'I remember starting out and I want to help. I remember being a student and it was expensive and I would love to share my own clothes."
Students needing professional clothes for appearing on-air are encouraged to reach out to Stanfield. The process is entirely private and discreet.
If you're interested in donating clothes, they can be shipped to Stanfield at:
KOMU-TV
ATTN: KELLIE STANFIELD
5550 Highway 63 S.
Columbia, MO 65201
There is currently a need for men's clothing and a need for women's clothing size eight and above. Cash donations are also being accepted.
KOMU
Serving as a working laboratory for broadcast journalism students at the MU Journalism School, KOMU is the only university-owned commercial major-network affiliate in the United States that serves both an academic and a commercial mission. Its operations and investments in broadcast technology are funded entirely by advertising and retransmission revenues. The station receives no funding from the university or state.
Updated: December 15, 2020
Related Stories
Expand All
Collapse All
---