25 Members of the School's Chapter of National Association of Black Journalists Visit News Media, Meet Alumni, during Trip to Washington, D.C.
Columbia, Mo. (April 9, 2009) — An action-packed whirlwind trip to Washington, D.C., by 25 members of the University of Missouri's Alé Chapter of the National Association of Black Journalists provided plenty of opportunities for the group to visit media outlets and network with alumni and journalism professionals.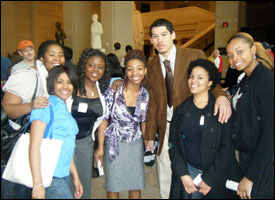 The group's impressive itinerary took them to the Washington Afro-American, The Baltimore Times, Slate, The Root, Fleishman Hillard, WTTG-TV, among other news media outlets. The students' schedule also included a tour of the U.S. Capitol and a visit with Wes Pippert, head of the Missouri School of Journalism's Washington Program.
The entire trip taught sophomore Deron Dalton about the value of a Missouri School of Journalism education.
"What did not surprise me, but completely made the notion true, is that there is a large number of Mizzou Mafia out there," he said. "We got to visit with a lot of them, from alumnus Sean McGarvey at WTTG to Larry Van Dyne at the Washingtonian."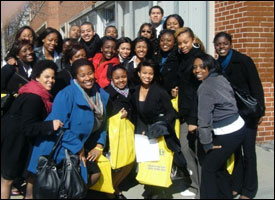 The group raised funds to help offset the expenses for trip participants. The NABJ student chapter held fundraisers, lobbied ORG, took advantage of Residential Life and other campus funding and received a donation from the School of Journalism. In a savvy move to save money, the students rented rooms in a house they found under "Vacation Rentals" on Craigslist.org. Ultimately each member had to pay a fee of only $300 toward the trip.
Holly Edgell, an assistant professor and the chapter's adviser, executive producer of KOMU, was impressed with the students' planning.
"The enthusiasm of this very determined group was contagious," noted Edgell. "Initially I had doubts about the location, but after seeing the leadership of Chapter President Mallory McClaire, I soon jumped on the D.C. bandwagon."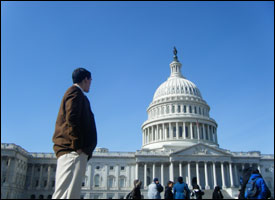 "Apart from our visits, I had such an amazing opportunity to bond with our membership," McClaire said. "These trips help build a support system between NABJ members that will take us through college and into our careers. We rarely get the opportunity to talk about the significance of the black press. Despite running on deadline, everyone was very welcoming and encouraging."
The NABJ student members have visited news outlets and alumni in Chicago and Atlanta during their annual trip.
Updated: May 1, 2020
Related Stories
Expand All
Collapse All
---