Master's Student Snaps Another's Dash to Win the 'Running of the Interns' Race
Greg Kendall-Ball Was in the Right Place to Capture Lauren Langille's Sprint to the Finish Line
Columbia, Mo. (June 29, 2015) — The lives of two Missouri School of Journalism graduate students intersected during the annual Running of the Interns race on June 25 in Washington, D.C., as Greg Kendall-Ball snapped a photo of Lauren Langille on her way to a first-place win.
It's a unique event for interns who work at TV news outlets in the nation's capital, said Lauren Langille, the sole intern at CNBC in Washington.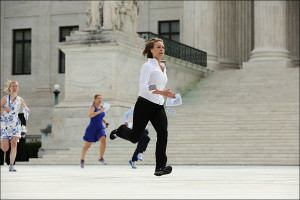 The need for the race has everything to do with how the Supreme Court of the United States delivers major rulings, Langille said. Cameras or any type of recording devices are not allowed in the court, and opinions of the court are disseminated through hard paper copies. In the race to be first with the news, it's up to the intern to rush the decision from the pressroom inside to the reporters waiting outside on the public sidewalk.
"SCOTUS (Supreme Court) decisions have been coming down for the past month or so, but you never know what or how many cases they will deliver until they are being read," Langille said. "I had a short list of what cases CNBC was most interested in and was ready to bolt out the door as soon as one of them was placed in my hand. My job wasn't to decipher what was ruled, but to deliver it fast and first."
Langille and the other interns leave the court through a side door at the back when a decision is issued. They then loop around the corner of the building, down a flight of stairs, sprint across the white marble terrace where they encounter another flight of stairs, a wall of cameras, reporters and a roaring crowd. The challenging part for interns is to navigate through this sea of people and find their reporter.
Greg Kendall-Ball had been hired by the American Civil Liberties Union to photograph some of their clients and representatives if the Supreme Court handed down a decision in the Obergefell v. Hodges case. The court is notoriously tight-lipped about which decisions they will announce on any given day, he said, so there's a bit of a hurry-up-and-wait game on days when decisions could come down.
Kendall-Ball was in a position for a photo when he saw the first group of runners came out with the decision in the Texas fair housing case.
"There weren't very many of them, and while they weren't exactly lollygagging, they weren't exactly sprinting," Kendall-Ball said. "So when a second group came out about five minutes later, and with Lauren (who I didn't recognize as a fellow MU graduate student) really going all out, we figured it was something big."
Kendall-Ball snapped the photo of Langille as she delivered the King v. Burwell decision to the waiting CNBC reporter. IJReview called Langille the "American Pharoah of interns."
Langille said the two most important takeaways from her experience are to always be prepared and to be a team player. After she completes her internship with CNBC, Langille will finish her master's project and find a job in D.C.
Kendall-Ball will complete his master's project this summer. He plans to continue working as an independent photojournalist and picture editor in Washington.
Updated: September 10, 2020
Related Stories
Expand All
Collapse All
---