Missouri School of Journalism Students Visit Leading Washington, D.C., Newsrooms
Journalism and Chaos Class Visits Bloomberg, Politico, CNN, Among Others
By Gwen Girsdansky
Columbia, Mo. (Oct. 9, 2013) — In a two-day whirlwind tour of Washington, D.C., four Missouri School of Journalism students toured leading media outlets and met with top editors and executives to discuss changing business models.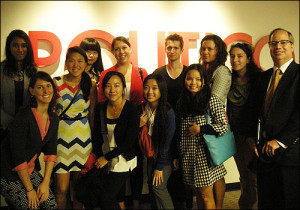 The sites included Bloomberg, The Washington Post and CNN, Politico, Hearst and PolitiFact.
The three graduate students and one undergraduate were able to see how the theories they were learning in Journalism and Chaos: How to Understand and Cover 21st Century Business Models could be put into practice. In class, they learn how the media industry is changing and the transformation of journalism business models.
"These visits opened eyes about the future of journalism," said Randy Smith, professor and Donald W. Reynolds Endowed Chair in Business Journalism. "This was the first time that I took a class on this kind of trip, and it was the perfect group."
Each visit offered students a glimpse at a different organizational structure, revenue stream and business model. The ideas will be integrated into their semester-long projects on the development of a business idea and the preparation of a business plan.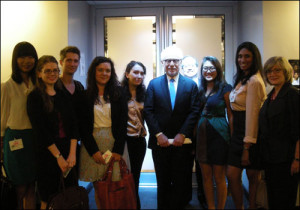 While in D.C., they were also able to meet with Professor Barbara Cochran, the director of the School's Washington program and the Curtis B. Hurley Chair in Public Affairs Reporting. Students also visited with alumni who are working in the D.C. area. Another highlight was a tour of the U.S. Capitol.
Students also visited the Alfred Friendly Press Partners, of which Smith serves as board president. They met with the executive director and learned how the program is designed to bring journalists from emerging markets across the globe into American newsrooms for training.
"I've also heard how much our students impressed our hosts with their questions and professionalism," Smith said.
Updated: July 20, 2020
Related Stories
Expand All
Collapse All
---