Alumna Juana Summers Recognized as Trailblazer in the Age of Digital Journalism
Marie Claire Names the Mashable Politics Editor as One of the '50 Most Influential Women in America'
By Kiara Ealy
Columbia, Mo. (Nov. 11, 2015) — Juana Summers, BJ '09, has all eyes on her coverage of the 2016 presidential election. She has made a name for herself as a digital journalist, currently serving as the Politics Editor at Mashable. Summers has also been a familiar face on C-SPAN, CNN, MSNBC and BET.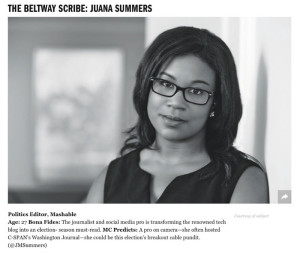 The pioneer in the age of 21st century journalism was recently recognized as one of Marie Claire magazine's "50 Most Influential Women in America." The article describes Summers as "The Beltway Scribe," a reference to her coverage of Washington, D.C., politics.
Before her time in the D.C. spotlight, Summers got her first experience at political reporting in the professional newsrooms of the Missouri School of Journalism. It was there she learned how to be a journalist.
"Mizzou taught me to be hungry; to push relentlessly for the best possible story; to ask tough questions and demand real answers of people I interviewed; and to engage with the world around me in a thoughtful and curious way," Summers said. "I'll never forget working at KBIA-FM on 2008 election coverage. I truly got my first bite of national political news covering the vice presidential announcements that cycle."
A Missouri native, Summers credits a number of former professors at the School for teaching her how to work in a rapidly changing industry.
"I am incredibly lucky to have been in the classroom with Lynda Kraxberger and Karen Mitchell, who now works as a visual coach at The Tennessean," Summers said. "They forced me to think outside the box about how to best report stories and to be open to constantly experiment with emerging platforms."
Summers also credits Mary Kay Blakely for making her "a more thoughtful writer and a clearer thinker" and names Katherine Reed as one of her favorite editors.
Summers' relentless work ethic at the School of Journalism led her to exceptional opportunities. She completed internships with the Washington Post and the St. Louis Post-Dispatch as well as a reporting fellowship with the Kansas City Star. Summers then moved on to the D.C. area, where she reported for Politico and NPR. Now, along with her job at Mashable, Summers also serves as a contributing writer for DCist.com.
When it's not "lights, camera, action" or reporting on the latest political news across multiple platforms, Summers is furthering her skills and education by earning her master's in media management through the School of Journalism's online program. Summers says the professional, hands-on experiences of the Missouri Method prepared her to balance both a career and a rigorous graduate program.
"Juggling working full time in a professional newsroom with a full course load at a rigorous academic institution was the best preparation I could get for being an editor or a reporter in a fast-paced newsroom," Summers said.
Summers has built her life around politics and with a presidential campaign gaining momentum, there is no "typical" day. She directs 2016 presidential coverage for Mashable, which includes assigning and editing stories as well as collaborating with other section editors.
"On any given day, I can find myself meeting with sources in Washington, D.C., working out of Mashable's New York headquarters, or on the campaign trail in an early voting primary state covering a candidate or a high-profile issue in the campaign," Summers said.
Summers offers the following advice for aspiring journalists:
"Dream big, and don't take no for an answer," Summers said. "This is an industry that rewards creativity, agility and tenacity. It is fast-changing and at times intimidating, but if you want to be a part of it, there will be a place for you – perhaps even one of your own making."
Updated: September 14, 2020
Related Stories
Expand All
Collapse All
---