Diversity and Inclusion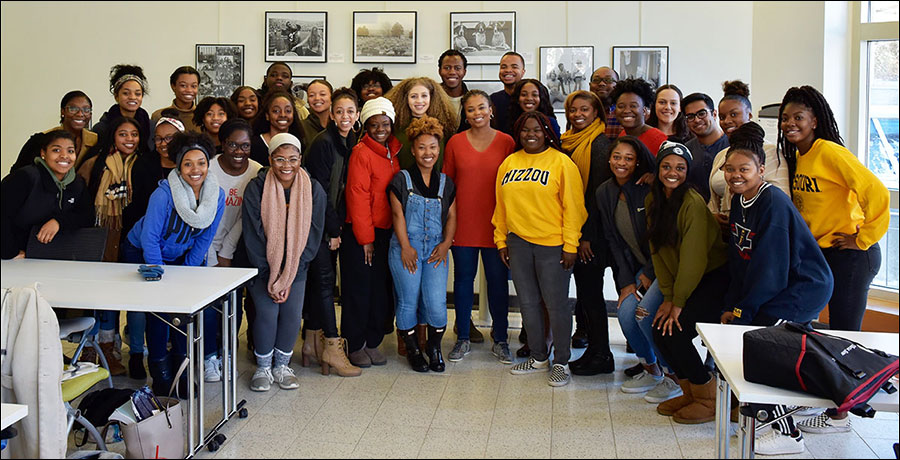 The Missouri School of Journalism strives to be a place where all people feel valued, where their talents can be developed, where personal and professional growth is nurtured. A place where all have an opportunity to be heard and respected. In the past three decades, the School has accomplished much in this area including:
In 1998, the School created a first-of-its-kind cross-cultural journalism course that continues to be required of all journalism students.
Missouri faculty first published Journalism Across Cultures, a 2003 textbook to help students learn how to practice journalism and strategic communication across lines of race, culture, gender, age, sexual orientation and ideology. Today, Cross Cultural Journalism and Strategic Communication is in its second edition and used throughout the U.S.
The School's National Association of Black Journalists (NABJ) student chapter, recognized as the 2014 national student chapter of the year, is not only significant in terms of its stature within the School and on campus, but also contributes considerably to the recruitment and retention of students of color.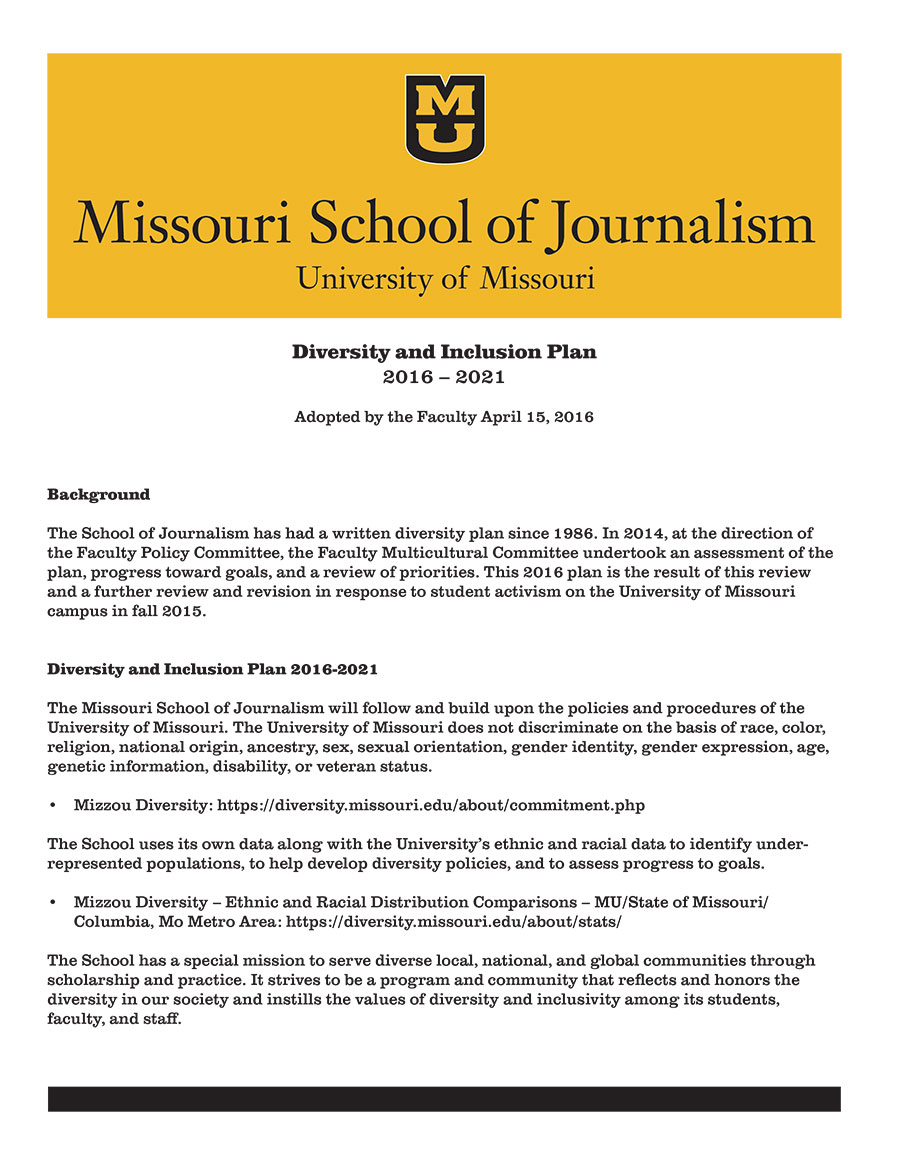 While these are good achievements, the School recognizes success requires new ways of thinking, of solving problems, of working past difficulties. The pace to consciously consider diversity, inclusion and equity in our identity as a journalism school and in our teaching, research and service has accelerated in the past five years.
In April 2016, the School's faculty approved a five-year diversity and inclusion strategic plan. The plan established five areas in which the School would improve:
promoting a diverse curriculum and pedagogy;
diversifying faculty and staff;
diversifying the student body;
cultivating a supportive climate and culture; and
assessing progress toward goals.
The Diversity and Inclusion Committee meets regularly to review the five areas in light of constant change and ongoing needs. The School is committed to creating, maintaining, and constantly improving curriculum, climate, and a work environment that values and honors diversity with respect to race, color, religion, national origin, ancestry, sex, sexual orientation, gender identity, gender expression, age, ability, veteran status, family status, socio-economic status, experiences, opinions, and ideas.
Student Development, Diversity and Inclusion program
The Missouri School of Journalism Student Development, Diversity and Inclusion Program is a pipeline program poised to take the lead in tackling issues related to diversity and inclusion in journalism and strategic communication to increase the representation of underserved populations. The program works on building a sustainable pipeline of diverse young people from high school to college into the professions of journalism and strategic communication by recruiting, retaining and engaging students. The program does this by building on the School's high school summer workshops, developing relationships with key high schools around the country and partnering with alumni and industry to create internships and mentors.
Student clubs focusing on diverse students
The J-School's newsroom policy on fairness and diversity
The J-School's Strategic Communication agencies' policy on fairness and diversity