Investigative Reporting Students Produce 50-Plus Stories for KOMU-TV
Columbia, Mo. (July 22, 2015) — When KOMU-TV sports reporters Jay Wallis and Morgan Uber graduated from the Missouri School of Journalism in May, their portfolios included an investigative report that had gained national attention.
The story started with the two television journalism seniors looking at how a new football stadium might help St. Louis keep its Rams football franchise. Wallis and Uber spent weeks in St. Louis and Jefferson City evaluating the intersection of politics and athletics, ultimately demonstrating that the state's governor had given contradictory statements. Bleacher Report published their findings, giving the story national attention. Wallis now reports for KYTX-TV in Tyler, Texas; Uber, for Fox Sports in Kansas City, Missouri.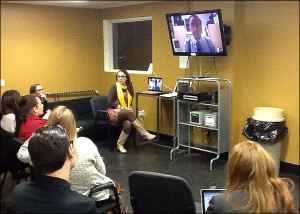 Another May graduate, Jessica Mensch, had a student Emmy award and a Kansas City Press Club award to show prospective employers. For an investigative report about synthetic marijuana, Mensch went undercover to rural gas stations and found stores selling new versions of a drug commonly known as Spice. She then interviewed a premier drug expert in St. Louis about how manufacturers are getting around the laws. Mensch now reports for WFMY-TV in Greensboro, North Carolina.
The number of student-produced investigative reports for KOMU-8's Target 8 Investigative Team is increasing under the direction of Assistant Professor Jamie Greber. Since October 2014, her team of students has produced more than 50 investigative stories for the station that is the only university-owned commercial television station in the U.S. that uses its newsroom as a working lab for students.
Students also have uncovered school cafeteria inspections not happening as often as the health department dictates and veterans being forced out of nursing homes as an unintended consequence of an executive order. Reporters have examined social justice issues from the secrecy of parole board hearings to sexual assault evidence backlogs in Missouri.
The team has used data journalism techniques to prove city vehicles are being driven to employees' out-of-town homes as many as 80 miles round-trip. The students have examined how much money and gifts individual lawmakers received from lobbyists. They have discovered public works employees racking up big bills by getting into crashes.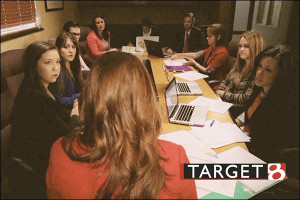 Students from freshmen to graduate students work on the Target 8 team, some as a way to complete classwork and others as volunteers. The students primarily come from the radio-television and convergence areas of study and work on aspects from researching to field producing and reporting to online producing.
The team meets regularly to discuss possible story ideas, assign new projects and look at new investigative techniques. Students have access to the Investigative Reporters and Editors organization and the National Institute for Computer-Assisted Reporting, both headquartered at the School. Target 8 also hosts guest speakers. NBC Bay Area (San Francisco) lead investigative reporter Tony Kovaleski joined students for a Q&A session via videoconference.
"Investigative reporting like KOMU's Target 8 is journalism's highest calling," said Kent Collins, associate professor and chair of the radio-television journalism faculty. "It's in the best tradition of the Missouri Method that Professor Greber is exposing her students to investigative reporting at KOMU-TV. Students learn, and the viewers benefit."
Greber looks forward to welcoming new members to the Target 8 team when the group reorganizes this fall. For more information, contact Greber.
Updated: September 10, 2020
Related Stories
Expand All
Collapse All
---