Missouri School of Journalism alum Bryndon Minter leverages his Missouri Method skills to produce viral video in under 24 hours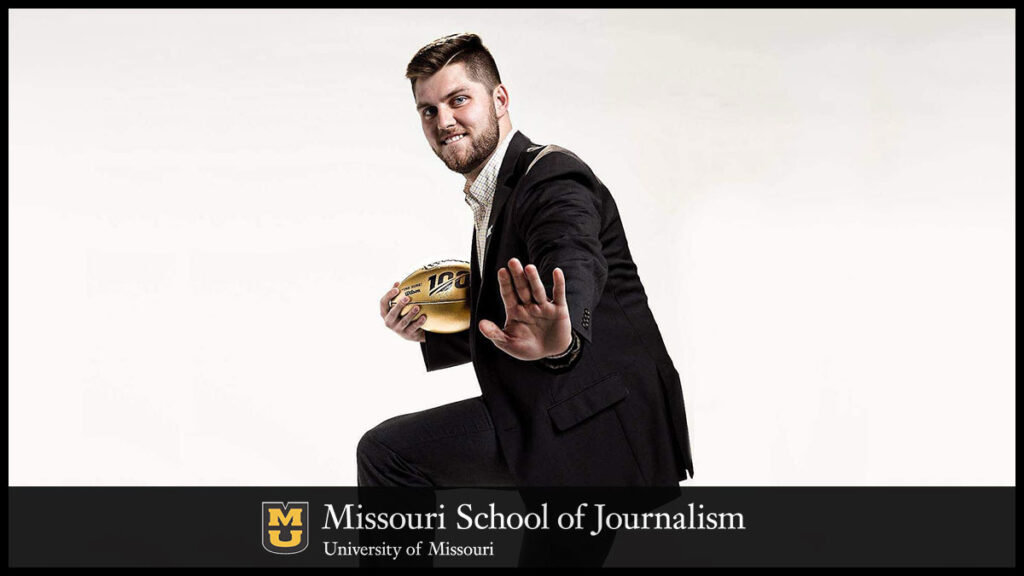 University of Missouri alumnus Bryndon Minter connected with NFL wide receiver Michael Thomas via Instagram, which ultimately led to the "I Am George Floyd" video being scripted, filmed, edited and released in less than 24 hours.
By Zach Taylor
Columbia, Mo. (August 3, 2020) — On June 4, NFL players including Kansas City Chiefs quarterback Patrick Mahomes and New Orleans Saints wide receiver Michael Thomas released the "I am George Floyd" video that asked the NFL to publicly declare its support for the "Black Lives Matter" movement. In less than a day, the NFL capitulated.
The video came about when Bryndon Minter (BJ '15), a social creative producer with the NFL, pitched the idea for the "I am George Floyd" video to Michael Thomas via an Instagram direct message.  "I didn't expect him to respond, to be honest," said Minter. "But, to my surprise he responded in a matter of minutes."
Thomas, Minter and another NFL employee worked together on the script, while Thomas recruited a "Pro Bowl roster" of NFL talent to participate in the project. "This was by far the most absurd creative project I have ever worked on," said Minter. "We had this video scripted, filmed, edited and released in less than 24 hours."
Minter drew on his own experience to build the courage necessary to produce the "I am George Floyd" video without consulting his employer, who he worried would shut the idea down.
For the first few days following the murder of George Floyd, Minter spent most of his time listening to his Black friends and colleagues rather than sharing his own opinions. "My opinion wasn't important," said Minter. "Instead, I spent my time learning about what it is like to experience racism in America."
Minter said that "the lack of any public display by the company we work for saying that it supports its Black athletes" inspired him to 'go rogue' and make the video.
The ability to meet sharp deadlines and produce video at breakneck speeds is a skill Minter has been developing for a long time. In college, Minter worked as a freelance video producer, which included working at Mizzou Network, the official web-based audio/video platform of Mizzou Athletics, and his first job in sports. He credits that work to jump starting his career path that would eventually lead him to the NFL. Other college work included producing the MizzouThon Main Event videos that were shown as part of the closing remarks, and he also filmed and produced a wedding video to be shown at the conclusion of the ceremony. One of Minter's first jobs post-graduation was with the Kansas City Royals baseball team, where he helped with stadium video production during games. These experiences provided Minter with a solid foundation that he used when producing the "I am George Floyd" video.
His work with the NFL isn't always fast-paced or related to video production. Minter helps coordinate social media influencers like musicians and actors, directs creative strategy for NFL social channels and is a hiring manager. Going forward, Minter feels empowered to stand up for his opinion in the workplace, and he has plans to improve the diversity and inclusion of the NFL.
"One of the NFL's biggest problems is the hiring and retention of Black talent," said Minter. "As a hiring manager, this is one way I can have a direct impact on the NFL's diversity and inclusion."
In addition to the video the NFL released that said the league supports the "Black Lives Matter" movement and its player's rights to peacefully protest, the NFL has committed $250 million over 10 years to fight systemic racism. Minter knows there is a long way to go, but he feels like the NFL is taking steps in the right direction.
Updated: February 11, 2021
Related Stories
Expand All
Collapse All
---