Junior Aaron Reiss Selected for National Sports Journalism Institute
He Will Intern at the Houston Chronicle as Part of the 9-Week Training and Internship Program
Columbia, Mo. (Dec. 21, 2015) — Missouri School of Journalism junior Aaron Reiss is one of 12 students nationwide selected to participate in the Sports Journalism Institute. Reiss is a magazine journalism major from Houston and will intern at the Houston Chronicle.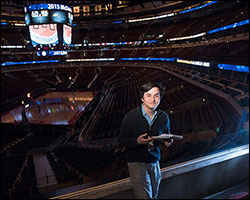 SJI is a nine-week training and internship program for college students interested in sports journalism careers. The Institute is designed to attract talented students to journalism through opportunities in sports reporting and editing and enhance racial and gender diversity in sports departments nationwide.
A group of four women and eight men will be in residence for the boot camp at the Missouri School of Journalism from May 27 to June 3, with students then moving on to internships around the country.
SJI and Missouri began a partnership in 2012 in which SJI students will work out of the Columbia Missourian, a daily city newspaper published by the School that serves as a training lab for print and digital news students. SJI, now in its 24th year, has added roughly 300 women and minorities to the staffs of the nation's sports media.
Reiss has covered a variety of sports for the Missourian, including University of Missouri SEC football, men and women's high school basketball, baseball and a mouse race in Fulton. He is one of five national winners of the $5,000 Jim Murray Memorial Foundation scholarship for the 2015-16 academic year, which is awarded to students interested in a sports writing career. Reiss interned at the Colorado Springs Gazette during the summer of 2015. The city is the home of the Olympic Training Center, and this allowed Reiss to cover a variety of sports activities.
"None of this would've been possible without the support and help I've received from faculty in the School of Journalism," Reiss said. "My editor, Greg Bowers, has constantly pushed me to take risks. He motivates me tremendously. He's the best teacher I've ever had."
The work experience that awaits the SJI interns is as diverse as the class, with the Chronicle, ESPN, Kansas City Star, The Tennessean, Sports Illustrated and MLB.com being just a few of the destinations.
SJI partners with the Asian-American Journalists Association, the Association for Women in Sports Media, the National Association of Hispanic Journalists and the National Association of Black Journalists, whose former president, Greg Lee, is a 1994 SJI alumnus and founding partner of APSE. Lee, who serves as executive sports editor at the South Florida Sun Sentinel, received a Missouri Honor Medal for Distinguished Service in Journalism in 2013.
Sponsors who help fund the event are Associated Press Sports Editors, MLB.com and the National Football League, among others.
Updated: September 14, 2020
Related Stories
Expand All
Collapse All
---