J-School Undergraduates Take Time Out to Attend Association for Women in Sports Media Conference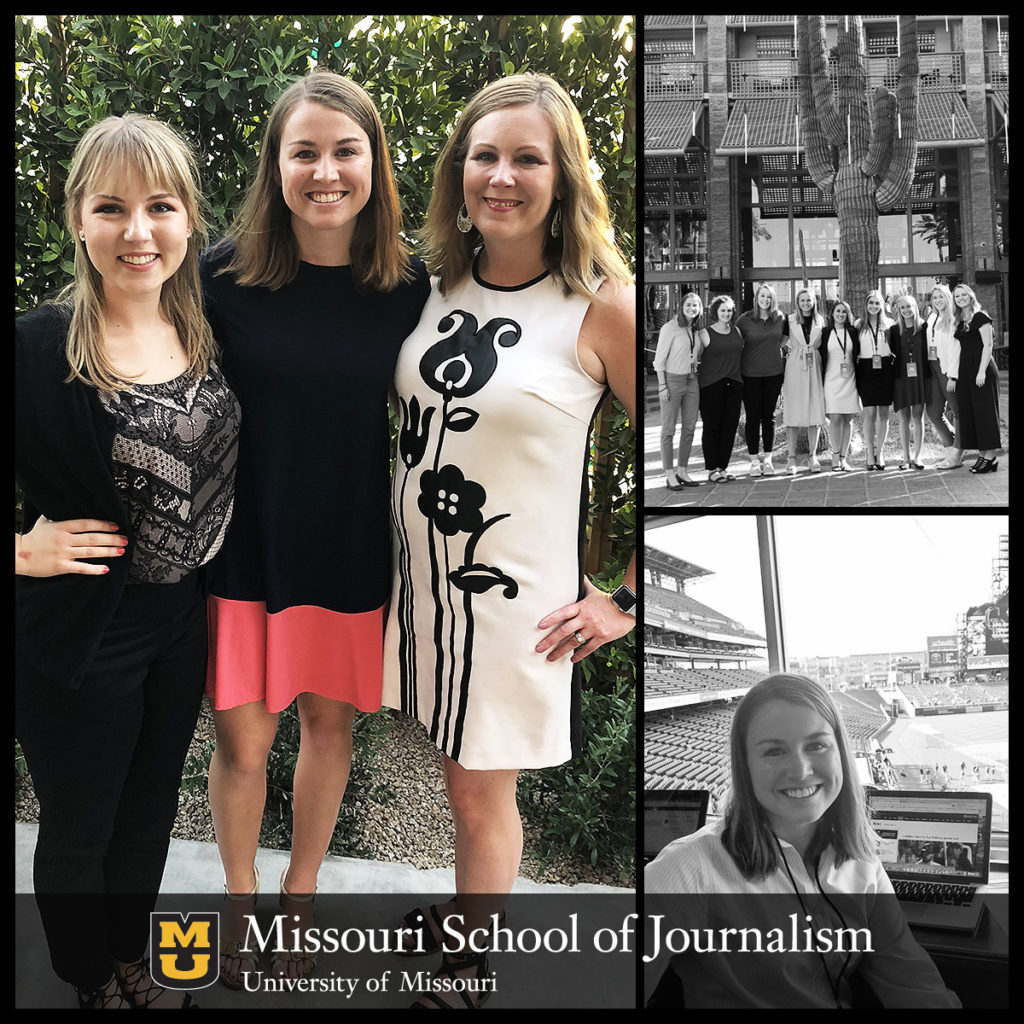 At left, Christina Long, Anne Rogers and Missouri Journalism Associate Professor Elizabeth Frogge at the AWSM Convention in late June. At top-right, Rogers (far left) and other AWSM Scholars in Scottsdale, Arizona. Lower-right, Rogers covering the Colorado Rockies as an associate reporter with MLB.com.
Columbia, Mo. (July 29, 2018) — Senior Anne Rogers and sophomore Christina Long have filled their summer with journalism-related activities, but found time to sneak in a trip to Scottsdale, Ariz., in late June to attend the Association for Women in Sports Media conference.
Rogers, a native of Des Moines, Iowa, is covering the Colorado Rockies for MLB.com this summer. Long, from Fayetteville, Ark., is spending her summer working for Mizzou Athletics as a photo intern as well as contributing to Vox Magazine.
While at the AWSM conference, Long and Rogers participated in breakout sessions, panels and discussions, listened to three keynote speakers and took part in resume reviews and a career fair. AWSM also recognized Rogers as one of its scholars.
Rogers and Long spoke with Inside Sports about the trip, their Missouri Method training and advice for women trying to break into the sports journalism field.
---
Inside Sports: What was your favorite part about the trip to Scottsdale?
Christina Long: I really loved getting to meet other students. I spent a lot of time with three girls from the Arizona State chapter, and it was really nice to hear from them about their college experiences and their future goals.
Anne Rogers: My favorite part about the trip to Scottsdale was meeting all the other women who attended. There were so many women – and a few men! – there who constantly reminded me that they're in my corner and would help out whenever I need it. I got to listen to so many cool speakers, including Beth Mowins, Amy Trask and Mina Kimes, as well as meet some of the journalists I look up to in the sports media industry. And the other eight AWSM Scholars quickly became some of my closest friends. They go to schools all over the country, and they all have different internships, but we realized how similar we all are and had so much fun attending the sessions, going to the activities and just hanging out in our free time. It was refreshing and inspiring to hear everyone's experiences, and I learned so much that I can apply to my job.
Inside Sports: What are you taking away from your trip to the AWSM conference?
Long: I learned a lot about reporting skills. The conference featured a number of panels on different subjects, and all of the panelists brought really great insights from years in the industry. The skills we learned at the convention are valuable whether you're a man or a woman. Being able to hear from great reporters and writers like Nicole Auerbach, Karen Crouse and Mina Kimes really taught me a lot about how I can get better at what I do. My favorite was probably a session called "The Investigative Reporter's Toolbox," where Craig Harris from the Arizona Republic talked about his investigation into the Fiesta Bowl scandal in 2011.
Rogers: The biggest thing I took away is that I'm not alone. Sometimes it may seem like it, especially being one of the few women in the sports journalism program at Mizzou, but I was reminded that I have so many people to lean on and that they really do want to help me. It was inspiring to hear so many stories about women who have succeeded and it was a reminder that I can succeed, too.
Inside Sports: How has your Missouri Method training prepared you for what you're doing this summer and a career in sports media?
Long: The Missouri Method has allowed me to get a head start in learning reporting and writing skills. As a freshman, I didn't have a lot of experience doing "real" reporting. Even though I'll be a sophomore next year and have yet to get into my interest area, the Missouri Method creates a culture centered around doing that encouraged me to get involved in any way that I can, like writing for the Maneater and contributing to Vox Magazine.
Rogers: I'm very thankful for the Missouri Method because it taught me how to cover games, interview athletes and coaches and write on deadline before my internship started. This summer, I can focus on enhancing all of those things I know how to do and become better at them. The Missouri Method gave me real-life experience, so when I stepped into the Rockies clubhouse for the first time, I knew what to do and wasn't overwhelmed with all the new information and experience.
Inside Sports: How has AWSM enriched your college experience?
Long: AWSM Mizzou is my favorite thing I got involved in freshman year. I met and became close with a number of girls who have similar goals. I look up to a lot of the older AWSM members, and I really appreciate that I can get advice and perspective from them. I've been empowered and encouraged to work hard and continue to do what I love, even when things are hard and people aren't kind.
Rogers: AWSM has been one of the best parts about my college experience so far. As a freshman, I had no idea what to expect coming to Mizzou. The women in our student chapter embraced me and encouraged me to work hard and find the opportunities that I have had. No one was happier when I found out I was going to be covering MU football last fall than my friends in AWSM, and that just goes to show that AWSM is much more than a club on campus; we're friends who lift each other up and encourage each other always. As I've gotten older, I've come to learn how important the national AWSM organization is and how much support they give us as students. It's the reason I have my summer internship with MLB.com, and I couldn't be more thankful for the support we receive from everyone in AWSM. Now, as president of our student chapter, I'm really looking forward to giving back and helping other Mizzou students like me to break into this field.
Inside Sports: What advice would you offer to other women looking to break into the field?
Long: I would tell other women looking to break into the field that they should look for ways to get involved. Of course, AWSM is a great way to get plugged into the industry and meet people. They offer internships, they'll review your resume and they'll help you network. But involvement with organizations like AWSM provides benefits outside of these concrete things. Having a community of women, students or professionals, who can help you through the more trying times and difficult moments that come with being female in such an industry is really invaluable to me. I draw a lot of strength from hearing how others have handled internet trolls, uncomfortable conversations and people doubting their abilities. Being able to band together with these people gives me hope.
Rogers: Reach out! Come to AWSM Missouri meetings and learn all the opportunities you have as a woman in sports media. We have lots of fun stuff planned for the fall semester and we can't wait to meet all the new members. Feel free to contact me or any of the women in our chapter if you have questions or need advice for anything. We're here to help you and encourage you as you break into this field.
Updated: November 4, 2020
Related Stories
Expand All
Collapse All
---