Journalism Students Learn How to 'Get in the Game' of Sports Journalism, Promotions at Recent Event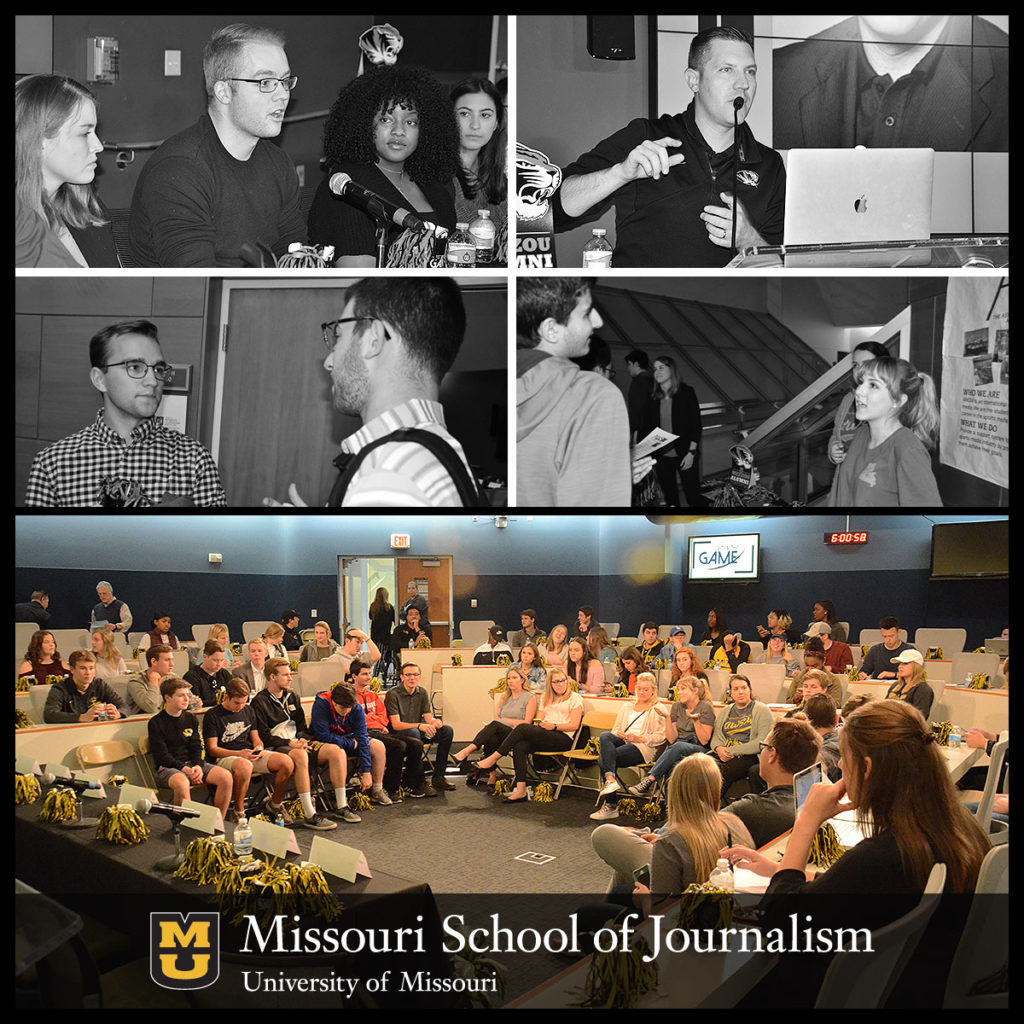 The Missouri School of Journalism's recent "Get in the Game" event, sponsored by the Engagement and Outreach office, attracted more than 100 students interested in sports journalism or promotion.
By Jennifer Nelson
Columbia, Mo. (Nov. 6, 2018) — Sometimes you have to look beyond advertised job listings when searching for a sports internship, Missouri School of Journalism senior Chanel Smith said.
Smith knows this firsthand. She worked with the Washington Redskins this past summer in a digital media internship position that was not listed on the team's website. Through networking, her resume landed in the hands of the team's human resources professionals, she said.
It was during this internship, she said she "solidified her career path" to one day work for a professional sports team.
Smith's story was just one of several shared during the Journalism School's "Get in the Game" event, which attracted more than 100 students.
The new event was organized as a way to provide students interested in sports journalism or promotion first-hand insight into the fields, as well as advice on how to land and succeed at various internship and job opportunities or "get in the game," said Melanie Forrest, engagement and outreach coordinator at the Journalism School.
The Facebook Live stream gave prospective students and others watching an opportunity to see the "strength of our sports journalism and strategic communication specializations at the Missouri School of Journalism," Forrest said.
Attendees heard from industry professionals who now work in University of Missouri roles. Michael Knisley, sports editor at the Columbia Missourian, and Ben Arnet, BJ '03, with Mizzou Athletics emphasized the need to know a variety of skills.
"If you take away three words from what I'm going to talk about, when it comes to working in television…working in the sports video business, it's diversity of skill," Arnet said. "You really have to keep your head on a swivel and be ready to adapt in the world of video."
The crowd also heard from accomplished students who have interned at various organizations including ESPN, Yahoo Sports, Major League Baseball and Mizzou Athletics. They talked about everything from what they wished they would have known before starting an internship to how to balance school and work experience opportunities. They also learned about the various MU clubs and organizations for those interested in sports journalism or promotion.
The event attracted all grade levels from freshmen to seniors. Senior Maddy Rosenow, who is majoring in strategic communication, said she wants to work for a team someday.
Freshman Mark Powers said he is considering sports journalism and is immersing himself in as much as he can. "It was helpful to see real live examples of people who obviously came in just like me four years ago, three years ago or whatever and are now on that panel and have done things that I would love to do and have dreamed about doing," he said.
"Get in the Game," was sponsored by the Missouri School of Journalism's Engagement and Outreach office.
Updated: November 5, 2020
Related Stories
Expand All
Collapse All
---